Cole Bonner and Jack Byrne both grew up fishing throughout their childhood. 
To many people, fishing appears to be just another hobby for a weekend afternoon. The concept of sport fishing is still foreign to much of the general public. Bonner and Byrne are working to change this perception, however, especially among their peers. 
About a year ago, the two juniors at Clarke Central High School developed the idea of establishing a bass anglers club for those interested in competition fishing. 
With the help of the Georgia bass anglers club, the Clarke Central club has found stability as a club in its first year. 
"My motivation was growing up fishing. I had a lot of friends and family always taking me out fishing," Bonner said. "I felt like it was something we could bring to school to get students more involved and to learn more about sport fishing."
Bonner and Byrne approached English teacher Christian Barner in the spring of 2016 about establishing the club. 
"Their goal was to fish competitively in different tournaments," Barner said.
Since they were nearing the end of the school year, they planned on forming the club for the 2016-17 school year. The majority of last year was spent learning the ins and outs of competitive bass fishing, as well as the logistics off the water. 
Much like mainstream high school sports run through organizations such as the Georgia High School Association, the Clarke Central bass club operates and gains information through Georgia High School Fishing. 
GHSF and the Student Angler Federation are two of the several organizations they registered with over the past year. 
Barner and the team were able to garner interest through outings on Lake Lanier and at Fort Yargo State Park. They also held team meetings to determine the direction they would take as a team.
"There was a whole new level of energy that we were all new to," Barner said. 
This year the team is composed of eight members, leading to four boats with two students on each boat.
Since these students are in high school, most of them do not own their own boats, nor do their families. There's also the geographical location of Athens, as there is not a sizable body of water in close proximity to the city that would make a boat necessary. 
Coach Barner reached out to the Georgia team with hopes they could not only offer advice on competitive fishing, but also provide help in supplying boats for the high school students. 
"They have been able to come over and offer their time and boats and everything," Barner said. "They know more than any of us know at this stage, so it's great to have some of their expertise in the boats."
Georgia sophomore club president Jordan Parisian jumped on this opportunity as a chance to benefit the community and younger fishermen, as well as a chance to earn recognition with Georgia club sports.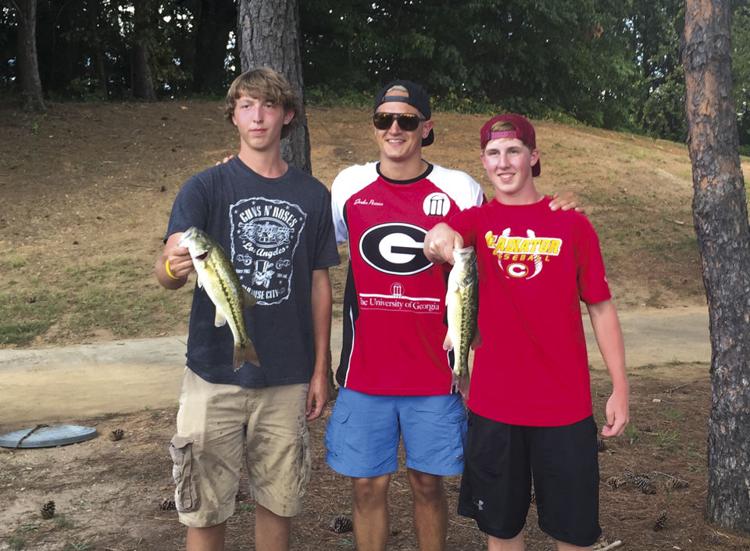 "Clarke Central team members have the opportunity to fish out of the boats of the bass anglers as we provide them guidance as their boat captains with years of experience under our belts," Parisian said.
The Georgia bass anglers have also been able to provide the Clarke Central students with advice for fundraising and sponsorships. 
"They have really helped us improve what we do both on and off the water," Bonner said. "They have given us several techniques and also taught us how to get sponsors."
Fundraising is a key component of success for bass fishing teams. Bass fishing is an expensive sport, so gaining the support of sponsors is essential. As a new club, sponsors and fundraising becomes all the more important.
This is an area the Georgia team works on as well, so the Clarke Central students are able to learn strategies that may or may not have worked for the Georgia anglers. 
Clarke Central secured Athens-based coffee company Jittery Joe's as its first sponsor. 
The contributions from both the Georgia anglers and sponsors have shown on the water. In their third tournament of the season, one pairing placed 47th after catching no fish in the previous two tournaments. Another pairing finished 13th in a later tournament.
One of the top priorities for the group moving forward is maintaining their relationship with the Georgia anglers. With all of the resources and connections of the Georgia team so close by, there are many benefits for both teams that result from a strong relationship. 
"It's great to have those guys and to have that idea that you can be successful doing this stuff and you can have fun doing it in both high school and college," Barner said. "I definitely want us to stay connected with UGA."
The presence of the Georgia anglers has been inspiring to the Clarke Central students in terms of fishing in college. The high school students are still new to the competitive fishing atmosphere, but seeing the Georgia anglers in action has led several of them to have interest in pursuing competitive fishing in college. 
"I have always kind of dreamed of fishing as a pro growing up," Bonner said. "Looking at the UGA guys, they have all this stuff and sponsors, it has just definitely increased the want to do it more in college and beyond."
The Clarke Central bass anglers club has provided an outlet for students with an unconventional interest, and its presence has already been felt. With the focus on tournament fishing, it provides a competitive edge that does not exist in fishing for leisure. 
"To have this kind of an outlet is a big thing for these kids, for the kids who do like to fish or hunt," Barner said. "Until now that has always been separate from school and they haven't been able to really push those two things together, and so it's a good thing for the school to show support for that."
The students have already formed bonds they may not have formed without the club. With the formation of the team, the students are hoping to further friendships they have already made. 
With the help of the Georgia anglers, as well as sponsors in the community, the club will look to continue their success for years to come. 
"The club has given me more of an opportunity to fish," said Ben Gillespie, a junior at Clarke Central. "I never really had anywhere to go, but now I have places to go and people to fish with, so it's just fun."