Dani Murguia arrived at Georgia as a midfielder, but has put up her best season yet in 2021 as a striker 14 games into the season.
Bulldogs head coach Billy Lesesne organized Murguia's transition from midfield to forward at the beginning of her junior season, evaluating her versatile skill set as too valuable to the team despite the talent depth in midfield.
"Dani is such a well rounded player," Lesesne said. "She could play about any position you ask of her, and I think we're a better performing team when Dani's on the field."
So, Lesesne found her a spot up top next to the nation's leading scorer, Mollie Belisle.
Georgia recruited Murguia as a center-attacking midfielder, a role requiring creativity, on-field vision, strong technical ability and threat in front of goal, all attributes she still provides in her more advanced role.
It's not the first time in Murguia's playing career where she has been utilized as a striker. For a short time, she switched between midfield and forward during her time playing club soccer for FC Dallas' Developmental Academy.
Murguia, however, holds her natural position very close to her, saying her heart will always be in the midfield.
Tactical change
With a new position comes a new style of play. Positionally, Murguia's transition requires her to play more advanced up the field, while tactically obtaining a new set of responsibilities. Rather than acting as the primary playmaker, Murguia's role focuses more on scoring rather than creating.
Murguia has found a balance between her responsibilities, scoring seven goals and assisting 10 so far this season.
"She's not your traditional striker," Lesesne said. "She doesn't always sit on the back shoulder of a defender and look for balls in behind. She floats into wonderful pockets of space and that's where she operates really well … She's a high IQ player."
Playing the striker role in Georgia's two-striker, 3-5-2 formation gives Murguia more freedom on the field compared to that of a formation with one striker. It allows the senior forward to find space in front of the opposing defense.
These pockets of space are higher up the field compared to what Murguia is accustomed to as a natural midfielder, and it's something she says took some time adjusting to at first.
"It was difficult for me to learn where I needed to be and when," Murguia said. "When I was a midfielder, I was so used to checking back to our center backs. As a forward, I had to tell myself, and my coaches had to tell me a lot, not to go too far deep and to stay high and wide. That's something I really had to instill in myself."
Instead of receiving the ball from the center backs in a deeper, central position, Murguia looks to receive it primarily from the midfielders in positions closer to goal centrally or on the sides.
The wide spaces have been a key component for Georgia's attacking philosophy this season, and Murguia has been a big influence towards that, earning half of her assists from crosses — two against Georgia State, one against Clemson, one against Mississippi State and one most recently against Kentucky. She even scored from a cross against Belmont when her corner sailed off the far post and into the net.
"The way that our forwards have started to combine with our wingbacks has definitely been a big help," Murguia said. "I think it's been pretty obvious that I like to make a run wide and put in a cross."
Murguia's free-flowing and versatile play style works as the perfect complement for top-scorer Belisle, who looks to play on the last defender and get on the end of crosses. Together, the two have combined for six goals when assisting one another.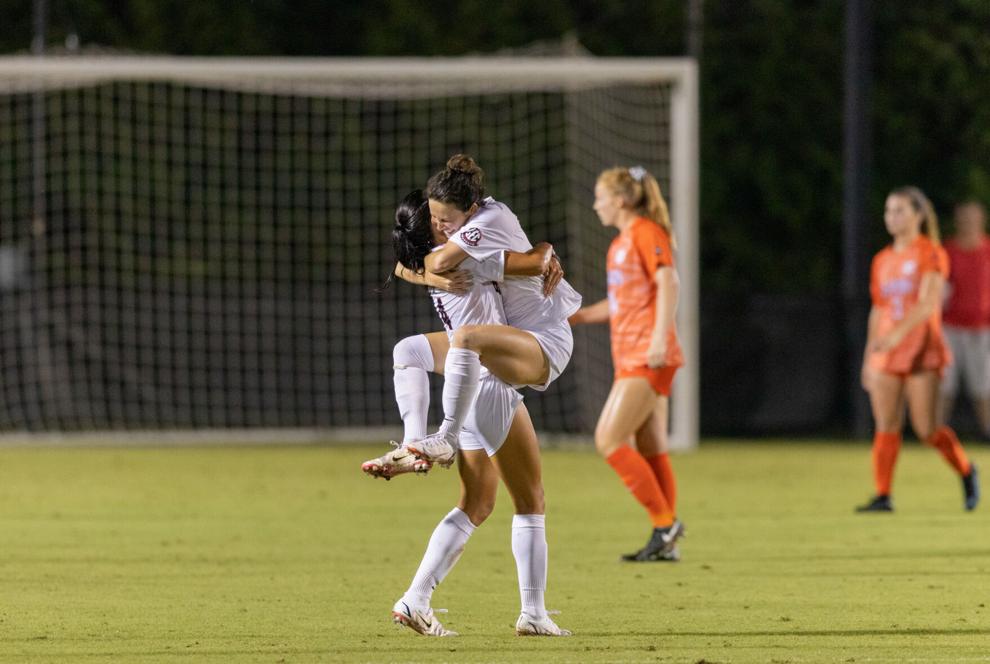 Statistical change
Murguia's seven goals and 10 assists are career highs for the senior in both departments. Her 17 goal contributions lead all Bulldog players, with Belisle sitting next-best at 15.
In only three of the 14 games this season, two of which Georgia recorded a loss, Murguia has failed to register a goal or assist.
Overall, the forward has recorded 30 shots this season, with 16 hitting the frame. For every shot on target, she has found the back of the net with 44% efficiency.
As for her influence in creating goals, Murguia's 10 assists this campaign rank first among the Bulldogs and fourth in Division I. She is only the the third player in program history to achieve double-digit assists in a season and sits one away from tying the single-season record.
"I think I've been able to find a lot more spaces with opportunities to shoot," Murguia said. "Statistically, it's definitely helped me provide for my team to get those goals and assists."