Gassers aren't fun. Running back-and-forth from sideline to sideline over and over again doesn't sound like anybody's idea of a good time. But the Georgia defense better get used to them.
Sophomore defensive lineman Jordan Davis expects Georgia head coach Kirby Smart to double the punishment during Monday's practice from three "full" gassers per penalty to six per penalty.
As a team, Georgia had 10 penalties for 117 yards against Vanderbilt on Saturday. Regardless of how the coaching staff enforces it, that's a whole lot of gassers. And this is a defense that didn't give up any touchdowns and allowed only 225 offensive yards in its first game. 
Divaad Wilson had a late-hit penalty against the Commodores. Justin Young and Richard LeCounte also had one face mask penalty each.
As the No. 3-ranked Bulldogs try to minimize the mistakes and penalties, they are also searching for a top-end pass rusher. Lucky for Smart and the rest of Georgia's coaching staff, the front seven had a pretty good showing on Saturday, despite not knowing the identity of Vanderbilt's starting quarterback until the start of the game.
Redshirt freshman outside linebacker Azeez Ojulari and sophomore inside linebacker Channing Tindall combined for a sack. Junior inside linebacker Monty Rice tied with junior defensive back Mark Webb with seven total tackles. Ojulari was just behind them with six tackles.
About two years ago, Ojulari injured his ACL in the third round of the state playoffs while at Marietta High School. He wasn't able to fully return to the field until near the end of last year's fall camp.
"It was hard process for sure," Ojulari said. "Just keep your head down, just focus on getting better."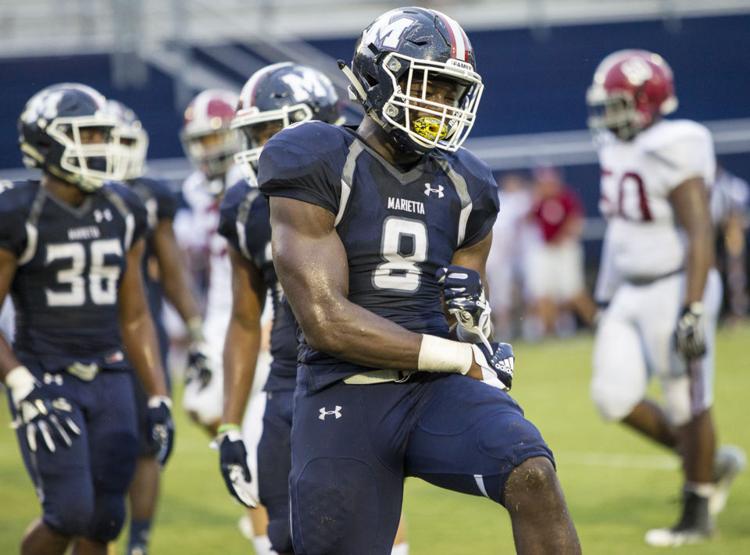 Ojulari played in three games last season, just under a redshirt's maximum number of four games. He recorded four tackles, three of which were solo. Smart said Ojulari brings a great attitude to the practice field.
Davis enjoys working alongside Ojulari.
"Man, Azeez is a great player," Davis said. "I have a ton of respect for him. He practices hard, we always beside each other. If my game is slack, he picks me up and if his game is slack, I pick him up. Our defense is a complimentary defense."
With just one game down, Georgia still has plenty of time to hammer out some of the weaknesses of first-year coordinator Dan Lanning's first defense.
"As a team, we see where we can be," Davis said. "It's potential energy."
If Davis is right, Smart will be making the defense run a lot on Monday. But Smart still understands just how successful the defense was against Vanderbilt.
"They didn't give up a touchdown," Smart said. "In college football today, I don't care who you're playing, that's hard to do. They played hard, and they played well in the red area. We got to get a lot of things better."