ATLANTA — When the No. 2-ranked basketball recruit in the country removed the black jacket from his 4-month-old nephew Jace, the entire gym erupted in cheers.
Anthony Edwards, the nation's second-ranked prospect in the Class of 2019 according to the 247Sports Composite, announced his commitment to Georgia on Monday in a ceremony at his high school, Holy Spirit Preparatory School in Atlanta.
"It's my home," Edwards said about his decision. "You see my family here, I want them to be able to come see me play all the time."
Shortly before the scheduled announcement at 9 a.m., the green bleachers filled with Edwards' classmates at Holy Spirit. The 6-foot-5, 215-pound shooting guard posed for pictures with younger students from Holy Spirit's lower school, wearing a smile on his face the entire time.
Then, Edwards removed Jace's jacket to reveal a red Georgia shirt. His family followed suit, removing their outer layers to reveal Georgia apparel.
Judging by the noise in the gym, it's safe to say Edwards' choice was a popular one. When he went back to pose with younger classmates, this time wearing a red Georgia hat, they smiled for the picture by saying "Yay!" before breaking out in a "U-G-A" chant.
Check out the moment five-star guard Anthony Edwards committed to the #UGA men's basketball program: pic.twitter.com/pwD26j0gfq

— Red & Black Sports (@redblacksports) February 11, 2019
Edwards said that he didn't really consider his in-state school until the arrival of head coach Tom Crean in March. The hiring of Crean, however, changed his view of the Bulldogs.
Crean has mentioned numerous times since taking the job that he focuses on player development, mentioning players such as Dwyane Wade and Victor Oladipo as low-rated recruits that developed into stars under his tutelage.
Apparently that message got home to Edwards too.
"It's just that they came in not highly-rated and they left, one [was the second overall] pick, I think Dwyane Wade was like [the fifth overall] pick, and Dwyane Wade is going down as one of the greatest shooting guards of all time," Edwards said. "That weighed big on it."
Indeed, the development of Edwards into a potential NBA lottery pick has already started. While he said he feels he brings playmaking ability to the Bulldogs, Edwards and Crean have already broken down film working to improve aspects of Edwards' game such as his dribbling and the particulars of his shooting form.
But according to Edwards, the coach was only 50 percent of the commitment equation. The other 50 percent came from the fact that Athens is less than 70 miles from his home in Atlanta.
The moment that seems to have swung Edwards to Georgia seems to be his unofficial visit on Jan. 26, which roughly coincides with him saying he decided on committing to the Bulldogs about two weeks ago.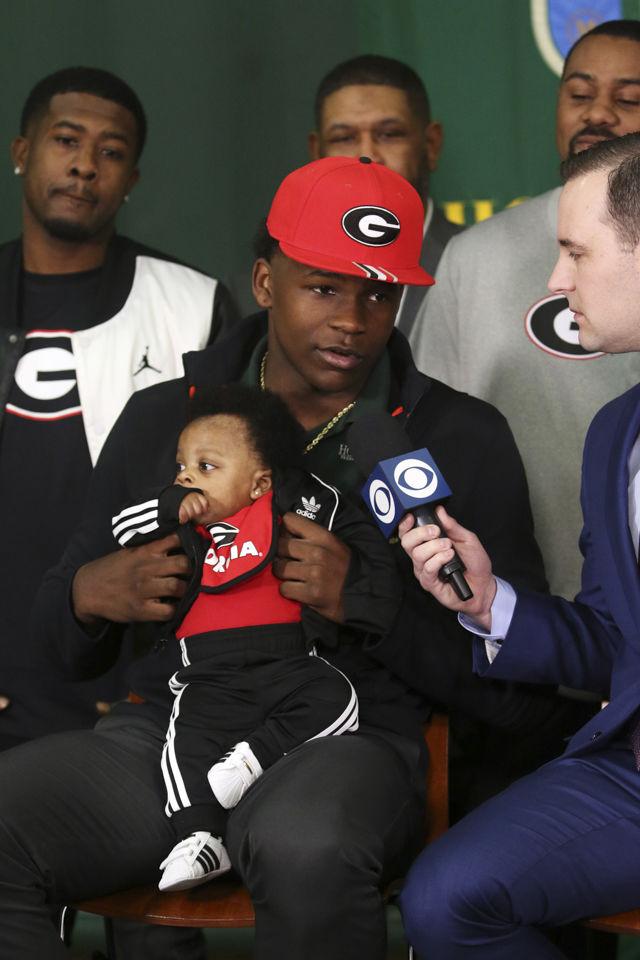 Georgia hosted Texas while Edwards watched, and the Bulldogs defeated the Longhorns 98-88. But it was the atmosphere in Stegeman Coliseum that stuck in Edwards' mind.
"It was sold out, they were showing love, screaming my name," Edwards said. "There was nothing like it. I just felt like I was home."
Edwards will be playing at a school in Georgia that is far from a traditional basketball power. He said he wanted to be his own player and not commit to a blue blood program just because of the name on the jersey.
He also mentioned he has a couple players in mind that he will be attempting to woo to join him in Athens, although he said their identities are "confidential."
But no matter who he recruits to join him at Georgia, Edwards will be the big man on campus when he arrives in the Classic City. As he sat at a table with cameras and lights glaring into his face, he was asked if he was used to the spotlight following him around.
"This is what comes with it, so I'm going to have to," Edwards said.