With football season ending and National Signing Day less than a month away, The Red & Black is taking a look back at the ten moments that shaped Georgia's football season. 
---
1. Failed fake punt against Alabama
Kirby Smart took a huge gamble with a little more than three minutes left in the 2018 SEC Championship Game against Alabama. The Crimson Tide had all of the momentum with the score tied at 28, and Smart made a risky call to take it back on 4th-and-11 from the 50-yard line. The Bulldogs dialed up a disastrous fake punt, and Alabama took over at its own 48, setting up a short field for Jalen Hurts, who scored the game-winning touchdown on the ensuing drive.
---
2. Swift's first-quarter fumble against Texas
Nothing went right for Georgia against Texas in the Sugar Bowl, and the Bulldogs' struggles were highlighted late in the first quarter. D'Andre Swift fumbled at his own 12-yard line with Georgia already down 10-0, Swift's first lost fumble of the season. Texas capitalized and scored soon after to go up 17-0.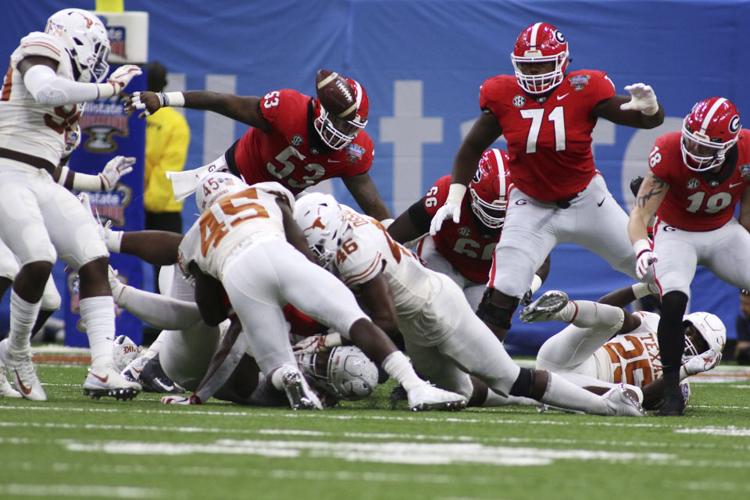 ---
3. Fromm to Godwin to seal win over Florida
Jake Fromm had been under heavy scrutiny after his lackluster performance on Oct. 13 at LSU. But he responded in Georgia's next game two weeks later against rival Florida. Fromm sealed Georgia's win with a picture-perfect touchdown pass to Terry Godwin on third-and-long to extend the lead to 29-17 in the fourth quarter. It was Fromm's third touchdown pass of the game.
---
4. Baker's tone-setting pick vs. South Carolina
Georgia's first big test of the season came on the road against South Carolina in week two. Senior cornerback Deandre Baker silenced the Gamecock faithful on the opening drive, after he intercepted Jake Bentley and returned it to the South Carolina 1-yard line, where he dropped the ball just before crossing the goal line. Thankfully for Baker, linebacker Juwan Taylor picked it up for a Georgia touchdown.
---
5. Swift's 83-yard score against Kentucky
One of Georgia's biggest wins came on Nov. 3 at ninth-ranked Kentucky, and Swift looked the part of a superstar in that game. His dazzling 83-yard touchdown run in the third quarter gave Georgia a dominant 28-3 lead as the Bulldogs cruised to an emphatic win.
---
6. Disastrous fake field goal in Death Valley
Georgia's 36-16 loss to LSU on Oct. 13 got off to a tough start, when the Bulldogs tried a fake field goal. It went disastrously, as Rodrigo Blankenship was tackled immediately while Tiger Stadium roared. The home team responded by going 84 yards in 12 plays for a touchdown on its ensuing drive to take a 10-0 lead in the second quarter, a deficit that Georgia would never erase. LSU controlled the game throughout and the failed trickery by Smart and the Bulldogs felt like a major turning point.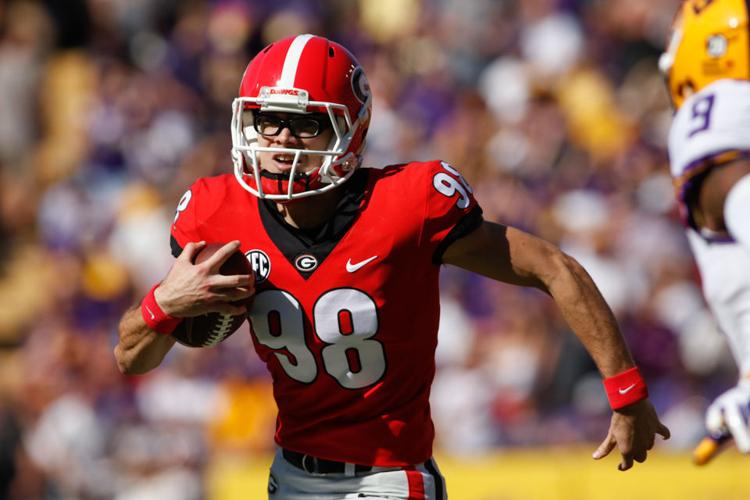 ---
7. Stokes' special teams magic vs. Missouri
The Bulldogs were tested for the first time of the season on Sept. 22 against Missouri. Georgia was struggling on offense and unable to pull away in the first half, as it clung to just a 13-7 lead. But the Bulldogs got a major lift late in the second quarter as redshirt freshman Eric Stokes blocked a Missouri punt and returned it for a touchdown to give the Bulldogs a 20-7 lead. Missouri never got closer than 11 points for the remainder of the game.
---
8. Nauta's unconventional TD against Tennessee
Georgia started off the scoring against Tennessee on Sept. 29 in an unorthodox way. Fromm was sacked and fumbled in Tennessee territory, but Isaac Nauta picked up the fumble and ran it 31 yards for a touchdown to give the Bulldogs a 7-0 lead. Georgia would go on to win 38-12, and Nauta's awareness prevented disaster.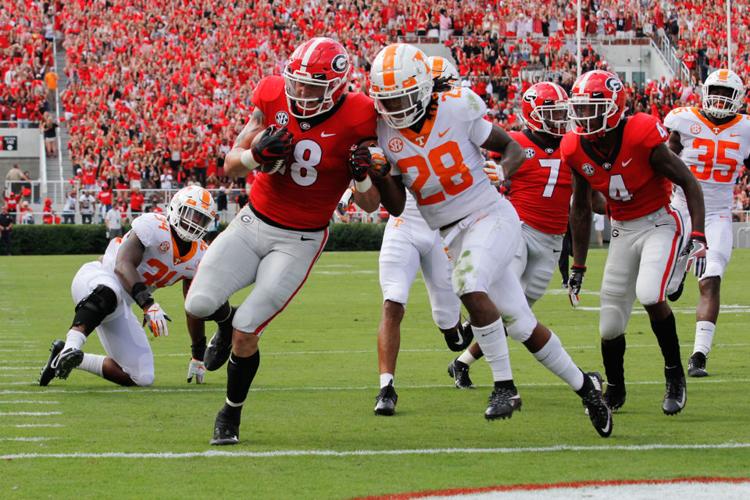 ---
9. Simmons gives Georgia the lead against Auburn
Georgia trailed Auburn 10-6 with under three minutes left in the first half on Nov. 10. But Fromm helped Georgia gain a halftime lead when he found Tyler Simmons for a 14-yard touchdown on a pivotal third down. It erased the four-point Auburn lead, Georgia's largest home deficit of the season. The score started a 21-0 Georgia run to finish the game as the Bulldogs won 27-10.
---
10. Fromm deals in 'Clean, Old-Fashioned Hate'
Fromm had a sensational game against Georgia Tech. He gave Georgia a comfortable three-touchdown lead with a little over nine minutes remaining in the first half when he found Mecole Hardman for a 44-yard touchdown. It was Fromm's third touchdown pass of the first half as the Bulldogs rolled to victory.