In 1982, Herschel Walker played his last game in his historic career at the University of Georgia. Over three years, he won a Heisman trophy and led Georgia to a national title as well as two national championship appearances.
The iconic running back helped establish Georgia as a national championship caliber program.
But in 1985, just three years after Walker's last season, Tim Worley ventured to Athens to be one of the first running backs of the post-Walker era.
As a five-star recruit, Worley joined a program that went from consistently winning 10 to 11 games for the past three seasons to only seven wins in the year before his arrival. But he wanted to be part of the running back culture that Walker established at Georgia.
"Being a North Carolina native, I grew up watching the ACC," Worley said. "It wasn't until I saw Herschel Walker … when I started paying attention to the SEC. I was definitely drawn to Georgia just by watching Herschel Walker run the ball."
In the years after Walker, Georgia's backfield had transformed from being an individual effort to a rotating unit. The talent was still there. But the role Walker had was yet to be filled.
Worley entered in 1985 to accompany sophomore Lars Tate in the backfield. Between the two of their careers, they would be the next running backs in the '80's to come as close as possible to Walker's achievements.
From 1986-1988, the two combined for 3,186 yards and 44 touchdowns.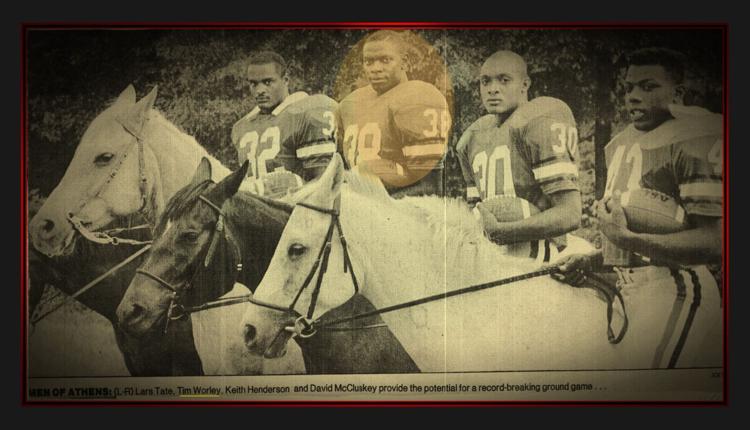 "Herschel came along in a time where it was just Herschel," Worley said. "This guy was carrying the ball 38 to 45 times a game. But when we came along, there were multiple guys in the backfield just like today. We were all good, so we couldn't stay on the bench."
To Worley, coming to Georgia was about being part of the prestigious unit of running backs but he also wanted to be the one everyone remembered.
"I really did feel like I could be better [than Walker]," Worley said. "I don't like to use the word pride but there's a certain way we [running backs] carry ourselves. There's a certain swag that we have."
However, Worley suffered a season-ending knee injury in 1986 which sidelined him for the next two years.
He returned in 1988 to join Rodney Hampton in the backfield. In the first game of the season, Worley and the rest of the Bulldogs combined for over 400 rushing yards against Tennessee.
"I came back focused. I had blinders on. I was so determined," Worley said. "And because of that, the rest was history."
With 18 touchdowns and 1,216 yards in his final year, Worley was named an All-American. But more importantly, his comeback was enough to be picked seventh overall in the 1989 NFL Draft.
After Lars Tate in the previous year, Worley's junior year represented the first time Georgia had back to back years of having a running back rush for 1,000 yards since Walker.
"When my opportunity came, I seized the moment, Worley said. "I had the attitude that nothing was going to stop me when I was going out on that field."
Worley's return in 1988 was one of the first times since Walker left that Georgia's backfield could boast about having one of the best individual running backs in the nation.
"I think I came in at the perfect time," Worley said. "When Herschel came along and even myself, that was a time when there was a really big focus on the run. Herschel was that guy that the world saw and that I saw."
As Walker attracted running backs like Worley, recent graduates Nick Chubb and Sony Michel's success has attracted top recruits like Zamir White and James Cook. Their reason for coming to Georgia being exactly like Worley's.
Nick Chubb and Sony Michel set the bar high for the future generations of running backs under head coach Kirby Smart by leading the Bulldogs to a national championship appearance in 2018.
They reminded the nation of the high expectations for any Georgia running back. Much like Walker, their departures leave one of the biggest holes ever in the backfield.
 "If you really look at it, [I had] the mindset that the younger guys today have," Worley said. "You're loaded in the backfield, but I still made the decision to go to the University of Georgia … because I love competition. I wanted to compete and wanted to compete with the best of them."
The competition that Walker established is the same competition Chubb and Michel revitalized. And it's competition that has enticed top recruits to the Georgia backfield.
The running back position at Georgia wouldn't be what it is today without having one generation inspiring the next. Worley came in to Georgia after a program great to carry on that competitive culture. Now, White and Cook join the backfield to do the same.
 "When they made the decision to come back for their senior year … I just watched [Chubb and Michel] groom the younger guys," Worley said. "Rest assured that now those young guys that watched them play, they will be prepared."