When Andrew Thomas started as a freshman at Pace Academy in Atlanta, one of the first questions coaches asked him is if he wanted to play college football. 
Thomas had a plan. He said he wanted to play for Georgia and major in business, offensive coordinator Kevin Johnson remembers. Johnson then asked Thomas another question.
"So, I'm like, 'OK, well you know what you've got to do to get there right?' 'Yeah coach, whatever it takes,'" Johnson said. "He never backed down from the challenge, never backed down. So when a kid don't back down, you hope for all the great things."
A starter for the Bulldogs and a business major at UGA, Thomas is fulfilling the goals he set for himself. But the sophomore has been challenged along the way, as a position change and an injury have threatened to slow him down. Thomas, however, has met those challenges head on. 
He started in all 15 games at right tackle during his freshman year at Georgia in 2017. Prior to his sophomore season he has made the transition to left tackle and has started in five of six games this season.
"[The] left tackle goes against the best pass rusher on the team, so I think going against every team in the SEC is going to be a challenge," Thomas said. "But I think I'm ready for it."
On a play during the third quarter of Georgia's game against South Carolina, a Gamecock defender fell onto the back of Thomas' leg, which brought the left tackle down. He walked off the field with the help of two trainers. It was announced later in the game he suffered a left ankle injury.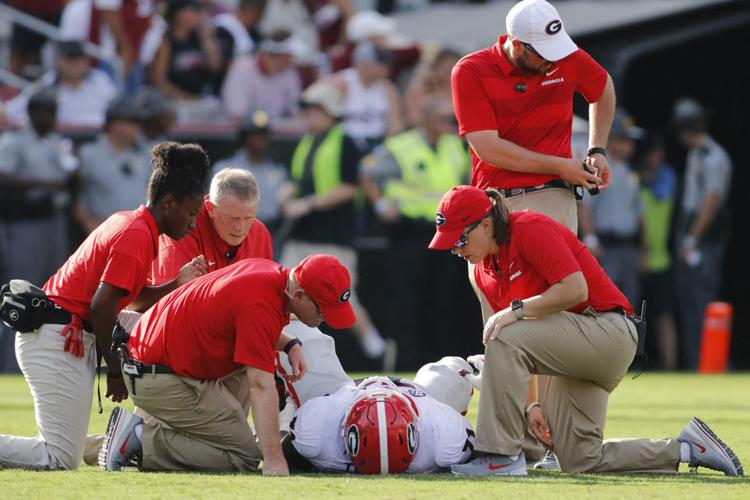 "It's pretty frustrating, but I just continued to work hard and support my teammates," Thomas said. "So I'm good."
He did not play in the matchup against Middle Tennessee the following week after his initial injury. Thomas started two weeks later against Missouri but was not able to play for the entirety of the game. He said he was "rolled up on a play," and freshman Cade Mays took his place at left tackle.
"Against Missouri, it didn't make sense for me to be in," Thomas said, "Because Cade [Mays] obviously played pretty well." 
He was back in at left tackle during the home matchup against Tennessee and again against Vanderbilt on Oct. 6. He did not worry about his ankle, he said, but rather focused on his role at left tackle and facing an SEC opponent upon his return.
Georgia head coach Kirby Smart said Thomas had a solid first game back against Tennessee, highlighting his physicality at the point of attack. 
"He plays hard. He's one of our best leaders," Smart said in a press conference on Oct. 1. "I thought he was as close to himself as he could have been, and hopefully he continues to improve this week and getting back to his old self."
Smart said Thomas is working on his comfort level in pass protection, something Thomas has been doing since his return from injury. Thomas said he focuses on the technical aspects of his game, such as understanding the use of his hands in pass protection. 
His technical abilities date back to high school at Pace Academy. Thomas was a "technician" in high school, Johnson said, an attribute which Thomas continues to demonstrate in his two years at Georgia. But Johnson said Thomas also strives to be a student of the game, learning for himself and teaching the younger players. 
---
"He plays hard, he's one of our best leaders."
-Kirby Smart, Georgia football head coach
---
 Thomas worked to be the best during high school, and Johnson tested his willingness to reach for the best. The two would train early in the morning to build his technique.
"I just wanted to put him to the test," Johnson said. "It shows if someone will meet you at 6:30 in the morning, and they are knocking on your door at 6:15 [a.m.], you say 'OK cool, this kid is getting it.'"
With the injury behind him, Thomas has reestablished himself on Georgia's offensive line. His success doesn't come as a surprise to Johnson, though, because of the demeanor and success from high school Thomas displayed before ever playing a snap in Athens. 
"All the things that people said he couldn't do, and he set the goals, and for him to do is an accomplishment," Johnson said. "So I know he is going to reach his full potential at the University of Georgia."