As we approach the midseason mark of the NFL season, former Georgia players in the NFL continue to play at a high level. Here are few performances that stood out: 
Offense
Matthew Stafford
Following a bye in week six, Stafford put in another strong performance in a 32-21 win over the Miami Dolphins that took the Lions back to .500 on the season. Stafford went 18-22 with 217 yards and two touchdowns, setting a season high in completion percentage with 81.8 percent, narrowly eclipsing his previous mark of 80 percent from Week Four in Dallas. Stafford and the Lions look to improve to 4-3 next week as they welcome Russell Wilson and the Seattle Seahawks to Detroit.
Nick Chubb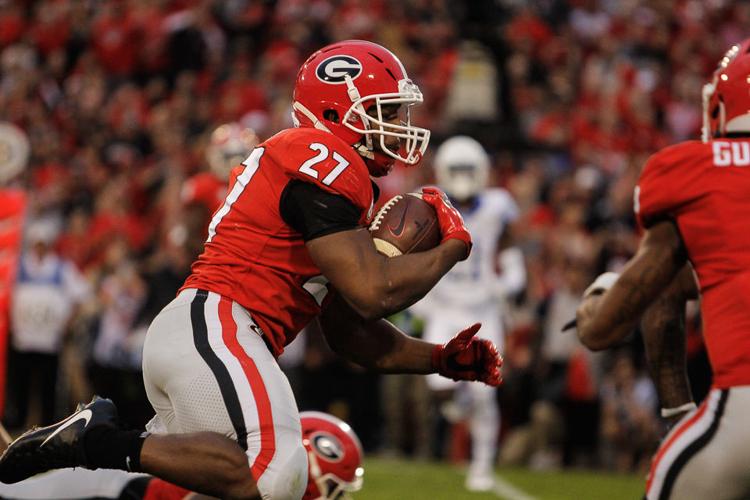 Chubb took over as the Cleveland Browns' featured back in week seven following the trade of fellow running back Carlos Hyde to the Jacksonville Jaguars. He took over after multiple efficient weeks with high yardage on very few carries. Against Tampa Bay this past Sunday, Chubb set a new career high in carries with 18, six times his previous high of three. The first round rookie posted the second-best yardage game of his young career with 80, and rushed for a touchdown in a tight 26-23 overtime loss. Cleveland now heads to Pittsburgh for a key divisional clash that could feature the much-anticipated return of star Steelers running back Le'Veon Bell opposite Chubb.
Ben Watson
The Saints' veteran tight end had arguably his best game of the season in a thrilling 24-23 victory over his former team, the Baltimore Ravens. Watson set a season-high in catches with six for 43 yards as Drew Brees' safety valve in a plethora of offensive weapons. Watson also caught the game's opening touchdown on a play-action pass on the goal line. The high-powered Saints offense now faces all three of last year's NFC division winners in their next four games, with the Vikings, Rams, and Eagles all on the slate.
Defense
Shawn Williams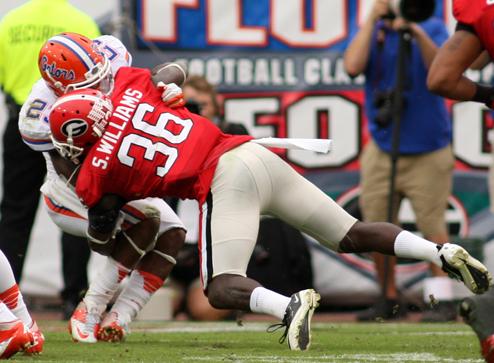 Williams was one of the lone bright spots in Cincinnati's embarrassing 45-10 defeat on Sunday Night Football in Kansas City. Williams recorded 12 total tackles, tied for the team lead, and an interception off star quarterback Patrick Mahomes. Williams and the Bengals now hit a relative soft spot in the schedule with a game at home against Tampa before two tough tests against the New Orleans Saints and Baltimore Ravens.
Other Notable Georgia Performances
Todd Gurley (RB, Los Angeles Rams): 19 total touches, 86 yds, 3 total TD
A.J. Green (WR, Cincinnati Bengals): 7 rec, 117 yds
Sony Michel (RB, New England Patriots): 4 rush, 22 yds (Exited game with knee injury)
Justin Houston (OLB, Kansas City Chiefs): DNP (Hamstring)
Roquan Smith (ILB, Chicago Bears): 5 total tackles, 1 sack
Leonard Floyd (OLB, Chicago Bears): 3 total tackles
Lorenzo Carter (OLB, New York Giants): 1 total tackle, 1 sack 
Thomas Davis (ILB, Carolina Panthers): 5 total tackles
Chris Conley (WR, Kansas City Chiefs): 1 rec, 6 yds
Ramik Wilson (ILB, Los Angeles Rams): 2 total tackles
Geno Atkins (DT, Cincinnati Bengals): 1 total tackle
Jordan Jenkins (OLB, New York Jets): 2 total tackles
Corey Moore (S, Indianapolis Colts): 1 total tackle, 1 INT (First career INT)