After a loss to LSU, UGA won three consecutive games against ranked teams. These stats help explain the turnaround.
113 vs. 274.3
A mediocre 113-yard day on the ground in Baton Rouge gave way to a three-game stretch where Georgia averaged 274.3 rushing yards per contest. The last three run defenses Georgia faced don't measure up to LSU, but they're not incompetent. Auburn and Kentucky allow an average of 151 and 141 rushing yards per game, respectively. The Bulldogs ran for more than double those averages. An obvious factor in ratcheting up the run game? More carries. After 30 rushing attempts against LSU, Georgia has averaged 45.7 attempts per game since.
275 vs. 118.7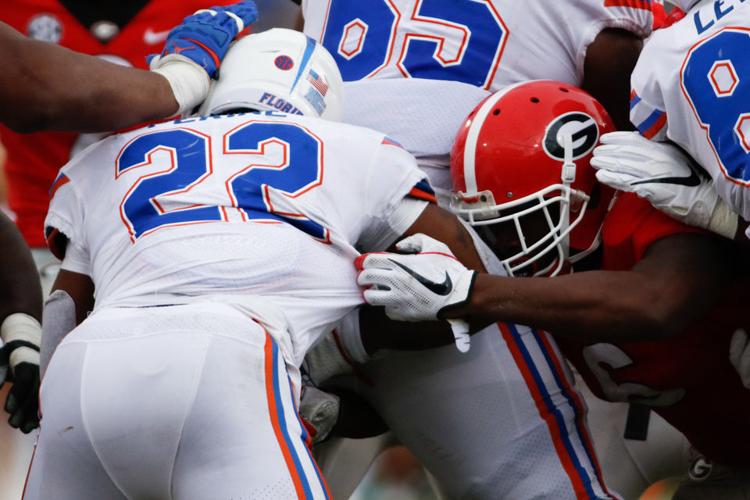 The run defense has tightened up since the Tigers ran rampant and racked up 275 rushing yards. The Bulldogs allowed an average of 118.7 rushing yards to Florida, Kentucky and Auburn. Arguably Georgia's most impressive performance came on Nov. 3, when the Bulldogs held the SEC's No. 2 rusher, Benny Snell Jr., to 73 yards. The run defense, once one of the greatest liabilities on the team, is slowly catching up with the pass defense.
47.1% vs. 68.8%
Quarterback Jake Fromm received much of the blame for Georgia's loss to LSU and for good reason. The sophomore completed 47.1 percent of his passes against the Tigers. Since then, Fromm has posted a 68.8 completion percentage against three passing defenses which rank in the top 25 in the nation. On the road, at home and in a neutral site, Fromm has been sharp, making his performance at LSU look like a fluke.