Georgia's 2000 matchup with Tennessee was historic for many reasons. After scoring the first win over the Volunteers since 1988 by a score of 21-10, Georgia fans stormed on to the field and tore down the goal posts for the first and only time in Sanford Stadium history. In this oral history, Georgia players, fans and athletic director Vince Dooley tell their memories of the game.
The buildup
Ryan Fleming, linebacker: We felt like we had fallen short with the talent we had in previous years against Tennessee. Granted, it was a different Florida and Tennessee, it was a different SEC East than it is now, obviously. Tennessee and Florida were two of the best teams in the country, and you had to get through them to even get out of your division.
Jamie Henderson, defensive back: Throughout the week, we saw a lot of focus. It was kind of quiet. It was an unusual quiet at practice.
Musa Smith, running back:There's players on the Georgia team that might have been from Tennessee, but there's a lot of Tennessee players from Georgia. Just in the SEC in general, you have that week in, week out.
"I think maybe one day, one of my neighbors said something about it, that everybody's planning on storming the field, taking the goalposts down."
- Jim Donnan, former Georgia head coach 
Henderson: I had a friend that was getting recruited by Tennessee. He wanted to go to Georgia or wanted to visit Georgia, actually. Tennessee told him, I think Coach Fulmer told him that, 'Why would you want to go to Georgia? They will never beat us.' I remember him telling me about that, and I told a couple of teammates. That added fuel to the fire.
Sean O'Keefe, Georgia fan from New York attending the game with friends: It was almost like, even after last year's disappointment, you come into this year and you just turn the page and you go on. No matter what had happened the previous year, people were just looking forward to that year. It was a new opportunity to stomp them.
Vince Dooley, athletic director: It was a fad that was going around at the time to storm the field. I think South Carolina had two big wins and they stormed the field. They got a lot of exposure by tearing down the goalposts.
Jim Donnan, UGA head coach: I think maybe one day, one of my neighbors said something about it, that everybody's planning on storming the field, taking the goalposts down. I said, 'Well, we better win then.'
Gameday
Fleming: We were competing well, not just keeping up with them but beating them, offensively, defensively. You started thinking about the other side of it, not just that year but how long it had been.
Jon Stinchcomb, offensive lineman: We rotated some personnel. I think that was one of the games where Jonas [Jennings], who was the left tackle, he played some right guard, and George Foster came in. We were still trying to figure out the best five to execute what we were doing.
With 17 seconds left in the first half and Georgia leading 7-3, Wansley intercepted a Tennessee pass on the Georgia 13-yard line to preserve the Bulldogs' lead heading into halftime.
Henderson: Once Tim Wansley did what he did, in my head I was like, 'Oh yeah, we have them now. I don't think there's anything Tennessee can do to overcome what we're about to do right now.'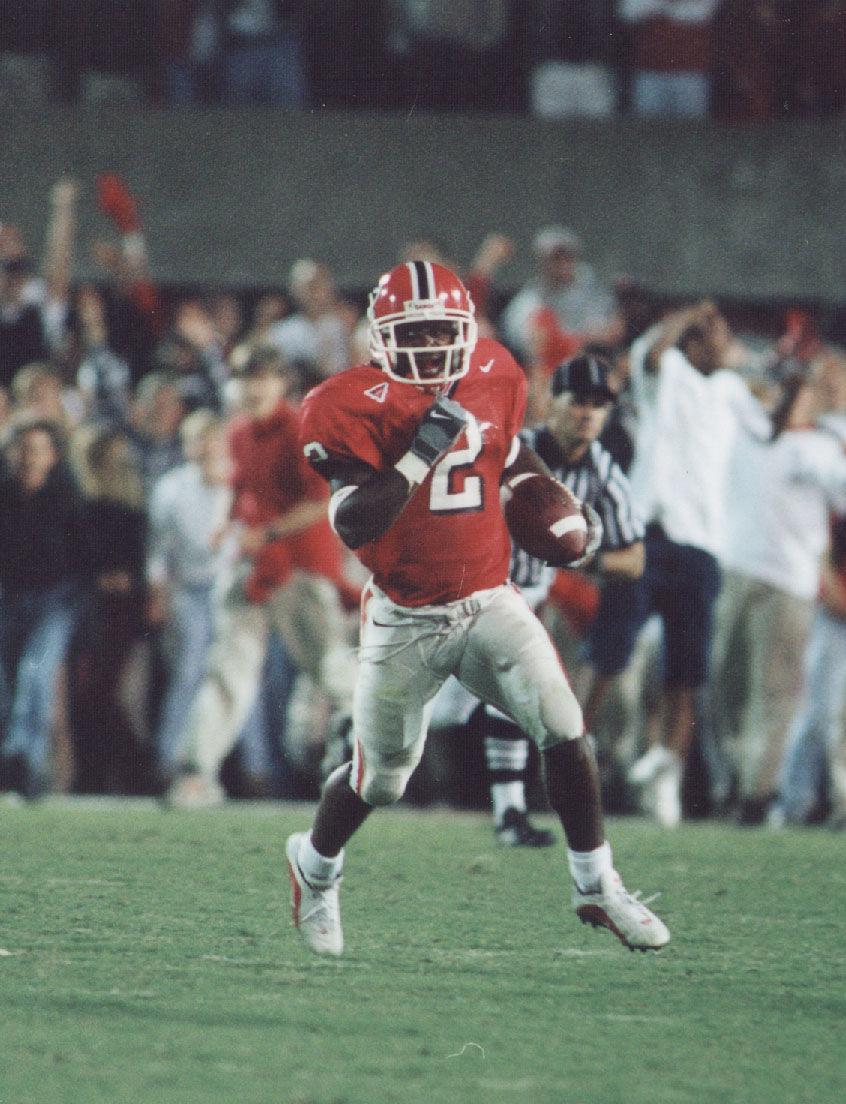 Smith followed a 21-yard fourth-quarter run with a 1-yard touchdown to put Georgia up 21-10 with 13:14 remaining in the game.
Smith: I got in the game and I just had this phenomenal, phenomenal run up the middle. Right then and there, at that point in the game and that run that I had and then scoring a touchdown, it was a big momentum builder for us. 
Haynes: On the Richter scale, you've got one to 10 right? That went over, above and beyond. [The fans] were at 16 and kept on climbing and climbing and climbing.
Smith: Until I die, there's nothing like having 86,000 fans screaming your name when you run the ball. It's almost like an out-of-body experience, man.
Stinchcomb: You feel like it's not 11-on-11 anymore, it's 11 vs. 93,000.
Henderson: They were getting ready to head into our end zone away from the Tate Center. We stopped them, and I got a picture of myself on the wall. I didn't realize, but I jumped so high in excitement off the ground.
Fleming: I get called off the sideline to go in there, and sure enough, it was a play to me that opens up. It was down by our goal line when it was 21-10, it was getting down in the fourth quarter and they were trying to get some more points on the board. [Tennessee running back] Travis Henry comes right at me, it opens up, we hit at the line of scrimmage. The bunch of guys that piled on top of me were more than the guys that were pushing him, and we ended up getting him right there for a loss and holding them on fourth down, which was huge.
Fleming's stop gave the Bulldogs possession on their own 5-yard line up 21-10 with 3:11 remaining.
Billy Bennett, kicker: People were already running through the back of the end zone. I remember Coach Donnan ran down toward that side of the field and was like waving people back. He just didn't want to get a big penalty or something. People were all rushed up against the hedges just waiting for that final clock to run out.
Opening the floodgates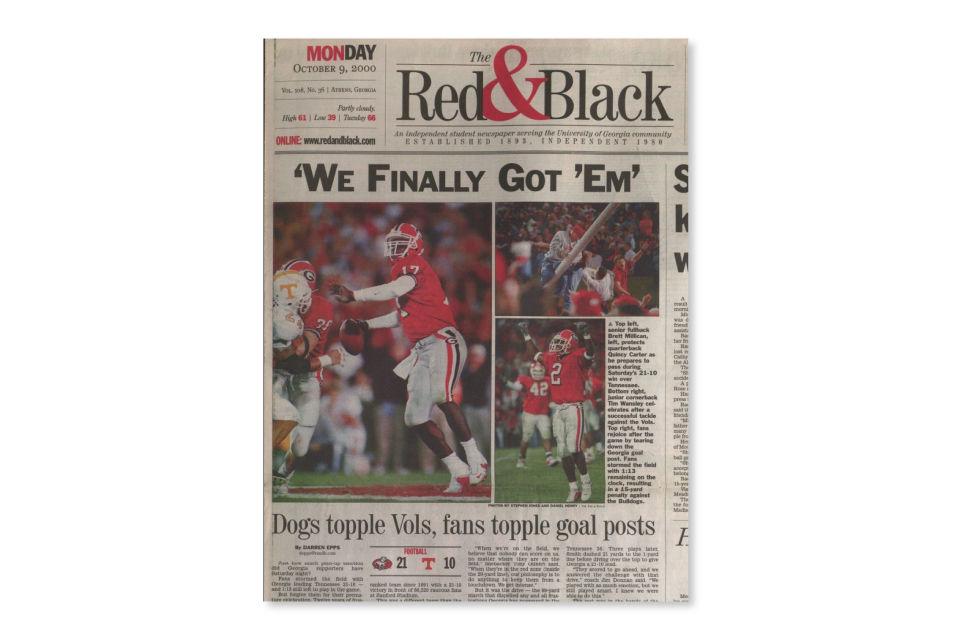 Dooley: You could see them starting to gather when the victory was pretty well assured. Then as some of them started to gather, then more started to gather, then more.
With just over a minute remaining and the score still 21-10, Wansley intercepted a fourth-down pass and returned in to the Tennessee 43-yard line. As he ran down the field, fans, who had surround the field on field level for several minutes, swarmed the east end zone and began attempting to tear down the goalpost.
Bennett: I think people got it in their head like, 'We're going to tear down the goalpost.' At some point, that just became the collective understanding for everyone in the audience.
Henderson: For a minute, I was like, 'Oh God, we're about to get trampled.' That was a wonderful feeling.
Stinchcomb: I remember Randy McMichael, I feel like he was about to blow a fuse just trying to get people off the field so we could win it. We hadn't won it yet. We're about to, let us win it, then we'll celebrate with you.
Fleming: Our concern became and our focus became the fans being able to stay off of the field, being able to finish the game and not being penalized and being able to keep goalposts up. 
Georgia was assessed an unsportsmanlike conduct penalty for the actions of the fans. The clock expired after a pair of kneel downs by Bulldog quarterback Quincy Carter, and fans flooded the field and began tearing down both goalposts.
Donnan: You always stay on your sideline. You want to make sure you do what you're supposed to there. I really don't remember exactly what I was telling them, but we got a lot of guys down there between our equipment managers and the managers and all those other people telling them to get back and hold them back.
Stinchcomb: It was bedlam before it was supposed to be bedlam.
Smith: To bring the fans to that level where they're just super excited, where they can't control themselves based on the performance that you just put on. Man, I'm getting chills right now just thinking about it.
Stinchcomb: I do remember some overzealous fans with some head slaps. They were just trying to enjoy the moment, but there's only so many times you want to get hit in the head from random people.
Bennett: It's a very rigid atmosphere, football as a discipline. Just to see the total pandemonium going on in something that's supposed to be kind of an organized game with all these rules, it's a really special thing.
Donnan: I went out there and shook Coach Fulmer's hand. I remember those two highway patrolmen I had said, 'Coach, we need to get out of here.'
O'Keefe: We just stood there on the railing watching the people jump. We were basically watching them going over the rail like ants. 
Fleming: I wore my helmet around after the game because it was just a madhouse after the game was over on the field, people slapping you.
Henderson: [A fan] gave me this huge dog bone, you know like the little bones, the cowhide bones. It was a huge cowhide bone. I took that bone, went into the locker room and wrote the score on the bone and then wrote the game. That bone is still in my basement.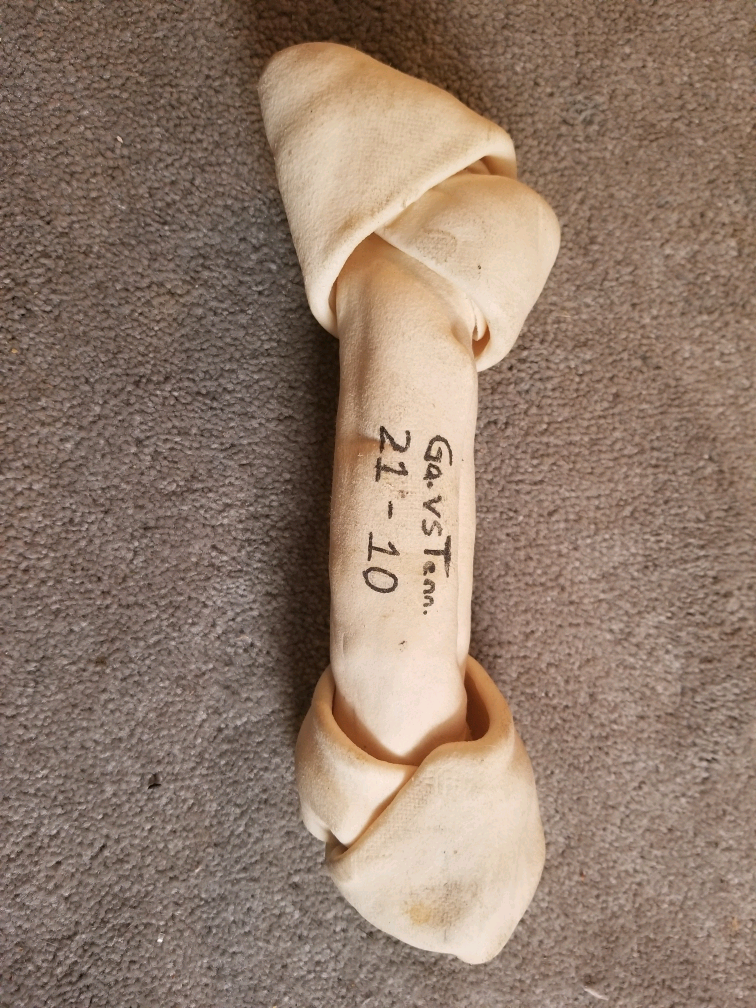 Bennett: You see the people start rocking the posts, people hanging on the top of them and then falling off of them. You see it start to get that rocking motion and it finally snaps. Of course, it's dangerous as hell.
According to the Athens Banner-Herald, Georgia student Kristine Yu was hospitalized at St. Mary's Hospital with a head injury she sustained during the storming of the field.
Dooley: We had a young student, young female who was taken to the hospital. She was almost critical. I remember going over there and her parents came, and we sat with them and visited with them and the doctors. She was there a couple days and then fortunately got OK. 
Henderson: When you have fans, they live down the street or even next door neighbor, you know that's your community, basically. That's your new community coming out to congratulate you on a good job, a good win. When I played in the NFL, it wasn't so much like that.
Bennett: They dragged [the goalposts] all the way downtown, which is an amazing, almost like spoils of war. You cut the head off of your enemy and drag it into the town square. That stuff is such a deep human thing to do.
Fleming: There were big crowds, of fraternity guys I'm guessing, but it was just fans because they were just such big groups of them carrying it down through the streets, pieces of it, whether the upright or the crossbar or whatever it was.
O'Keefe: You're like, 'Hey, let's go ring the [chapel] bell,' and we're like, 'OK.' All of a sudden you see this however long white pole going down the street. You're like, 'Oh my goodness.'
Dooley: As a result of that, I believe this is right, most of the administrators around the country went to these goalposts that are just automatically put down after the game. That's one thing I believe that we did, along with a lot of other schools that were having issues like us.
Donnan: Goalposts, you can do something with that any time. But the damage to the hedges had to be really one of the hardest parts about it, I think. You don't want to do anything to mess those up.
Dooley: The only thing you can do is prune them because they were just broken. You had sticks. Instead of between the hedges, it was between the sticks. It looked terrible.
Bennett: They were just picked through. They were down to like a quarter of what they were.
Dooley: I think it's almost like a forgotten thing of the past. It happened, we're proud of the fact we finally beat Tennessee more so than the aftermath of it.
Dooley: It might have been exciting, but there's a realization of what could have happened and what did happen because they saw the sticks out there. I don't think Georgia people who should be proud of between the hedges would be very proud of that. I think that was the reaction.