At Mr. Haircut No. 1 in downtown Athens, a picture of Uga V lunging at Auburn wide receiver Robert Baker standing tall over him hangs on the wall in a black frame with a red mat board. The photo is easily recognizable these days.
"All I know is the person who took the picture was in the right place at the right time," hairdresser Susan Dunn said. "I really don't know that much about it."
On Nov. 16, 1996, Baker caught a touchdown in the front right corner of the end zone. After letting the ball fall to the ground, his momentum carried him toward Georgia's mascot, Uga V, and Charles Seiler, who handles Uga.
"[Baker] kind of made a beeline for Uga, who had his back turned to him originally," Seiler said. "It was a big, loud noise since he scored. It startled him…. If Uga hadn't landed, he would have grabbed Baker right in the crotch, and that would have been a painful thing. But he ran out of rope."
Baker enticed, Uga V jumped, Seiler pulled back and a 30-year-old Patricia Miklik Doyle snapped the shutter on her camera.
In the 20 years since, the photo has served as a representative image of the Deep South's Oldest Rivalry. In that time, the dog, the photographer and the wide receiver's lives have gone in completely different directions.
The dog
Seiler doesn't think Uga V felt threatened by Baker that day. He remembers Uga IV, Uga V and Uga VI all as playful dogs. One time, Seiler recalls Uga VI jumped up and grabbed a Georgia majorette's flag that waved in the wind. Seiler also remembers past mascots chasing Hairy Dawg, running after cheerleaders' flags, chewing on unattended footballs and once grabbing the stinger of Georgia Tech's Yellow Jacket mascot.
"If the temperature was right and they were cool and felt playful they would run after things that ran by fast," Seiler said. "Those dogs would run and chase our players if they had the chance."
Georgia head coach Kirby Smart, who played safety at Georgia at the time, didn't notice Uga V jump at Baker when it happened. Neither did offensive lineman Matt Stinchcomb. He said the team did not react to it together until they watched film of the game.
"We watched it about a couple hundred times afterwards in slow motion," Stinchcomb said. "I think we broke down that as much as we broke down plays in the game."
Georgia wound up winning the game 56-49 in four overtimes, the first overtime game in Southeastern Conference history. Stinchcomb said if he was in an English literature class then he'd draw a parallel between Uga V's jump and Georgia's win over the No. 20 Tigers, but that the Bulldogs didn't pull off the comeback upset because of Uga's lunge. Instead, offensive lineman Steve Herndon credits head coach Jim Donnan with preparing the team for college football's overtime rules as the reason for the victory.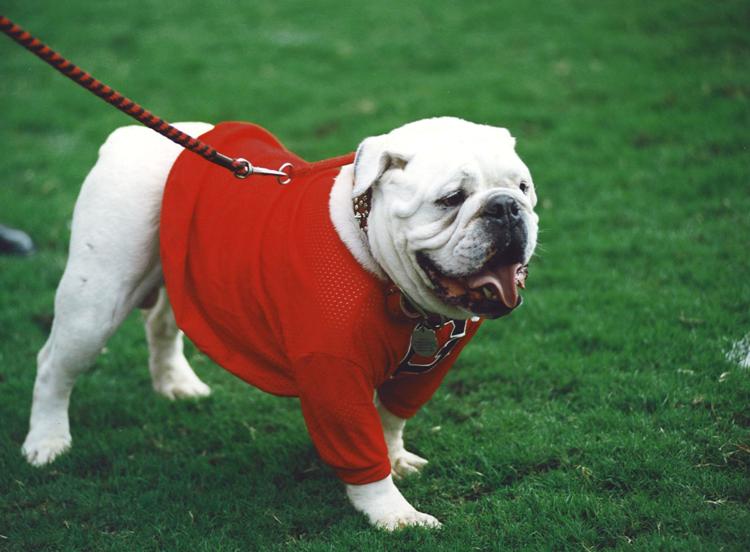 After Uga V, who Stinchcomb described as "an ornery cuss of a dog," jumped toward Baker, his national fame rose. In 1997, Sports Illustrated put him on its cover with the title "No. 1 Mascot." That same year, he made an appearance in the movie "Midnight in the Garden of Good and Evil."
Uga V died in 1999 after being Georgia's mascot for nine years.
Photo and video of the moment launched the Uga line to national recognition, but the photographer of the image did not receive the same treatment.
"I know the girl didn't make any money off of it," Seiler said of the picture.
"That's true," Doyle said.
The photographer
Doyle got her job with the Montgomery Advertiser in the fall of 1988. She did not particularly like football, but Doyle had regularly shot football games for a decade by the time the 1996 Georgia-Auburn game rolled around. When on assignment at football games, she always tried to follow where the football went.
"I'm sure I was watching Robert Baker come down the field," Doyle said. "I'm sure I noticed him running off and the dog leaping up, but in some ways I probably didn't realize that was happening because it was so fast, so quick."
With the moment happening so early in the game, Doyle didn't think much about Uga's jump at first. By the time the game ended, CBS had already replayed video of Uga V lunging at Baker. After the game, Doyle said Dave Martin of the Associated Press asked all of the photographers present if someone had the picture.
Doyle was the only one who did.
On her roll of film, the now-famous shot is sandwiched by one of Auburn fans cheering and another of Uga V firmly on the ground. If any thing had been off, she wouldn't have captured the moment. She considers herself lucky.
"That picture has always been surprising," Doyle said. "I guess it was a surprise that I had it when we found it in my film. I was surprised how many copies sold. I had requests from everywhere and every type of person."
Ever since the picture printed, Doyle has been associated with it. She said sometimes people introduce her as "the photographer who shot that picture of the Georgia Bulldog."
Charles Seiler's father, Sonny, personally asked her for two copies of the photo. She obliged, and he sent her Uga's paw print pressed in white paint. Doyle keeps that paw print and a few copies of her famous photo rolled in tubes in a closet.
In 2004, the night before Doyle and her husband, Steve, left on her honeymoon, a movie crew showed up at her doorstep to ask her about the picture.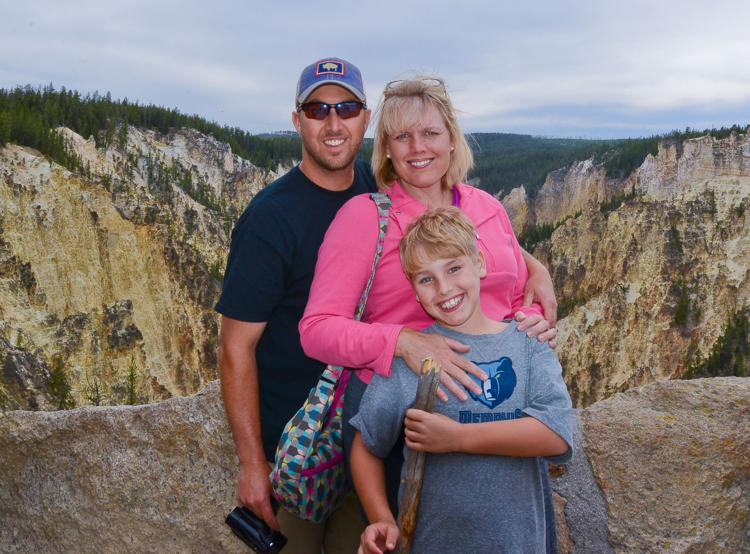 The image brought her notoriety, but it didn't bring her money. Doyle said that at one point, the Montgomery Advertiser had sold $35,000 worth of the image. She didn't see a penny of it because the paper owns the rights to the picture.
Doyle worked as a professional photographer until 2009 when she became an oncology nurse. She still takes photos in her free time, but her 10-year-old son, Jack, is more important to her now.
Doyle is stunned it's been 20 years since she took that picture. As she looked at it she began to think about it more, and wondered what happened to the wide receiver who antagonized Uga V, allowing her picture to happen at all.
"I don't know that anybody ever talked to Robert Baker," Doyle said. "I wonder if anybody ever talked to him about that moment."
The receiver
Steve Herndon first met Robert Baker when the two were in high school. Both had verbally committed to play at Florida and would see each other on recruiting visits. Neither player ended up playing at Florida, though, as Herndon went to play offensive line at Georgia, and Baker played wide receiver at Auburn. In 1996, Herndon was a backup freshman and Baker a starting sophomore.
"Robert was a flashy guy," Herndon said. "He was a great guy. Let me be very clear about that. But he was very flashy, flamboyant, talked a lot. He was not a quiet, reserved kind of a dude.
"He probably enticed Uga. He probably said something to Uga and he got a little nibble."
Baker's career at Auburn ended when he was declared academically ineligible in 1997. In April of 1998, Baker was arrested and charged with "one count of trafficking cocaine and two counts of distribution of cocaine," according to a 2004 story in the Toronto Sun. He served 16 months of a 15-year sentence before an early release. Despite the jail time, Baker played professionally in the NFL and Canadian Football League for the next eight years.
On Jan. 20, 2013, Baker was arrested in Lowndes County, Georgia, after being stopped for a traffic violation, according to a 2014 press release from the Drug Enforcement Administration. A consensual search of his car revealed 59.5 grams of heroin and an unlicensed 9mm semi-automatic pistol.
Almost a year later in January 2014, Baker was sentenced to serve 75 months in prison for "possession with intent to distribute heroin and possession of a firearm in furtherance of a drug trafficking crime," according to that same press release. He had plead guilty to the charges.
Herndon had no clue. When told, there was a pause over the phone.
"That's not a surprise at all," Herndon said. "He was definitely a talker. I didn't even know that. I didn't even know that he was in jail. That's disheartening. That's very disheartening."
As of Nov. 8, Baker continues to serve the remainder of his sentence at a federal penitentiary in Pensacola, Florida. When asked about Robert Baker, the man who answered the phone at the prison was surprised to hear Baker's past.
He had no idea the 40-year-old inmate was once a football player.
Never again
Mr. Haircut isn't the only Athens business to display the famous picture. The Red Zone, DawgFanz and The Clubhouse display the picture and all sell it. Seiler, who will turn 57 on Nov. 15, said he can walk into a Hardee's in a town he's never been in, look up and see a younger version of himself stopping Uga's bite from reaching Baker.
The picture isn't just a print anymore either. It can also be found as a refrigerator magnet and on the backs of t-shirts.
Seiler doesn't expect an opportunity to arise for a similar photo with Uga X. Que, who was raised on a cotton farm, is 3 years old and it is his first year as Georgia's mascot. Seiler said Uga X is still scared of the noises at today's college football games, which he said weren't as loud 20 years ago. That, combined with increasing temperatures and more people on the sidelines, cause Seiler to keep Que in his dog house more often where he can lie on his usual bag of ice.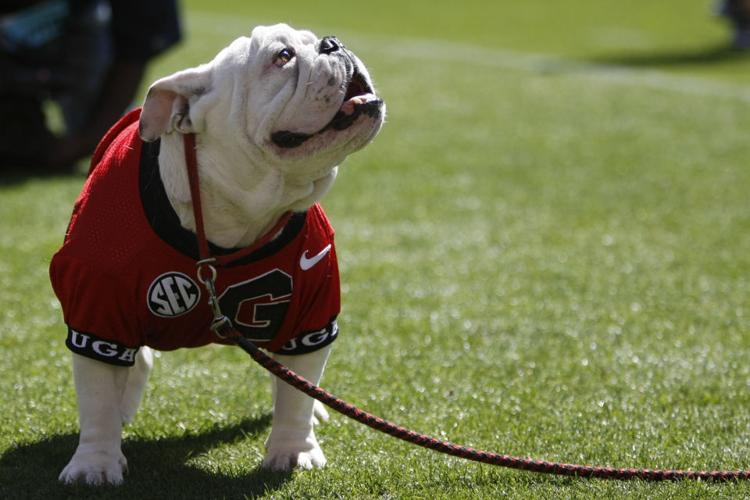 "Back then, in my opinion, it was a lot more hospitable environment for a bulldog mascot," Seiler said.
The Weather Channel predicts a high of 63 degrees for Georgia's game against No. 9 Auburn on Nov. 12, which Seiler said will allow him to take Uga X out of his dog house more often. However, he doesn't think Que will lunge at an Auburn wide receiver, launching what today would be a viral sensation.
When the Bulldogs and Tigers kickoff, Uga V will watch the game from his grave in Sanford Stadium and Doyle from the comfort of her home.
"[Baker] might not even get a chance to watch it," Doyle said.
A picture as instantly recognizable to Georgia fans as the one Doyle took may never be captured again. It was a moment in time shorter than half-a-second, immortalized forever in one image.
As Seiler said, "It's just one of those things that happened at the right place at the right time."