The stage was smaller, and the crowd was thinner, but Olympic decathlete and former Georgia track and field champion Karl Saluri was victorious once more when his intramural volleyball team #DoYouEvenBall won the coed league playoffs last September.
Saluri's squad went undefeated in regular season play, never losing a set.
"The final game was pretty crazy," the Olympic decathlete said. "We were going nuts."
Now two years removed from his final outdoor season, the 26-year-old earned his master's degree from Georgia in December 2019. It was the final feather in a cap already filled from his injury-laden, championship-caliber career on the Georgia track and field team.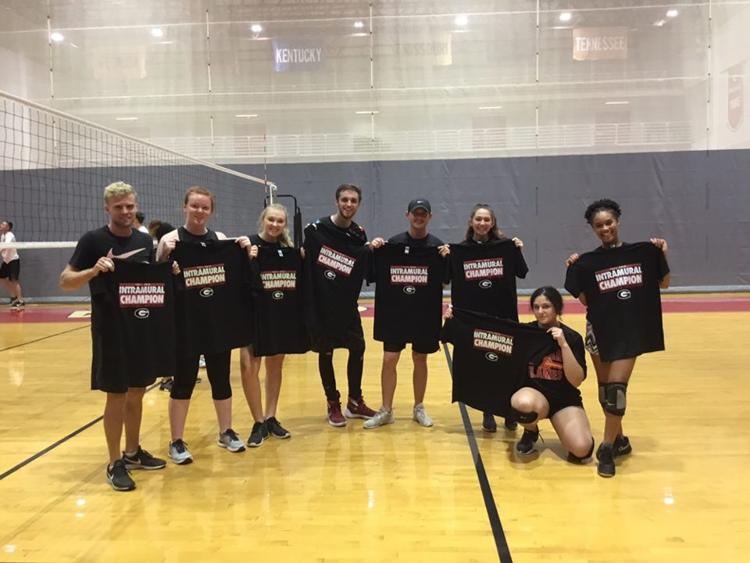 Spec Towns Track: 4,800 miles
Hailing from Kuimetsa, Estonia, Saluri never intended to come to Athens. Before leaving for the U.S., he had agreed with longtime friend and Georgia-bound training partner Maicel Uibo to separate for college and reunite after graduation to compare notes.
"I was like 'I want something else,'" the 26-year-old said. "[To] build my own dream."
For a time, the plan was working. While Uibo joined the Bulldogs as a decathlete in 2013, Saluri was set to compete for Arkansas the following year.
But a severe ankle sprain in 2013 gave the Razorbacks cold feet, and they backed away from their Estonian recruit.
Saluri had to regroup. He did so at New Orleans University, spending one semester in the Big Easy and setting a school record in the decathlon before a spot opened up in Athens.
Despite he and Saluri's high school pact, the then-reigning NCAA decathlon champion Uibo encouraged his countryman to join the Bulldogs. 
"All of us would talk about it in practice, my coach, and Garrett [Scantling] and Maicel, mostly because there was another Estonian coming," former teammate Devon Williams said. "So that was exciting."
With the addition of Saluri, Georgia track and field head coach Petros Kyprianou had built an elite corps of combined-events competitors. At least one Bulldog placed in the top-five of the heptathlon and decathlon in every NCAA championship between 2013-18.
From redshirt to Rio
But before his first meet at the Spec Towns track, Saluri was again decommissioned by injury, this time with a navicular stress reaction in the same ankle sprained in 2013. He redshirted for the 2015 indoor and outdoor seasons.
"That was a sad year," Saluri said. "I spent more time in Ramsey [student center] swimming than at the track."
His teammates understood. Injuries, especially for decathletes, come with the territory. In addition to building speed for the 100-meter sprint and 1,500-meter run, hurling a 16-pound shot and positioning one's body after a 15-feet vault requires intense training and precise form. In practice and at meets, it doesn't always go smoothly. 
However, the physical toll breeds camaraderie, and Saluri's teammates welcomed him into their unit despite his year of rehab.
"We never really excluded him and thought that 'Oh, we'll see him next year,'" Williams said. "He was always one of our brothers."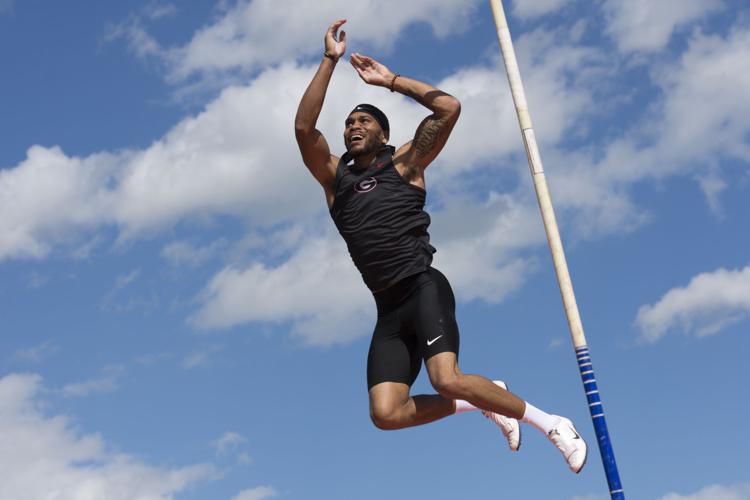 Untested in the SEC but determined, Saluri vindicated himself over his 2016 indoor and outdoor seasons, sprinkling in a dash of revenge along the way. 
At the 2016 Razorback Invitational in Fayetteville, Arkansas, Saluri, Uibo and Scantling swept the top three scores for the heptathlon. Arkansas' two competitors placed seventh and tenth. 
Once he saw Saluri compete, Scantling knew the team's Estonian addition was cut from the same competitive cloth as Uibo. 
"[I thought] 'that boy can move,'" Scantling said. "He can move, it's insane. I mean, you wouldn't expect it. He's a tiny guy, and he's just got power. He can move those legs so quick, it's a sight to see."
Tiny is a relative term coming from the 6-foot-3 Scantling in reference to Saluri's 5-foot-10 stature. But Saluri was fast. He ran .21 seconds faster than Scantling in the 60-meter dash at the 2016 NCAA indoor championships, placing second in the heat and tying for 10th all time in the Georgia record books.
Saluri finished No. 7 overall in the heptathlon at his first national championship, four spots behind his senior teammate. 
To cap off his debut outdoor season, Saluri hit the Olympic decathlon qualifying standard with a career-best score, cementing his spot next to Uibo to represent Estonia at the 2016 Summer Games in Rio de Janeiro, Brazil. He bested the mark at the Athens Bulldog Decathlon in front of his family, whom he hadn't seen for a year and a half. 
"I just remember being so happy for him," Williams said. "It was such a feat for him because he had a lot on the line. I still remember seeing him after the 1500-[meter] raising his arms, just taking in the moment. It was special."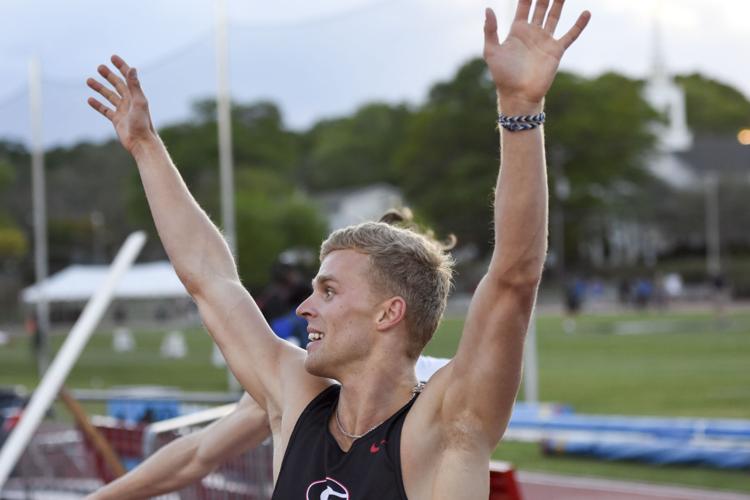 Olympic intramurals 
Typical of Saluri's career, his road to the Olympics wasn't straightforward. A broken left leg two months before the games left him wondering if he'd even make it. Somehow, after another stint of pool rehab, he did.
He wasn't at full capacity in Rio, but a scratch by Uibo in the shot put allowed Saluri to place one spot higher than his lifelong teammate. They finished No. 23 and 24 in the world.
"After day one — if it wasn't the Olympics — I would've been done," Saluri said. "I would've said 'hey, I can't finish the meet.' But because it was the Olympics I was like 'I can't stop. Even if it hurts like hell I'm just going to keep pushing.'"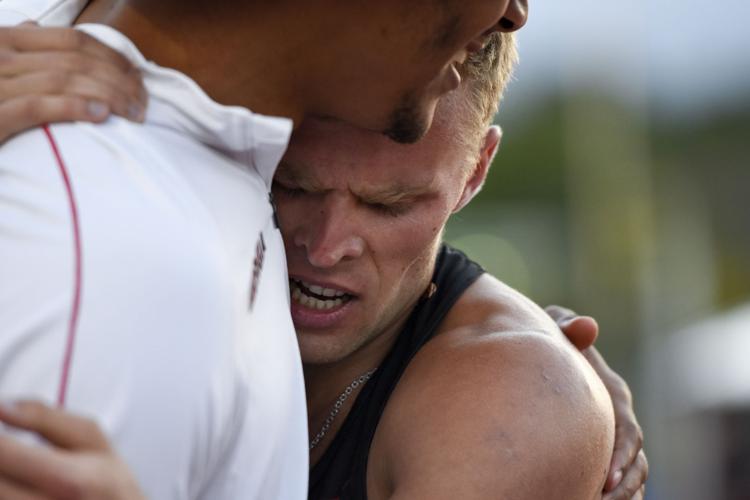 Back at Spec Towns track, Saluri finished his college career with a decathlon victory at the 2018 SEC outdoors and second-place at the 2018 NCAAs. The men's team took the national title the same year. 
While working toward his master's degree in 2019, Saluri turned to Georgia intramural and club volleyball to continue competing.
Unsurprisingly, he was successful.
Scantling, now Saluri's roommate back in Athens, watched his games last fall. From 2-on-2s against Saluri and Uibo, Scantling was aware of his volleyball skills, which Scantling said surprised opponents due to his former teammate's height.
"I went to his championship matchup," Scantling said. "I got the film of it and watched it and laughed. Karl loves his intramural sports. Sometimes I'd tell him 'maybe that's why you're hurt.' But he didn't care."