The conversations started with the first groups off the tee on Thursday morning.
While the initial groups were starting their first rounds at the 2019 Masters Tournament in Augusta, people were already talking about the event just under 100 miles away on the campus of the University of Georgia.
"So, he can say that he was leading the Masters," said one student about one of the early leaders to a friend as they made their way from Georgia's North Campus.
Over the four days of the tournament, the Masters was everywhere around Athens - on the clothes people wore, on their laptop screens and in their conversations. While Augusta may be home to the Masters, it clearly has a special place in Athens as well.
Once Thursday rolled around, it was evident something big was happening in the golf world. The iconic Masters logo adorned shirts and hats all around campus, an impossible sight to miss.
---
A takeover
The next day saw one of the televisions in the Grady College of Journalism and Mass Communication tuned into Sportscenter, which was showing a live look-in from Augusta. This prompted one student to remark that the tournament was around everywhere she looked on campus.
Everywhere includes the screens of students' laptops. The tournament offers numerous online streaming options even outside the traditional broadcast, allowing students to stay updated with how things were progressing.
One such student was Scott Eisenberg, a senior from Atlanta. Eisenberg grew up watching the tournament with his father, and while he confessed he's not an avid golf follower, nothing keeps him from watching the Masters.
"If it's an important class I'm obviously going to pay attention, but for the most part I'm watching this because it's a lot more fun than what's going on in class," Eisenberg said.
But laptops aren't the only option for students wishing to view the exquisite scenery that personifies the Masters. Students and citizens alike have numerous choices of downtown establishments that make it a point to show the tournament.
Jennifer Snider, general manager of The Office Sports Bar and Grill in downtown Athens, said the Masters has generated good business for her restaurant over the past two years. The place was nearly full Thursday morning, and Friday morning saw a large party show up to watch the tournament on some of The Office's 21 TVs just minutes after the restaurant opened at 11:30.
That group turned around and made the 95-mile trek to Augusta to attend the Masters on Saturday. That proximity not only results in people attending from Athens but also in numerous Georgia students who hail from the home of the Masters.
Spreading tradition
Sophomores Caleigh Cox, Rachel Anderson and Carly Pence and junior Christian Huff are all Augusta natives. Huff explained that in Augusta, many people aren't golf fans until Masters week, but to them, it's also more than just a golf tournament.
It's so important, in fact, that Cox made sure to initiate those in her freshman dorm into the Masters tradition a year ago.
"We made our hallmates come across to our room and we locked them in the dorm the whole day and we literally taught them everything we knew," Cox said. "We ordered food so we wouldn't have to leave and we made them watch all of the Masters with us."
Fellow Augusta native Austin Matthews said that schools in Augusta always scheduled their spring breaks to coincide with Masters Week. His family, like many others, rents their house out to visitors and goes on vacation - the Matthews' spent this week in Mexico.
Matthews confessed he isn't the biggest golf fan, and he also has never set foot on the hallowed ground of Augusta National Golf Club. However, he still feels a sense of pride when he sees or hears about the event on his school's campus.
"I kind of get like excited a little bit, like, 'Yeah, that's my city, man,'" Matthews said.
With the significance of the Masters, students want to make sure they stay updated. Derrick Bholé, a senior from Johns Creek, streamed the tournament on Friday afternoon as he kept up with his Masters pool.
The rules of the pool are simple: the golfers in the tournament are divided into five groups based on their odds of winning, and then players pick one golfer from each tier. The lowest three combined scores then count for the player's standing in the pool.
At about 2:00 Friday afternoon, Bholé's scoring golfers were Ian Poulter, Tony Finau and Rickie Fowler. Poulter was in the lead at that time but ended up finishing tied for 12th.
Put it on the board
Nobody around Athens kept the community updated quite like the brothers of Sigma Phi Epsilon. On the front lawn of their house on Milledge Avenue, they had a live leaderboard that showed the top four golfers along with their scores.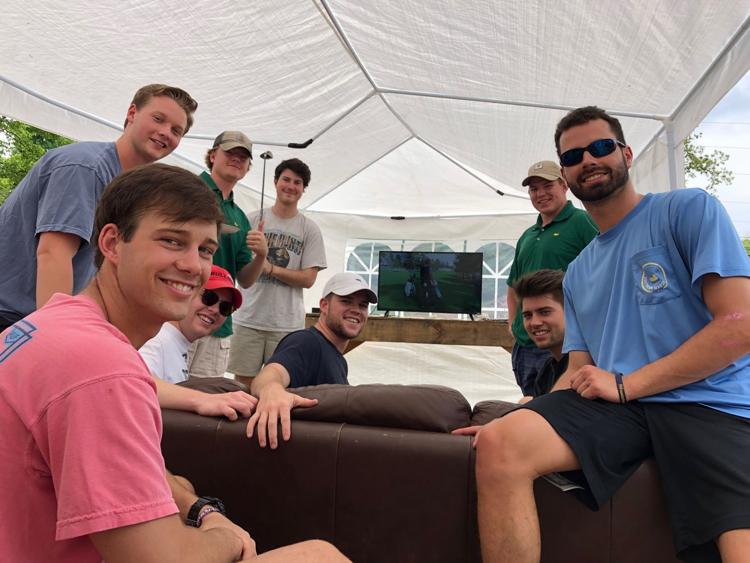 Senior Ben Butler said this is the fraternity's third year having the leaderboard, which consists of a dry-erase board screwed into a piece of wainscoting. The entire setup cost about $75.
For the second year in a row, the fraternity also had an outside viewing party. A TV was set up along with couches and chairs under two tents, and music from speakers filled the air. Members of the fraternity milled around the yard taking half swings at golf balls.
"We started the leaderboard just as a little fun thing to do, cheap little project just to kind of have a little fun," Butler said. "Then we finally started realizing, 'Man, if we're going to be out here updating it, we might as well watch it in the front yard as well.'"
Butler said about 30 members were big golf fans, but everyone has made an attempt to take an interest in the event and try to learn the significance of this thing called the Masters. More educated members make sure to explain the history and traditions of the event to the less informed.
"Come Sunday, all of a sudden they're all Masters guys," Butler said. "Even if they don't care, they're trying to learn, they're kind of into it a little bit. It's one of those things where even if you don't know what's going on, it's easy to get excited about it."
A Georgia thing
That sense of community is what makes the Masters so special in Athens. For four days in April, the university and the town is drawn together by the events of a golf tournament less than two hours away.
On Sunday morning, the tournament brought together the members of Lambda Chi Alpha and Phi Mu for a Masters brunch. After the final round tee times were moved up due to impending rain, those in attendance saw the leaders play the course as they ate pimento cheese sandwiches in a living room decorated with green and yellow balloons - Masters colors.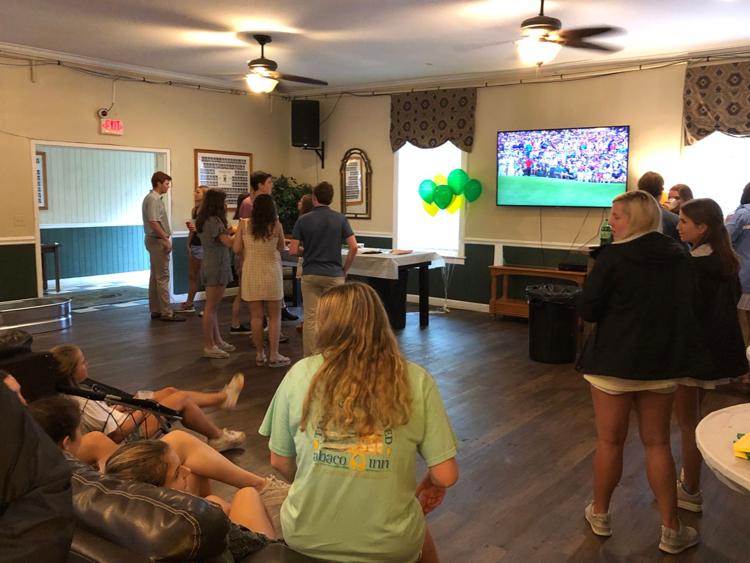 As Tiger Woods made his move toward the lead, people noticed. As he saved a par with a putt at the 12th hole, one fraternity member shot an imaginary bow and arrow at another.
"We just kind of wanted to have a nice send-off for the seniors and have a nice thing where they can come," said sophomore Will Derrickson, who was responsible for organizing the brunch. "Hopefully we can do this year after year and it turns into a tradition rather than just a once thing."
Unlike other majors, the Masters is held at the same course every year. Derrickson said this adds to the event's significance.
"Being that it's in Georgia, it's like a big heritage thing," Derrickson said. "Our grandfathers have been, our great-grandfathers have been."
Current Bulldogs are also drawn together by the chance to cheer for former Bulldogs. Three ex-Georgia golfers took part in this year's tournament - Bubba Watson, Kevin Kisner and Keith Mitchell.
But it wasn't a former Bulldog that donned the green jacket Sunday afternoon. It was Woods, who won his fifth Masters title and his first major since 2008.
Now that the tournament is over, golf will fade from the collective conscious of Athenians, especially with G-Day coming up on Saturday.
But next year, just as spring brings with it blooming flowers, it will also bring back the Masters and its collective sense of community among the students and citizens of Athens.
Perhaps Will Minnis, chapter president of Lambda Chi Alpha, summed it up best.
"The Masters, it's Georgia, it's our thing," Minnis said.