Georgia dominated its opening series against Dayton from the moment Emerson Hancock first climbed the Foley Field mound on Feb. 15.
Hancock and the other two starting pitchers for the Bulldogs were big reasons why, as they combined to throw 17 2/3 innings and allow only three earned runs.
In game one, Hancock took a no-hitter into the sixth inning before Dayton finally managed to get something started offensively.
Will Proctor and Tony Locey, the game two and game three starters, both set career highs for strikeouts in their outings.
"The starting pitching is going to lead the way for us," head coach Scott Stricklin said. "For us to be really good our starting pitching has to be really good. I thought all three guys this weekend were great."
Even though the starters were near perfect, they didn't have to be. The offense pushed across 28 runs and had 34 hits as several players had breakout performances.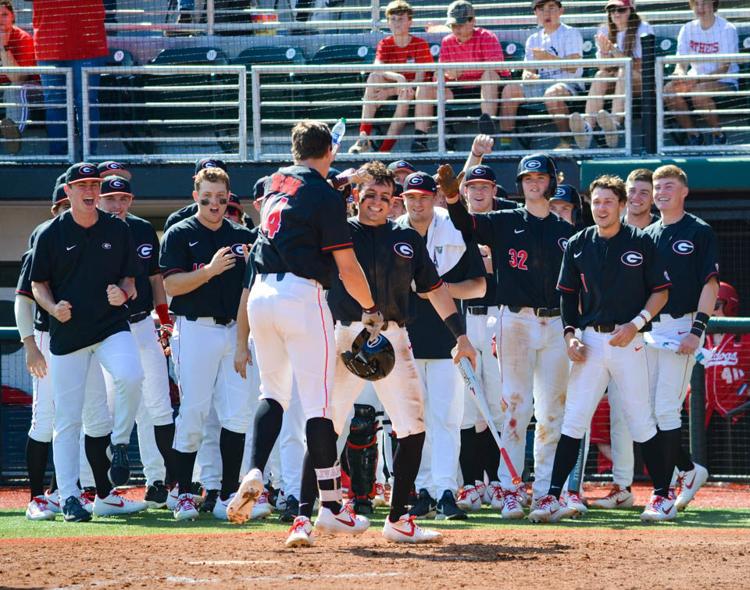 Cam Shepherd batted leadoff all three games and reached base nine times, scoring six runs. Four players had five or more hits, and Riley King led the way with seven, even calling his shot on Georgia's first home run of the season in game one.
"I've been playing with Riley King since high school," third baseman and pitcher Aaron Schunk said. "This stuff isn't new to me. I think he's going to keep exploding and he's going to have a phenomenal year."
Another offensive star was Patrick Sullivan, who is taking over as the primary first baseman this season. Known more for his glove, Sullivan showed just how complete of a player he is over the weekend, excelling in the lower half of the Georgia order.
---
---
"Sometimes when you make mistakes, it's a good thing because you can learn from it."
— Scott Stricklin, Georgia Head Coach
---
"Patrick is in the game because of his defense," Stricklin said. "You could argue he's as good of a defensive first baseman as we'll see all year long. To have him there is huge for our team regardless, but he's hitting back in the lineup and he gets eight RBIs in the seven or eight hole, that's huge."
Although Georgia's performance didn't leave room for complaining, Stricklin understands that the team needs to clean up on the basepaths.
In game one, LJ Talley got picked off at second base. In game three, Randon Jernigan didn't tag on a fly ball to right field and was doubled off at second.
"You're never going to be perfect," Stricklin said. "If it's a closer game, some of those are key mistakes. Fortunately, they didn't come back to haunt us."
Shane Marshall got picked off at first in game two but managed to get out of the rundown and make it safely back to the bag. King found himself in a similar situation and also managed to survive the rundown. Both players came around to score after they narrowly dodged an out.
"If they execute the rundown, we're out of the inning," Stricklin said. "We somehow get out of those rundowns and then we hit home runs after that. Those are huge plays and we've got to clean that up a little bit."
The Bulldogs will be shorthanded for several games because of an injury to outfielder Tucker Bradley in the final game of the series when he dove for a ball and jammed his shoulder.
Bradley was immediately replaced by Jernigan. The expectation after the game was that he would be able to return in a few weeks, but in the meantime, someone will have to fill his prominent role in the lineup.
"You're going to have some bumps and bruises," Stricklin said. "You've got to have somebody step up. I know we've got plenty of candidates to do that."
Next weekend against UMass Lowell, Stricklin's team will set out to fix the small lapses from the Dayton series while knowing that they performed well.
"Sometimes when you make mistakes, it's a good thing because you can learn from it," Stricklin said. "You're never going to be perfect, but I thought we were pretty darn good this weekend."