On Wednesday, the sun rose and cast its beams over the roof of the new Georgia equestrian clubhouse as a symbol of a new era. The new building was officially revealed in a ceremony at the UGA Equestrian Complex in Bishop, Georgia.
The Georgia equestrian riders left their old trailers behind and settled into their own spaces. This new facility felt like years in the making to the team that has won six National Collegiate Equestrian Association team championships. 
In 2018, the University of Georgia Athletic Association agreed to build a $3.1 million clubhouse for the team. One year later, the 7,000-square-foot building is complete. It features a new locker room, offices, meeting rooms, a sports medicine room, and uniform storage and laundry facilities.
University of Georgia President Jere Morehead and J. Reid Parker Director of Athletics Greg McGarity were in attendance at the official reveal on Wednesday afternoon, and head equestrian coach Meghan Boeing made remarks.
"What an incredible opportunity," Boening said. "It gives our student-athletes so much support from the athletic training room to video review and their own lockers and showers. It just feels incredible and it has been something that the athletic association for Georgia has been wanting to do for such a long time."
One of the facility's best attributes is its ability to recruit new student- athletes, Boening said.
"To just put a permanent way out here is perfect for recruiting. We are so proud of this facility and what has been done," Boenig says. "It makes its mark for future buildings. We won't stop here. We will continue to expand the footprint out here in Bishop."
Now, the equestrian riders can sit in the comfort of their own media room. They have a place to reconvene after practices and make memories together. Most importantly, the current team and future student-athletes will have a place to call home.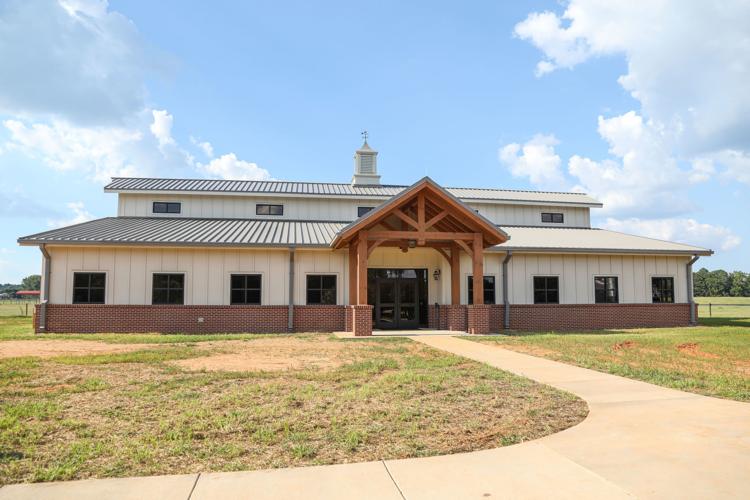 "We are so grateful," sophomore Miller Lantis said. "It is such a big step for our team. My favorite part is definitely the locker room. We have a top space that is just for our hats and our boots. Also, I was surprised that we get our own showers too. There are so many special little features."
Before, the riders had to change and transfer their equipment in a little trailer next to the horse stables. Some would even have rooms in Stegeman Coliseum far from the UGA Equestrian Complex. It's no wonder why the equestrian athletes can't stop praising the facility.
"There is an aux cord in the locker rooms and we finally get to play music," senior Ali Tritschler said.
As the Bulldogs continue their season, they will have something to look forward to. The Georgia equestrian team has finally gained the transformation it rightfully deserved.
"I get to see it for a couple of months as a senior, and I'm so happy to see so many other girls come through and have the same experience I did," Tritschler said. "My favorite aspect is the locker room. It is a nice secluded place where we can have fun together."