At this time two years ago, Andrew Thomas didn't have a position. 
In his first week of fall camp as a freshman, Thomas practiced at left tackle, left guard and right tackle. He wound up starting all 15 games at right tackle his freshman year before switching to left tackle before last season. 
The uncertainty of his position didn't affect Thomas, a projected top-10 NFL draft pick. Georgia head coach Kirby Smart and offensive line coach Sam Pittman can only hope that instability also has a negligible effect on former five-star prospect Cade Mays.
With a talented offensive line, the Bulldogs may not have room for Mays in the starting rotation if he doesn't beat out Ben Cleveland for the right guard position. So the coaching staff is experimenting with Mays the way it did with Thomas two seasons ago.
Mays, a sophomore from Knoxville, Tennessee, has been practicing consistently at right guard and center and will also be getting some reps at the tackle positions. 
"We want the meat and potatoes to be guard and center," Smart said. "Then after the first scrimmage, we're going to say, 'OK, he can get some tackle [experience].' But he's still in a battle for that guard spot."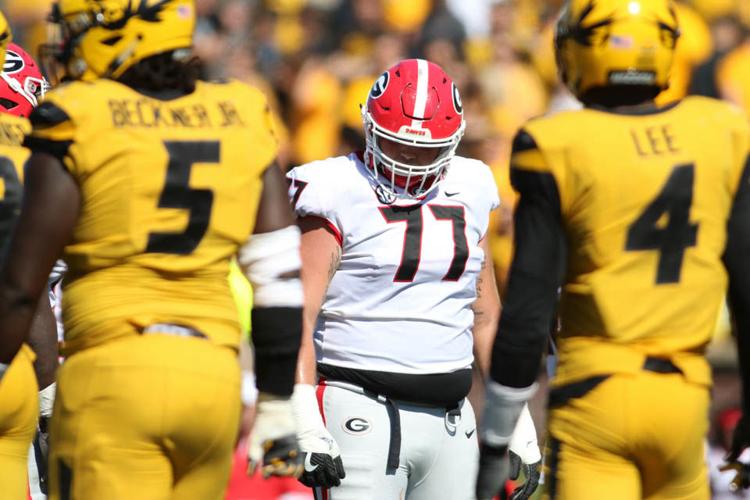 Thomas remembers what it was like to constantly move around the offensive line. He said he can only imagine what it's like to do that for longer than a week. But having that versatility will be important.
"It pushes everybody," Thomas said. "Your spot isn't guaranteed because he could come take that spot, you never know."
For now, Georgia's offensive line figures to look like this: Isaiah Wilson at right tackle, Cleveland at right guard, Trey Hill at center, Solomon Kindley at left guard and Thomas at left tackle. 
It's one of the best offensive line units in the country. Wilson, Cleveland, Kindley and Thomas were named to the preseason 2019 All-SEC teams. Thomas was a first-team selection and was also named to the Outland Trophy watch list, an award for the best offensive lineman in the nation.
But Smart is still trying to find a way to incorporate Mays into the plans. 
"He's an athlete, and we can't let that be a detriment to him," Smart said. "If he can be in the starting five, he needs to be in the starting five. But his value also is that he can snap, he's an athletic center. If you can play center, left tackle and guard, you are pretty talented and you're bright."
Georgia's playing time quandary probably won't go away any time soon. Four of the Bulldogs' offensive linemen are draft eligible after this season, but Pittman continues to recruit at a high level.
Pittman has received commitments from five-star tackles Broderick Jones and Tate Ratledge and four-star tackle Chad Lindberg in the class of 2020. 
No matter how impressive the five-star prospects and preseason awards are, Smart expects better results than what he saw during the team's intrasquad scrimmage on Aug. 10.
"If you're not scoring points on offense, there's probably not going to be a lot of O-linemen up for awards," Smart said. "There's some good players on that offensive line, but good players have to play good."
Thomas is optimistic about the capabilities of the group. 
"I really don't think we have [a ceiling]," Thomas said. "We have so many guys, so many different combinations. We just have to find the right one."