Georgia announced Wednesday that it plans to allow 20-25% of Sanford Stadium's 92,746 capacity for all four home games of the 2020 season, which was cut to a 10-game conference-only slate due to the coronavirus pandemic.
The Bulldogs are scheduled to host Auburn on Oct. 3, Tennessee on Oct. 10, Mississippi State on Nov. 21 and Vanderbilt on Dec. 5. Tickets will also be sold for the annual Georgia-Florida game on Nov. 7 in Jacksonville. Tickets for other away games will not be available.
Tickets will be available for students and Hartman Fund donors who are also season ticket holders. Students will see a reduction of available tickets from 16,000 to "over 3,000," Georgia athletic director Greg McGarity said.
"It was important for us early on that we maintained the student section [so] their footprint was not affected," Georgia senior deputy athletic director Josh Brooks said. 
The amount of tickets each donor is eligible to purchase is based on 2020 Hartman Fund annual giving level and Magill Society involvement. A minimum donation of $25,000 is required to become a Magill Society member. For 2020 Hartman Fund members, the minimum donation is $275.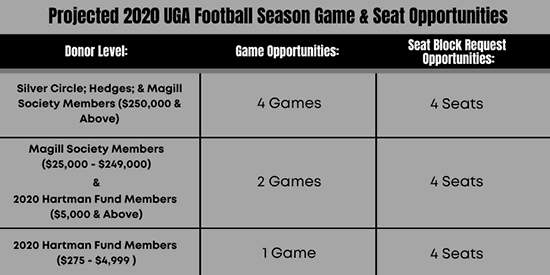 All tickets are available in blocks of four to aid with inventory and maintain social distancing. Seat allocations will be for levels 100, 200, 300 and 600. Face coverings over the nose and mouth are required while migrating into, out of and around the stadium.
Single-game tickets will cost $150, each made up by the $75 ticket price and a required $75 Hartman Fund contribution. Such costs will be deducted from previously paid 2020 football season ticket payments and contributions.
If a Hartman Fund donor elects not to attend home games, previously paid contributions, season tickets and/or seatback purchases can be refunded. If donors choose to be refunded, their status as a season ticket holder will remain the same.