After five days of top SEC swimming and diving competition in Georgia's Gabrielsen Natatorium, both men's and women's teams ended up in fifth place overall.
Two Bulldogs placed during Saturday's final night of races, with senior James Guest and junior Veronica Burchill each recording career-defining performances.
For Guest, he earned his highest placement in the 200 breaststroke at SECs, touching the wall for second place with a time of 1:53.11.
Accomplishing this feat at SECs was significant for the senior because he swam three seasons prior without a 200 breaststroke medal. Guest earned ninth place his freshman year and landed in fifth two seasons in a row before finally medaling in his last effort.
"It's a great feeling to close out," Guest said. "I would love to get first, but coming in second and getting my first medal at SECs, I couldn't ask for a better way to end it."
Guest's performance contributed to the men's 862.5 points in championship competition, where they fell behind top four finishers Florida, Missouri, Tennessee and Texas A&M.
In the men's 1650 freestyle, Georgia had two swimmers place within the top five. Junior Kevin Miller made the wall in fourth place, setting a personal best 14:51.98 time and trailing behind South Carolina's third-place finisher Rafael Davila by less than a second.
Behind Miller in the 1650 freestyle was his own teammate, junior Walker Higgins. Like Miller, Higgins also broke his career high, finishing the race in 14:54.05.
Burchill highlighted competition for the Georgia women and placed third in the 100 freestyle. Her 47.30 time on the event also set a new career best.
The junior entered the 100 freestyle final on Saturday after just sneaking into the eighth and final spot of the A heat during preliminaries.
"I have to say, that's the most nervous I've been for a race in a long time," Burchill said. "But I think it paid off in the end. I'm excited to just have done better than this morning."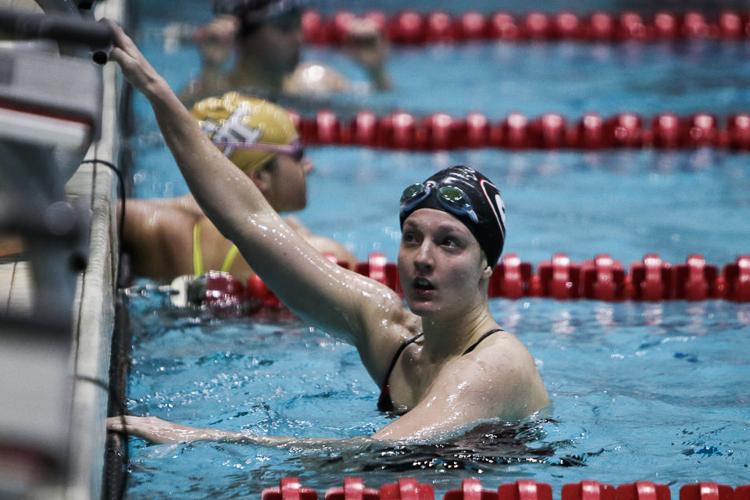 Two other Georgia women left SECs with career-best times, as freshman Maddie Homovich nabbed a ninth-place 1:53.13 in the 200 backstroke and sophomore Danielle Della Torre also earned her best in ninth place with a 2:09.77 in the 200 breaststroke. Della Torre's time placed her at No. 10 in Georgia's record book.
The Georgia women's team totaled 883.5 points, trailing top four SEC teams Texas A&M, Florida, Kentucky and Tennessee.
Head coach Jack Bauerle left pleased with both teams' performances, acknowledging a coaching miscue and the up-and-coming nature of the young program.
"We were proud of both teams," Bauerle said. "That's the best we could've done."
With SECs now out of the way for Georgia, its focus switches to qualifying for next month's NCAA championships. The Bulldogs will host their last chance meet next weekend in Athens with the hopes of getting a few more Georgia swimmers in the races for national titles.
"We've got a pretty good group going to NCAAs," Bauerle said. "And I think we might add one or two maybe next week. We have another meet, even though it's hard to think about right now."