Although football season is on everyone's mind, the Georgia men's basketball program is wasting no time trying to build intrigue around the upcoming basketball season.
The season doesn't open in Stegeman Coliseum until Nov. 5 against Western Carolina, but promotions for the renewed official Georgia men's basketball student section, the Dawg Pound, have been taking place as students are getting settled back onto campus.
"To me, I feel great about [the Dawg Pound]," head coach Tom Crean said. "Anything we can do to keep enhancing it for the students, to keep creating more opportunity for them closer to the floor, to get them excited [about the team]."
The Dawg Pound isn't a new invention — it's more like resurrecting an old one. During the 2014-15 season, the Student Government Association Athletic Committee and Georgia announced the creation of the Dawg Pound, just prior to a March 3 matchup against the No. 1-ranked Kentucky Wildcats. Despite a sold-out crowd on that Tuesday night, the Dawg Pound wasn't promoted nearly as much over the past few seasons.  
Contrary to previous years, students will now register for free to be a part of the official student section. The revived Dawg Pound will include benefits such as official T-shirts that will be given out to each of the 900 exclusive members. 
The shirt will be accompanied by amenities at every game, which include free food upon entry and a guaranteed giveaway item while school is in session.
Brenton Shiver, director of promotions for Georgia Athletics, said he has been "blown away" by the amount of traffic and interest the announcement of the Dawg Pound has brought within its first week. 
The promotions department will continue to heighten student awareness as the season grows closer, and Shiver plans on doing it through grassroots marketing and some help from Crean.
Crean never misses a chance to encourage students to come out and support the basketball team. He has helped build excitement around the program since he was announced as the Bulldogs' head coach on March 15, 2018. Shiver said Crean's engagement helps the promotions department reach out to students all over campus.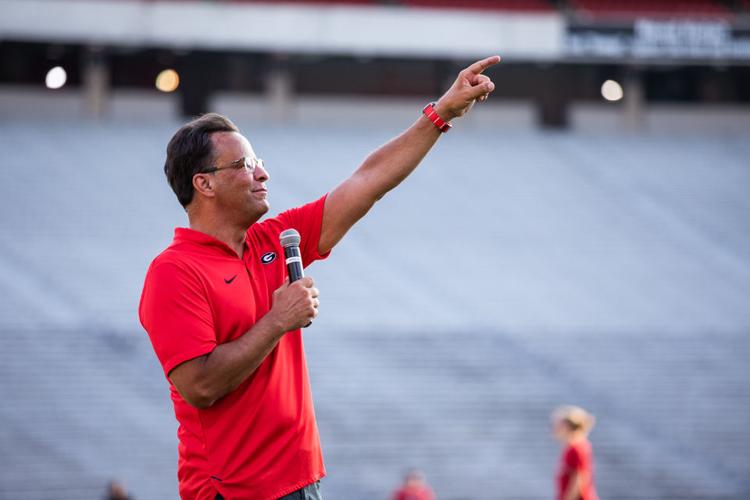 "I have been [heavily involved in promotions] since I was an assistant coach at Michigan State, and certainly as a head coach at Marquette and at Indiana," Crean said. "I see a huge part of my role as the head coach is to make sure that our gameday experience and that our gameday operations are at a high, high level."
Although the basketball team struggled to win games last season, finishing 11-21 and 2-16 in the SEC, Stegeman Coliseum's single-season attendance record was broken. But Crean still thinks there's a long road ahead.
"I'll never be content until there's a long waiting list for tickets somewhere down the road," Crean said. "So with that in mind, we're not even close yet."
But Crean praised the student section's ability to encourage the team and energize the rest of the crowd in Stegeman Coliseum, which holds about 10,500 fans. 
"The students are certainly going to make a huge difference," Crean said. "I know I get energy from them, and I hope they get energy from me."