The NCAA invited nine Georgia men's swimmers to this year's NCAA Swimming and Diving Championships Wednesday. 
The list included two seniors, four juniors, two sophomores and one freshman. The nine athletes will represent Georgia in 14 events. 
Sophomore Camden Murphy recorded the Bulldogs' only A-cut automatic qualifying time in the 200 butterfly, where his 1:40.62 time ranks fourth in the nation. Murphy also boasts a top-10 time in the 100 butterfly, as his 45.26 swim is good for ninth.
Junior Javier Acevedo leads Georgia with three invitations in the 200 IM, 100 backstroke and 200 backstroke.
Also qualifying for multiple events is fellow junior Walker Higgins in the 1,650 free and the 500 free. Higgins' 4:12.36 time in the 500 free stands at sixth-best in the country. Senior James Guest will represent Georgia in both the 400 IM and the 200 breast, where his top time of 1:53.11 ranks ninth overall.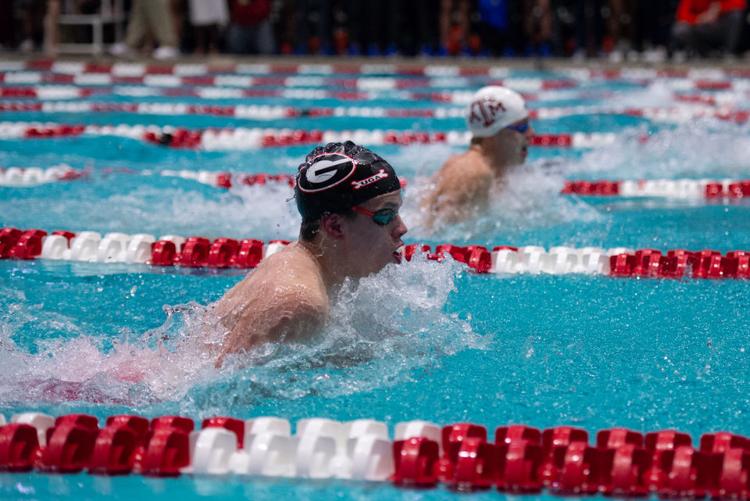 Junior Kevin Miller and sophomore Greg Reed join Higgins in the 1,650 free, while senior Aidan Burns, junior Clayton Forde and freshman Andrew Abruzzo will swim the 400 IM alongside Guest. Georgia is allowed to compete its swimmers on up to four of the five relays.
The Bulldogs are expected to be joined by seniors Blake Atmore and Alex BeMiller and sophomores Jack Dalmolin and Billy Rothery as relay alternates.
The Georgia men's team will compete in NCAAs from March 27-30 in Austin, Texas. The women's team swims from March 20-23.