The NCAA tournament, which starts on May 3, will give the Georgia men's tennis team an opportunity to come back strong after losing to No. 13 Tennessee in the quarterfinals of the SEC tournament on April 19.
Georgia defeated Arkansas 4-0 in the second round of the conference tournament, but the No. 17 Bulldogs fell to the Volunteers in a match that head coach Manuel Diaz thought wasn't his team's best performance.
"We didn't play as well as we had hoped," Diaz said. "[Tennessee] deserves a lot of credit for being on top of their game for such a big match."
The conference tournament match was Georgia's second against Tennessee this season, the first coming in a 4-2 Georgia win in Knoxville during the regular season. Walker Duncan, a senior on the team, said the first and second matchups had some differences.
"We knew they were a tougher indoor team than outdoor," Duncan said. "We played them outside at Tennessee, we played them indoors at [the SEC tournament]."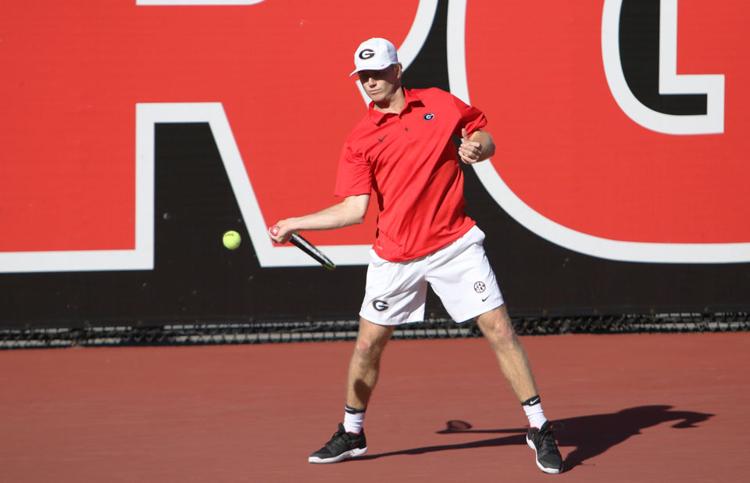 Despite the match starting outside, the weather forced the match inside, where there were only three available courts to play on.
Regardless, Duncan said the loss has fired up the team as Georgia prepares to play in the NCAA tournament next week.
"We're excited, we have some unfinished business to take care of," Duncan said. "We're definitely excited to play another tournament."
Coach Diaz said the team has some inconsistencies that the team is trying to fix before the tournament.
"We didn't have a whole lot of great results playing at night or playing on the road," Diaz said. "Our record on the road was not as good as we're accustomed to."
Georgia carries a 2-5 record when playing on the road this season, and a 1-3 record for neutral-site matches. With more time to prepare for tournament play than during the regular season, Diaz said he is looking to push his team more than normal.
"We've got about 10 days where we can do a little bit more as far as fitness and as far as pushing them physically," Diaz said. "We're doing everything we can to challenge [the team] and work hard."
The team is 6-2 in their last eight matches after finishing the regular season 5-1. The Bulldogs look to finish the season on a strong note as they carry their No. 17 ranking and 13-10 record into the first round of tournament play on May 3.