During the 2014 season, James Coley's Miami Hurricanes offense passed the ball about 10% more often than Georgia did last season.
Now in his first year as offensive coordinator for the Bulldogs, Coley might try to implement an offense with a similar volume of passes. But first he needs to find people to catch them.
Coley and the Georgia offense have been tasked with replacing 154 catches for 2,323 yards and 27 touchdowns, the total combined stat line for Georgia's top five pass-catchers from last season. None of them will take the field for the Bulldogs this fall.
Riley Ridley, Mecole Hardman, Isaac Nauta, Jeremiah Holloman and Terry Godwin are all gone, and they leave behind them a statistical crater that needs to be filled if Georgia is going to make a run at the College Football Playoff.
Last season, receiver Tyler Simmons had only 138 receiving yards, more than any other returning receiver on the team.
"We're taking it as motivation," Simmons said. "We have a lot of talent, young guys and older guys… Everybody is stepping up and learning their playbook and coming together as a unit."
Several new receivers will try to pick up where their predecessors left off. Among them are highly touted freshmen George Pickens, Makiya Tongue and Dominick Blaylock, plus Lawrence Cager, a graduate transfer from Miami.
Pickens, a 6-foot-3 wideout from Hoover, Alabama, has drawn high praise from his coaches and teammates. He flashed some serious skill with an Odell Beckham-esque one-handed grab in the team's first scrimmage on Aug. 10. Back on Feb. 6, Pickens shocked the college football world by flipping his commitment from Auburn to Georgia.
Here's the GIF in case it's pulled. pic.twitter.com/qgNE3fsiL9

— Parrish Walton (@ParrishWalton) August 11, 2019
Junior safety Richard LeCounte said Pickens reminds him of former Georgia wide receiver and current Cincinnati Bengal A.J. Green. Eric Stokes, another defensive back who competes against Pickens in practice, expects big things out of the former five-star prospect. 
"George is a one-of-a-kind player," Stokes said. "I fall in love with him every day."
As good as Pickens might be, he isn't the only wideout drawing attention. 
After a disappointing first season in which he failed to record a catch, former five-star receiver Demetris Robertson enters his second year at Georgia with an opportunity to be one of quarterback Jake Fromm's primary targets.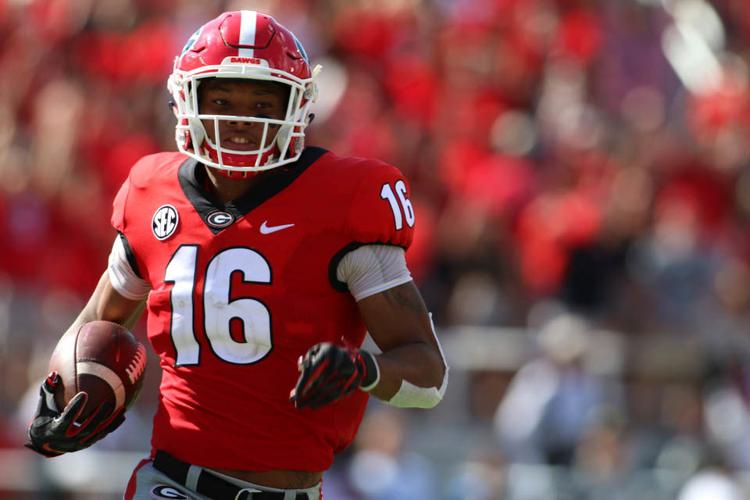 The transfer from California showed flashes of his track-star speed last season with a 72-yard touchdown run against Austin Peay, and according to Stokes, he hasn't lost a single step. 
"You can't mess up covering Demetris," Stokes said. "If you do, he will leave you in a hurry." 
Cager, meanwhile, is exactly the kind of physical presence the Bulldogs need in the red zone, an area in which they struggled to score last season. The 6-foot-5, 220-pound receiver led Miami in touchdown catches last year with six and finished with 374 yards on 21 receptions. 
"[Cager] is that big, physical wide receiver that we need on the outside," Stokes said. "I know he can go up and [get] the ball."
With the departure of Isaac Nauta to the NFL, tight ends Charlie Woerner and graduate transfer Eli Wolf also need to make up for lost production. Woerner enters his final season with the Bulldogs after finishing last year with 148 yards on 11 catches in a backup role. 
"I'm looking forward to the challenge," Woerner said. "I think a lot of guys in the tight end room are going to fill that spot so I'm looking forward to it."
It's been a long summer of improvement for Georgia's pass catchers. Head coach Kirby Smart wasn't thrilled with what he saw from the group during spring practice and G-Day, but he has a different attitude about them following the first scrimmage of fall camp.
"I have been pleased with the receivers' work ethic and what they've done leading up to today," Smart said. "We have to do a good job of getting the ball in their hands and giving them an opportunity to make some plays."
It's possible the offense under Coley will do just that. Coley relied more on the passing game during his stint at Miami, and these receivers are expecting big things from themselves starting on Aug. 31 when the Bulldogs travel to Nashville to play Vanderbilt.
"[Coley's] trying to balance the offense a bit more," Simmons said. "You're going to see a completely different offense this year. There might be a couple more balls in the air."