Alyssa DiCarlo, a senior shortstop on the Georgia softball team, was named a top-26 finalist for the USA Softball Collegiate Player of the Year Award last week. For DiCarlo, an award of this merit has been in the works since she was only four years old.
"I just bring it back to when I was a kid," DiCarlo said. "Seeing girls nominated for awards like that and I was like, 'Oh, my God, that's so awesome.' It means a lot to me to be on that list."
DiCarlo said she started playing softball at the age of seven, but at the age of four, she played baseball on boys teams in her hometown of Glendale, Arizona. She started playing travel softball at the age of 11 with the Firecrackers and began the college recruiting process at the age of 14.
Despite starting her career at such a young age, DiCarlo was the only member of her family to play softball.
"My parents - honestly I have no idea if they're athletic or not," DiCarlo said. "I don't really know where I got the athleticism from."
As one of only two seniors on the Georgia softball team, DiCarlo's teammates and coaches agree that one of her most valuable assets is her leadership.
Freshman Lacey Fincher said that DiCarlo has been a role model to her throughout her first year at Georgia.
"She has been just the best leader I could ever have," Fincher said. "Best role model … Not many people are really great ball players and really great people, and Alyssa's one of those."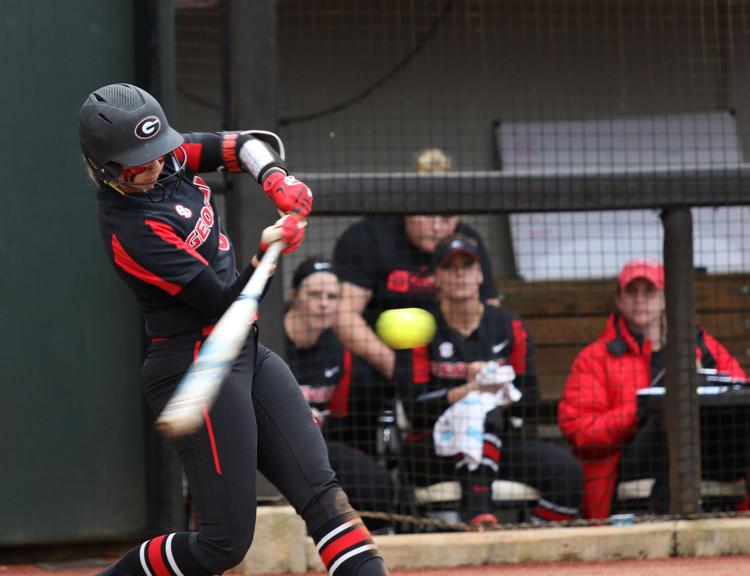 Fincher said that practices in the fall really brought her closer to DiCarlo. She said that DiCarlo has a way of taking highly technical skills, such as hitting, and "dumming them down" to help Fincher and fellow freshmen better understand them.
One instance of DiCarlo doing this during the winter stuck out to Fincher.
"We were practicing on a drop ball, and it's really low on a tee," Fincher said. "I could not get it - just was not getting it at all."
Fincher said DiCarlo stepped in and showed her to hit the drop ball down the right side, and then it clicked for Fincher.
"Stuff comes different when it comes from her," Fincher said.
In addition to being seen as a leader and role model to her teammates, head coach Lu Harris-Champer and associate head coach Tony Baldwin have taken notice of DiCarlo's work ethic.
"It's all the little intangibles," Baldwin said. "She shows up with a smile on her face every day. She's a great leader. She's somebody that the girls have a lot of respect for."
Baldwin said that the team can count on DiCarlo to possess these intangible traits each day at practice and in games. Aside from these qualities, DiCarlo's offensive abilities have been of value to Georgia throughout her time on the team.
Currently, DiCarlo is batting .369 and has 57 hits and 55 runs in 144 at bats this season. DiCarlo's batting average is the highest on the team. She also leads the Bulldogs in RBIs with 54.
"She's been incredibly productive offensively during her career," Baldwin said. "We all have more fun when she gets hits, but the game is hard. Sometimes she has a way of making it look easy even though it's not."