A loud crowd of family, friends and fans was packed inside Gabrielsen Natatorium for the first day of the SEC championships on Feb. 19.
Swimmers from the 14 SEC schools gathered around their respective teams' flags and cheered on fellow teammates. The fans rose from their seats to encourage the team.
The atmosphere inside the natatorium summed up what it meant to host the SEC championships. This year is Georgia's first time hosting the event since 2014.
The meet will feature five full days of competition with the team champions being crowned Feb. 23.
"It's pretty cool," Georgia head coach Jack Bauerle said. "I tell [the swimmers they] are in a special situation. Don't take [hosting the SEC championships] for granted because it doesn't come around often."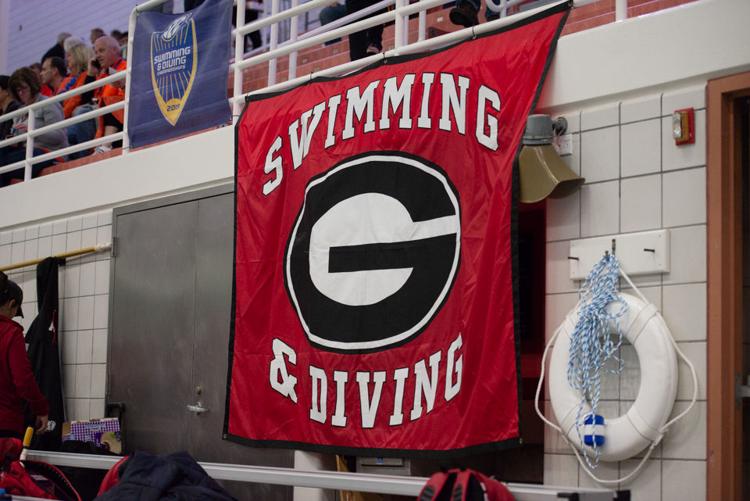 The swimmers and coaches know how rare it is to host the event, so most of the team took a moment to realize the magnitude of the meet before it began.
Junior Veronica Burchill said the SEC championships are her favorite event because the men's and women's teams are swimming together. She also said she's never seen Gabrielsen Natatorium packed to the rafters like it was on Feb. 19.
"You have so many people watching you and they have your back," Burchill said. "It's also in your home pool, what more could you ask for? It's just exciting and it's loud and really fun, and I'm just excited for this week. I think it's going to be great."
Burchill and freshman Dakota Luther both swam in the 800-yard freestyle relay along with sophomore Courtney Harnish and freshman Olivia Carter, finishing in fifth place with a time of 6:58.01.
Luther said the atmosphere reminded her of the Olympic trials. With Gabrielsen Natatorium filled to the brim, Luther said she looked to her Georgia teammates to calm her down.
She admitted she got nervous standing on the block before jumping into the pool.
"That first relay we were in lane one so everyone was just kind of in our faces, it's crazy," Luther said. "I just pretend that everyone is cheering for me."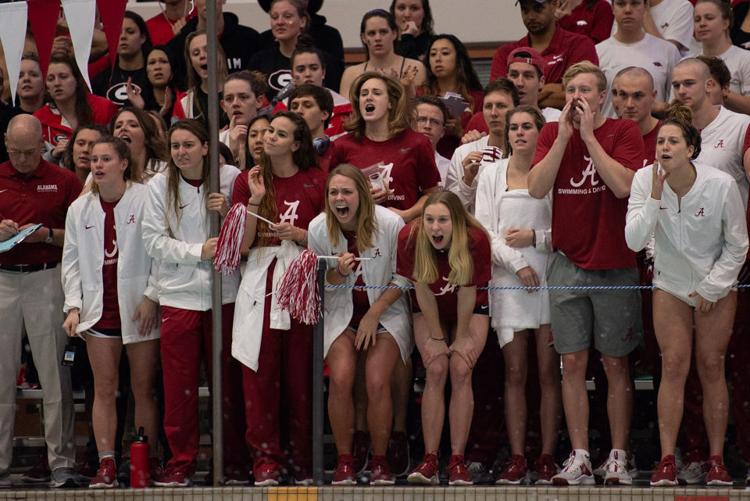 For junior Javier Acevedo, this was his first time not being nervous for the SEC championships. Keeping him calm was a combination of hosting the event and knowing that he's a much better swimmer than a year before.
"Being home means a lot to me more than I ever thought it did coming here," Acevedo said. "Just the atmosphere, having everyone here ... having our own locker room, knowing the facility [and] not having to worry about anything is a positive."
Acevedo said several other swimmers, such as Grant Norgan and Joshua Fulcher have sent him text messages reading, "Go Dogs" and "Let's go guys."
Sophomore Camden Murphy felt the opposite when seeing the environment.
Murphy felt his adrenaline pumping right before he dove into the pool to replace James Guest in the 200-yard medley relay.
Regardless of the finishes, both the swimmers and coaches understand the magnitude of hosting the SEC championships at their home pool in Athens.
"I've always thought about pressure as a positive thing, and I try not to let it get to me," Burchill said. "Of course, in your home pool you want to show off, you want to do the best you can in front of your hometown. It's positive pressure."