Georgia women's tennis player Kat Jokic was scheduled to compete with her team on Friday in the second-to-last day of the NCAA tournament. With the championship scrapped more than two months ago, Jokic took a well-earned nap instead. 
She needed the rest after playing eight matches in four days to win the Exo-Tennis "Bringing Back Tennis" tournament held at Peachtree City Tennis Center over May 18-21.
"[It was] definitely a lot of tennis," Jokic said. "But I enjoyed it. So, I'm taking a few days off."
The round robin exhibition featured several women ranked in the top-425 worldwide by the Women's Tennis Association, including 73rd-ranked Taylor Townsend.
Tournament director Viv Chhetri said the eight-woman event was the first tennis pro-am organized in Georgia, and maybe in the U.S., following extensive spring cancellations.
"We just wanted to bring everyone back in and get them started to play in a healthy way," Chhetri said. "That was the whole plan, and I think we did that."
To protect against the spread of COVID-19, fans weren't allowed in the stands, except for one or two people invited by each player. No one handled the balls, except for the athletes, and only a chair umpire called matches. Players were separated to opposite sides of the court during changeovers, and there were no post-match handshakes.
The tournament offered a glimpse of what tennis might look like when it makes a more widespread comeback. 
Jokic said she wasn't particularly bothered by the set up. She enjoyed the moment and didn't think too much about why the stands were empty. Given her performance — she lost four sets total in eight matches — it didn't seem like she missed the in-person support. 
"It was weird, and it was something new," Jokic said. "Maybe I like it."
She wasn't entirely alone, however. Some of Jokic's teammates as well as women's tennis associate coach, Drake Bernstein tuned in to the livestream accessible online.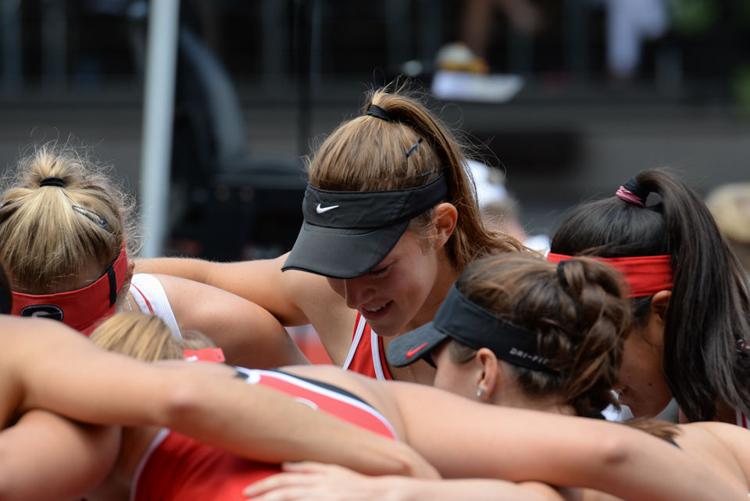 Bernstein was excited to see Jokic succeed against both familiar faces from her Georgia past, like Georgia Tech's former No. 1 singles player Paige Hourigan, and potential future professional foes.
"It kind of confirms a lot of things that we already know about her," Bernstein said. "She's one of the top players, if not the top player in college. When you're one of the best in college, you certainly have a chance out there against anybody."
Jokic was slightly less confident than her coach heading into the tournament last Monday. She hadn't competed since March 8 against Mississippi State, and her recent practices consisted of a few get-togethers each week at courts near East Campus Village in Athens. 
Both the NCAA and SEC had banned in-person training with coaches, and she figured her competition, which included members of the professional tennis circuit, would have greater resources and personal coaching to help them prepare.
"I was like 'Am I ready for this?' because I was just trying to find people to play with in Athens," Jokic said. "But I guess I was ready."
The Bulldog's one loss of the tournament was to the ex-Yellow Jacket, whom Jokic had bested in their only college singles matchup two years ago.
Jokic went on to win four consecutive matches to reach the title game, defeating the tournament's lone WTA top-100 player, Townsend, as well as world ranking No. 158 Sachia Vickery in straight sets.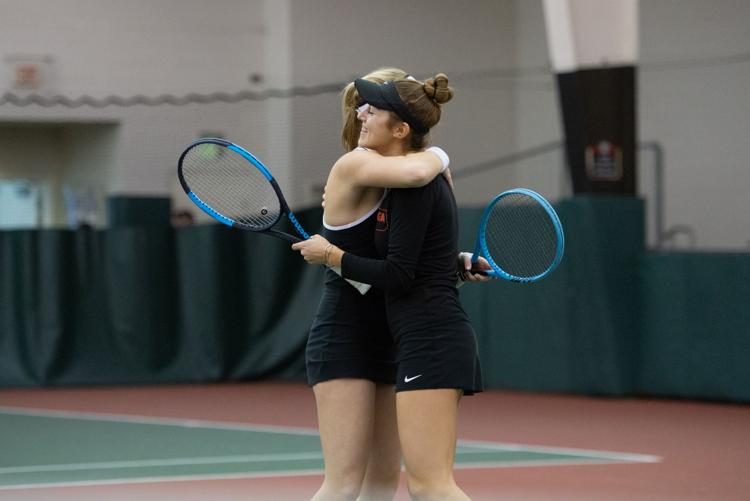 The final came down to a rematch between Jokic and Hourigan. Tennis' summer 2020 comeback couldn't arrive without a touch of Clean, Old-Fashioned Hate. 
They split the first two sets before Jokic took the third — a condensed 10-point tiebreaker — 10-7.
"The match was brutal," Chhetri said. "Neither of them wanted to lose. It was a very entertaining match."
Calls and texts from teammates after her Thursday victory were a welcome boost for the junior, who two months prior had only dismay and sadness to share with her team when their season stopped on a dime. 
Tennis was back. And although separated, the Bulldogs were on top.
"I think it showed that I need to keep working," Jokic said. "And when I'm done with college, hopefully I'll be ready to play against the best people in the world."