Georgia tennis player Elena Christofi finished the shortened 2019-20 season ranked No. 122 among NCAA singles competitors, according to the Intercollegiate Tennis Association. On Thursday, she was honored as Georgia's No. 1 senior female athlete.
The Athens, Greece, native is the only Bulldog nominated by the university for the NCAA's 2020 Woman of the Year Award. She joins hundreds of other senior athletes from all sports and all levels of collegiate competition in the running for the honor, which recognizes student-athletes for their efforts in athletics, academics and service. 
"She has just had such an incredible career here at the University of Georgia both in the classroom and on the courts," Georgia women's tennis head coach Jeff Wallace said. "We're excited about this for her and for her future as well."
Christofi peaked in the ITA singles rankings her freshman season at No. 6 and has tallied a career 81-30 record over the past four seasons. In doubles, she's 84-42 overall and was named a 2020 ITA All-American along with her partner junior Vivian Wolff. 
Following several semesters on Georgia's student-athlete honor roll, she received both a postgraduate scholarship and the award for highest GPA among Georgia athletics' senior women.
"She was just mature from the time that she walked in the door," women's tennis assistant coach Drake Bernstein said. "She knew how to go about her business. She was professional, diligent, all of these words that you that you might use to describe a senior. To have that influence around the team for four years and going to be five, we feel pretty fortunate."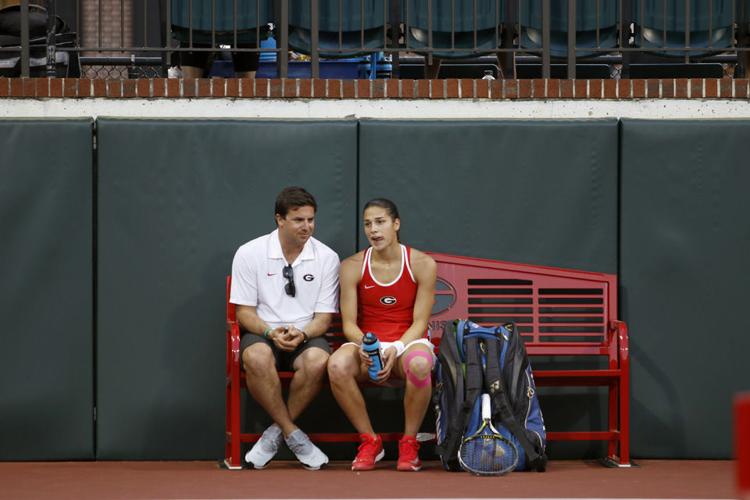 Due to the COVID-19 eligibility extension offered to spring-sport athletes in March, the 2020 Woman of the Year could be the first reigning title holder to compete another season for their respective school.
Christofi, who plans to return for a fifth and final year at Georgia, would earn that distinction. First, however, she has to be one of a possible two nominees sent to the next selection round by the SEC. From there, the NCAA will trim the field of contenders to nine finalists and, finally, one winner. 
Georgia's four Woman of the Year recipients is tied for the most in the NCAA since the association created the honor in 1991. Most recently, Olympic triple jumper Keturah Orji took home the award in 2018. Orji was the first non-swimmer from Georgia to win after Lisa Coole in 1997, and Olympic swimmers Kristy Kowal and Kim Black won back-to-back in 2000 and 2001. Equestrian competitor Emma Mandarino was among the top-30 nominees last year. 
"The good thing with [Christofi] is that we know what we're going to get," Bernstein said. "You're going to have someone that's focused and determined and not only looking out for herself but looking out for the team around her. I think she's come a long way in doing that, and I think she's going to do that with her last year."