The Georgia track and field team experienced a successful showing at the Tyson Invitational this weekend in Fayetteville, Arkansas. 
"Our men's team had a great meet today," head coach Petros Kyprianou said. "Our women had some bright spots with Marsh in the triple jump and Lester in the 200 meters."
Day 1
In the final heat of the 800 meters, junior Amber Tanner clocked a personal record of 2 minutes, 6.26 seconds. Tanner eclipsed her previous career-best by .02 seconds.
The new time is good enough for No. 3 in the Georgia women's track and field record book. It is the Bulldogs' best time for the 800 since Megan Malasarte's 2:03.08 in 2014.
This is the 15th revision, and first one in 2019, to the school's all-time top-10 list from the Tyson Invitational.
Making his Georgia debut in the 400m, freshman Elija Godwin netted the fastest time for UGA since 2015. Godin finished third in the fourth heat and 10th overall with a time of 47.26.
Senior Michael Nicholls finished with the second fastest qualifying time in the 60m hurdles. He came across the finish line in just 7.82 which was enough to win the opening heat. Nicholls ran again in the final with a 7.81, finishing fifth.
To start the meet, Georgia saw both freshman Imani Carothers and sophomore Aliyah Whisby advance in the 60m hurdles. Whisby finished in 8.50 while Carothers slightly edged her out with 8.44. Carothers had the fifth-fastest qualifying time.
On a day where the current Bulldogs saw success, former Lady Bulldog Keturah Orji won the long jump invitational with a final attempt of 21-4.25.
Day 2
As the Tyson Invitational began to wrap up, senior Denzel Comenentia once again showed off his incredible strength in the shot put finals. He threw for 67 feet, 11.75 inches, eclipsing his previous record by almost a foot. Comenentia took the victory by nearly a seven-foot margin while taking his 10th indoor shot put win at Georgia.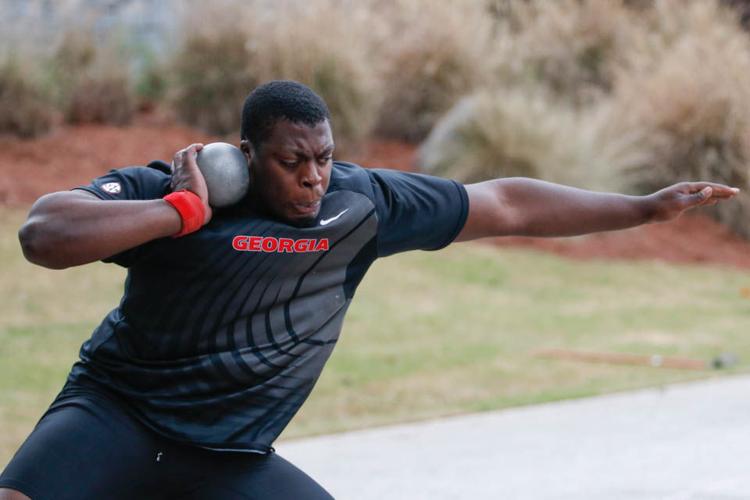 Freshman Sterling Lester became ninth in school history in the 200 meters with a time of 23.99. This is a noticeable improvement as she finished barely outside of scoring position in her first collegiate race.
Junior Ansley Heavern secured her first ever win in the 3,000 meters with a personal best time of 9:59.49. Meanwhile, another junior, Michael Hans, took a win of his own in the very same event with a career-best 8.23.95.
Godwin showed off his speed once again, notching 16th place in the 200 meters with a time of 21.60.
Junior Kayla Smith took fourth in the pole vault, clearing 13 feet, 2.5 inches.
Freshman Titiana Marsh notched fourth place in the triple jump finals with a season-best leap of 42 feet, 9.5 inches.
"I'm hopeful this will ignite our team going into championship season," Kyprianou said. "We will go in with national championship mindset and try to build on the performances we had today."