After losing a close game on the road against a South Carolina team near the top of the SEC standings on Thursday, Georgia returned to Athens Monday night and took out its frustration on the visiting Ole Miss Rebels.
Behind a huge night from forward Caliya Robinson, the Lady Bulldogs beat the Rebels 78-56 to bring their conference record back even at 6-6.
"We're at a point where we're peaking at the right time," head coach Joni Taylor said. "We have a different understanding, a more mature understanding, of who we are as a team."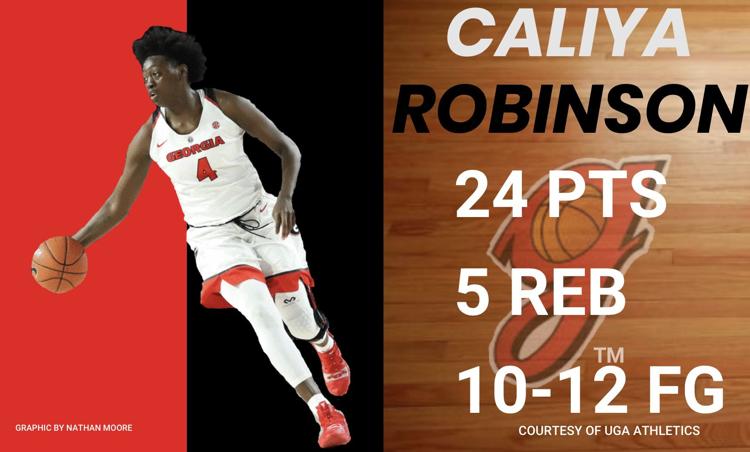 In the early part of the season, while Georgia was still figuring itself out, Monday's game might have gone differently. The team, however, showed no ill effects coming off the tough eight-point loss to what was then the No. 11 team in the country in South Carolina, a game that every player and coach knew was vital to their NCAA Tournament chances.
The Lady Bulldogs that lost their focus and let bad results carry over into subsequent games are gone.
"There can be no letdowns for us just because of the position we're in, trying to claw our way back into fighting position," Taylor said. "Our team now understands that and we've had really good focus and we've been able to put good games together."
Hot Start
Robinson made sure that Georgia didn't have to dig itself out of a hole against Ole Miss. She came out on fire and started the game with a 6-for-6 first quarter from the field, scoring 14 points, the most by a Georgia player in a single quarter this season. Robinson outscored the entire Rebels team by herself in the first period.
"They were leaving her open," Taja Cole said. "All her shots were disrespectful. Wide open. She just took the open shots and converted every time."
After the teams went into the first time out locked at 10, Georgia broke off a 12-0 run to take a commanding lead. The Lady Bulldogs didn't look back. 18 points from Robinson and five from Que Morrison, the final two coming on a hustle rebound and put back right before the halftime buzzer, pushed the Georgia lead to 41-24 at the break.
Strong Second Half
Some early fouls sent Taja Cole to the bench early, but she came out in the third and helped Georgia run away with the game. Back-to-back transition assists to Maya Caldwell led to an Ole Miss timeout and a 22-point Georgia lead in the third quarter. 
Two points and three assists at the half turned into four points and 10 assists by the end of the game for Cole, and Georgia was able to play out the entire fourth quarter with a more than comfortable lead.
"I got two quick fouls," Cole said. "I'm not going to tell you how I feel about those two fouls, but anytime I'm on the court I just try to help my in the best way I can. I knew all week where the ball was supposed to go from watching film, so I just made the easy looks and they converted."
Georgia's defense has been its calling card all season, and it didn't let up against an Ole Miss team ranked last in the SEC in scoring. The Rebels shot 41 percent on the night and Georgia held them below their season average of 59.7 points per game. 
Fixing Problems
Unlike its strong defense, Georgia has had issues taking care of the ball this year. The team had only two turnovers in the first half and finished the game with nine, well below its season average.
"After you watch the Auburn game where we turned it over 28 times as a team, you figure out that taking care of the basketball is important," Taylor said. "Since then we've made some changes and we haven't turned it over the way we were before."
Top Performers
Caliya Robinson- Robinson has proved time and time again this season that when she gets going, there are few in the SEC who can stop her. A hot start early led to another dominant performance, as she finished with 24 points and five rebounds in only 27 minutes.
Maya Caldwell- Originally expected to make a difference on the wing, Caldwell has flourished since being moved to the 4 in recent games. She again started and gave Georgia good minutes, scoring 15 points and grabbing five rebounds.
Que Morrison- Morrison continues to provide excellent defense and what seems like a never-ending supply of energy for Georgia, but in recent games, her scoring has picked up too. After 11 points against Florida and five against South Carolina, Morrison scored eight points Monday night and continues to look more and more like the player Georgia knew it had before her injury in the preseason.