Despite leading for more than half the contest on Sunday afternoon against Kentucky, Georgia was unable to make senior forward Caliya Robinson's final home game a happy one.
Issues which the Lady Bulldogs finally conquered late in the season returned just in time for Robinson's senior day. Turnovers and poor offensive execution turned a five-point lead over No. 11 Kentucky at the start of the fourth quarter into a five-point loss.
"It's how we lost those games before," Robinson said. "We didn't finish. We put together three strong quarters and in the fourth we just let it go."
The loss was especially hard on Robinson's coaches and teammates, who wanted her last game in Athens to be memorable for the right reasons, not for being a rehash of this season's struggles.
"You always wish a senior would win their last [home] game," associate head coach Karen Lange said. "It's disappointing for her. You'd love to see them win on the last day but sometimes it doesn't happen."
Whenever the postseason ends and Robinson's career at Georgia officially comes to a close, it will go down as one of the best a Lady Bulldog has ever produced.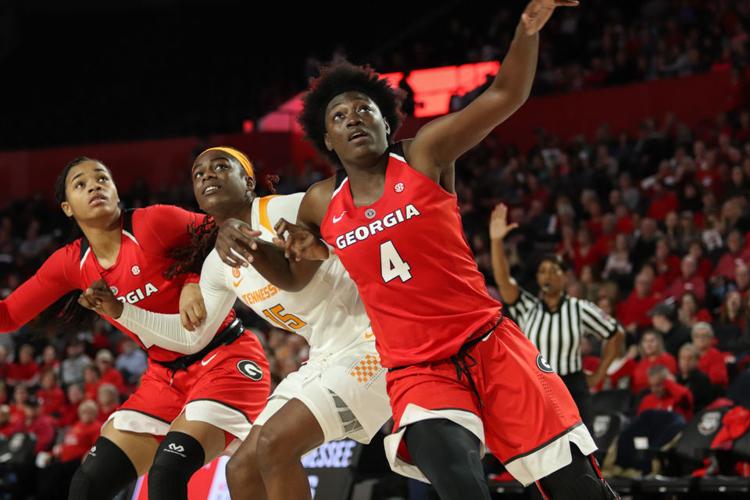 She's one of just five players in Georgia history with 200 or more blocks and entered Sunday's game 13 blocks away from setting the all-time Georgia record. She's already a two time SEC All-Defensive Team member and has contributed offensively as well, becoming Georgia's 39th 1,000 point scorer in her junior season.
She's so dominant on the court that when Taja Cole was in the process of transferring from Louisville, a chance to team up with Robinson played a big part in her decision to come to Athens.
"I told Caliya 'I want to come here and I want you to be my post player and I want to be your point guard,'" Cole said. "Caliya played a huge part in why I chose Georgia my second go around choosing schools."
However, after the game, there was no mention of Robinson's records or how she's carried the team in recent weeks. Both coach and players alike chose to focus on how much Robinson has meant to them personally, as well as her impact on Georgia basketball as a whole.
"She's meant so much to our program," Lange said. "This was a great decision for her to be at the University of Georgia and we've loved having her. She's done nothing but do everything we've asked." 
The McEachern High School graduate's collegiate career represents something head coach Joni Taylor wants to see consistently: an in-state talent choosing to stay home and having success in Athens. 
"Caliya is what our vision is here," Lange said. "To go get a player from the state of Georgia and to develop them and when they finish their time here at Georgia, to have both gotten something out of the experience."
The experience hasn't always been a positive one this year. Robinson has been surrounded by an incredibly young group this season, a group that has struggled to meet last season's standard. Last year's team hosted NCAA Tournament games at Stegeman Coliseum. After losing to Kentucky, the 2018-19 team will be hard pressed to find a way into the tournament at all.
Instead of being frustrated by her young teammates' mistakes, Robinson has lent constant support in their development. That decision to help instead of to criticize has those younger players desperate to give Robinson something in return.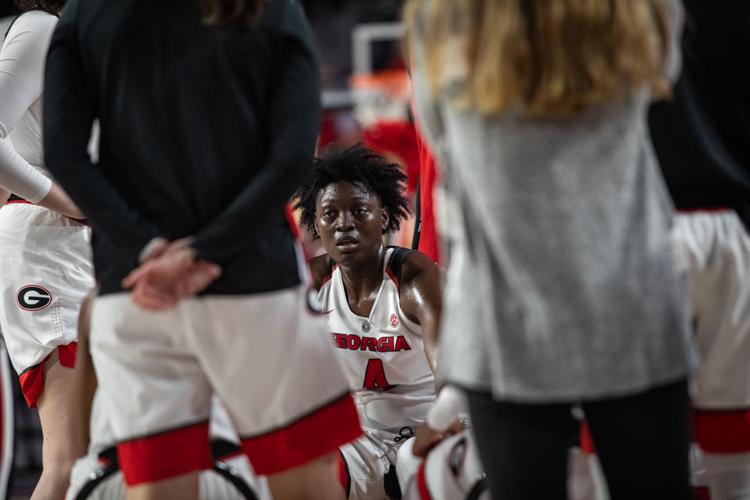 "My freshman year, even this year, it was tough for me," Gabby Connally said. "She's always one of the first people there to help me pick my head up, encourage me. I just wanted to go out there and give everything I have for Caliya."
Although the team is bitterly disappointed it couldn't pull off the upset in Robinson's final game at Stegeman Coliseum, it won't be the last time she dons a Georgia uniform.
The upcoming SEC Tournament will give Georgia an opportunity to give Robinson a proper sendoff, something Cole was focused on as soon as time ran out on Georgia's comeback attempt against Kentucky.
"I just want to end on a positive note," Cole said. "We have all the pieces and I want to get some big wins, I want to play in the tournament, I want it to be a ride that she remembers."
Georgia earned the No. 7 seed in the SEC Tournament. Its first matchup will be against No. 10 seed Arkansas, a team it has already beaten twice this season.
No matter how the SEC Tournament plays out, replacing Robinson, the production and the person, will not be an easy task. Before it has to handle that daunting challenge next season, Georgia will try to embark on a postseason run to give its senior star a more fitting farewell.