The No. 1 Georgia women's tennis team advanced to the Final Four of the NCAA tournament after a 4-3 victory over No. 8 Vanderbilt on Friday in Orlando, Florida.
The win marked Georgia's third win over Vanderbilt this season and moved Georgia's overall record to 27-1. Win No. 27 ties the 1994, 2000 and 2009 seasons for the most wins in a single year in school history.
The match was a dramatic one, as Georgia saw itself down 2-3 with the final two singles matches needing to come away with victories to grab the win.
On court six, Meg Kowalski defeated Emily Smith 6-7 (7), 6-4, 6-1 for point number three. Kowalski improved her season record to 24-1.
And on court five, the fourth and deciding point of the match came when Elena Christofi defeated Carolyn Campana 6-3, 6-7 (5), 6-3. With the win, Christofi brought her record to 20-5 on the season.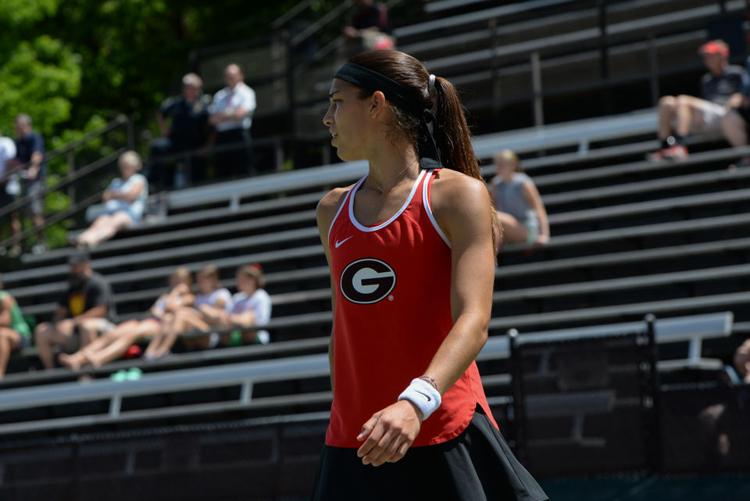 "I'm so proud of our team and how we fought," Georgia head coach Jeff Wallace said. "You got to give it to Vanderbilt too, they are a great team and they came out strong today."
Georgia didn't have the ideal start to the evening, dropping its second straight doubles point. Lourdes Carle and Katarina Jokic lost 6-3 to Emma Kurtz and Emily Smith, while Christofi and Vivian Wolff were defeated 6-4 to Fernanda Contreras and Georgia Drummy.
Jokic defeated No. 64 Georgia Drummy 6-3, 6-2, to even the score at one. The win marked Katarina's 15th-ranked win of the season, and like Christofi, the win brought Jokic's record to 20-5 on the season.
On court four, No. 72 Vivian Wolff grabbed the second point of the match by defeating Amanda Myer 3-6, 6-0, 6-3. With her 19th-straight win in a row, Wolff brought her record to 31-3 on the season.
No. 19 Marta Gonzalez wasn't able to get the win against No. 6 Fernanda Contreras, losing 6-3, 6-2.