At the ITA Opening Weekend from Jan. 25 and 26, a huge difference maker for the Georgia women's tennis team was its unselfish and positive attitude.
On the first day of the tournament, head coach Jeff Wallace criticized Katarina Jokic's mentality as she lost.
The No. 1 ranked singles player followed up with a more dominant win the next day and Wallace highlighted what he thought made the difference.
"She was playing for her teammates and playing for her school," Wallace said. "It looked like it and she played way better."
Having the privilege of playing for Georgia is something Wallace and the players harp on day in and day out. Even the freshmen, like Lourdes Carle, appreciate the team aspect of collegiate tennis.
"If I can win for Georgia, for me it's a pleasure, so I'm very happy," Carle said after her win on Saturday.
At the beginning of his now 35-year career as the Georgia women's tennis head coach, Wallace turned around a 16-20 program into a 20-9 record in his first season.
"In the second year, the first time we ever made it to the NCAA Tournament and we went all the way to the finals," Wallace said. "We did that with no All-Americans, nobody ranked in the top-20 in the country in singles, nobody in the top-10 in the country in doubles, so we were a team, that's where it all started and for me it's been the same model ever since then."
Tennis is largely an individual sport, with many players competing by themselves in junior tennis, and then later joining the ITF circuit in their early years. However, once it gets to college there's a turnaround to a more team-oriented landscape.
The difficulties of getting players to buy into team-oriented tennis are not lost on Wallace, but the success of the program over the last three decades speaks for itself.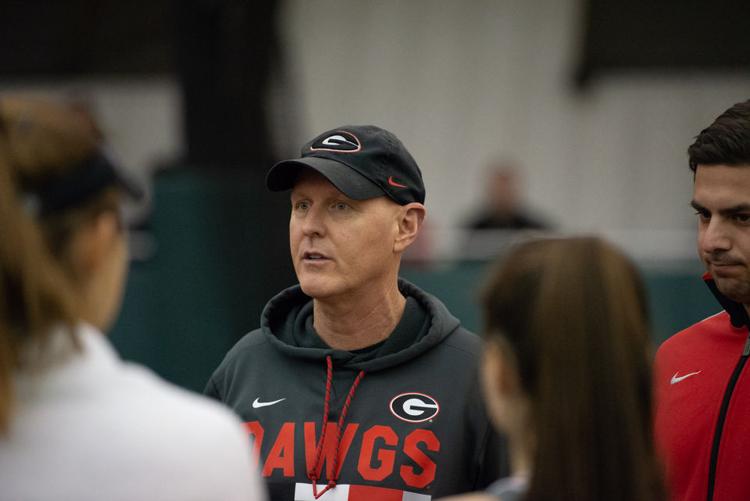 "We talk a lot about Georgia and just how great it is to be here and how much Georgia is doing for them," Wallace said. "The more successful the team is, the more individual accomplishments and awards there are gained every year."
Knowing the success of the program brings in more and more talented players to Georgia, but Wallace usually manages to turn them into selfless teammates.
For instance, the whole team cheered on Elena Christofi in the last match on Jan. 26 even after a victory for the Bulldogs was clinched. Wallace's 33 straight NCAA tournament appearances and 716 career victories are also good indicators of the success of his ideals of positivity and unselfishness.
"It's a pretty calm and simple formula, and I think what happens is you start playing for a team and you start realizing, and I've had many players tell me this in the past, 'the greatest part of tennis for me was team tennis,'" Wallace said. "So I think once they get into it, they learn what it's all about, they end up really liking it."