On Nov. 10, Georgia women's tennis player Katarina Jokic will be in Houston to compete in the Oracle Challenger Series, a professional women's tennis tournament hosting some of the world's top talent.
The Women's Tennis Association 125K series is the second highest level of competition in women's tennis, just below the WTA Tour which includes the four Grand Slams — Australian Open, French Open, US Open, and Wimbledon. The Oracle Challenger Series is a series of four tournaments within the 125K circuit, and the Houston event is the last one of 2019. A sound showing in Houston would be an impressive addition to Jokic's blossoming resume and a solid conclusion to her 2019 fall season.
Accompanying her will be Bulldogs' head coach Jeff Wallace, who spoke highly of the rare opportunity for college players to play in professional tournaments.
"It's not that often but we like to be able to do that if they've done the right things and put themselves in a position where it's deserved," said Wallace.
A step up
Jokic has seen ample success throughout her first two and a half years as a Bulldog — ITA NCAA Division I National Player of the Year, ITA All-American honors, first team All-SEC honors. However, next week could be her toughest challenge yet.
"There will be people in this tournament who play in the Grand Slams, so top 100 players will be there," Wallace said. "The talent level's going to be outstanding. You know you're going to play someone good."
Jokic has participated in professional events before but acknowledged that she's never seen a stronger playing field. This will be uncharted territory, but she said she is welcoming the challenge with open arms.
Embracing adversity
Rather than being discouraged by the stiff competition, Jokic expressed her excitement about the opportunity to compete against some of the world's best.
"I'm definitely really excited because I've watched these girls on TV playing tennis and now I'll be playing with them, and that's like, 'Wow,'" Jokic said.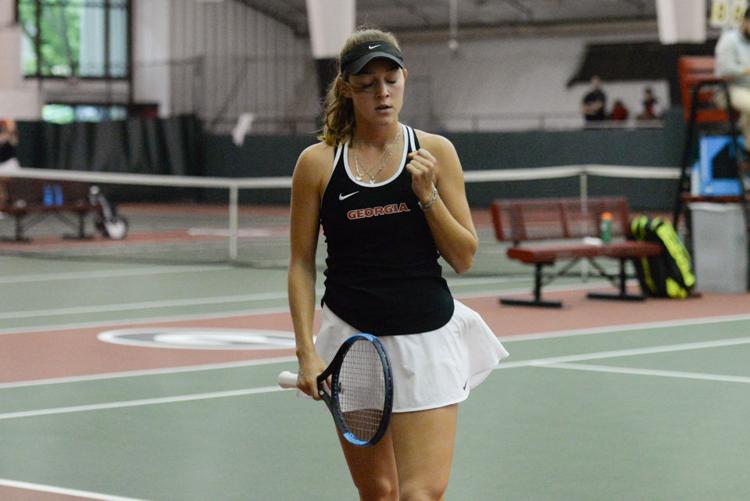 After moving from Novi Grad, Bosnia, to the United States, it wasn't long before she was turning heads in the college tennis world. Now she's doing so in the same league as many of those who she's always looked up to.
"The odds of taking the gold maybe aren't super great, but the odds of beating some players and winning some matches is certainly achievable," Wallace said.
The Challenger Series as a gauge
Jokic was the runner up of the singles division in the 2019 NCAA tournament, so there is reason to believe she could make some noise in the Challenger Series. This weekend goes beyond a tally in the win or loss column, though.
"I'd say the goal is to play a good match and see where I am," Jokic said. "I want to compare myself with the girls who are top 100 and top 50 WTA."
Wallace said he is looking forward to seeing not only how she compares to the pros, but also what areas of her game need to be improved in order for her to reach that next level.
"Our hope is that she's going to learn from these experiences and really grow from these experiences and become an even better player," Wallace said.
Controlling what can be controlled
Neither Wallace nor Jokic are particularly concerned with what's happening on the other side of the net — they've acknowledged that it's beyond their control. They're more focused on practicing hard and getting Jokic ready to play her best game. After all, that's all they can do.
"The mindset is just to go out there and play and do your best," Jokic said. "It's the same as my first pro tournament, I guess I'm just a little more excited."
Jokic is simply looking forward to going out there and competing, whatever the outcome may be.
"Winning a match there would be huge but that's something I can't control," Jokic said. "I can just go out there and do my best."