Eric Garber (UGA '91), covered the Georgia baseball team for The Red & Black throughout its 1990 national championship season. Garber, now a director of digital technology at Warner Media, shares his memory of the team and the late Mike Rebhan, whose two complete-game College World Series victories against Stanford propelled the Bulldogs into their final showdown against Oklahoma State. His former teammates and lifelong friends hope to see No. 31's number retired 31 years after the team's victory.
So there I was in late 1989, a journalism major listening to all of the instructional advice: in this field, you really need practical experience along with the degree. Soon after, I was covering intramural softball and writing various features for The Red & Black. Turns out I was reliable enough in that capacity — awkward writing chops aside — to become the Georgia baseball beat writer.
1990 accentuated everything that's good about sports. It's a story about leadership, teamwork and friendship; the achievement was an inspiring collective effort. Mike Rebhan was a central player in the journey.
"For [Rebhan] to die at an early age, it just means even more that he was the MVP of the [College] World Series," 1990 sophomore catcher Terry Childers said. "If he hadn't done what he did, there's no way we'd be talking about it today."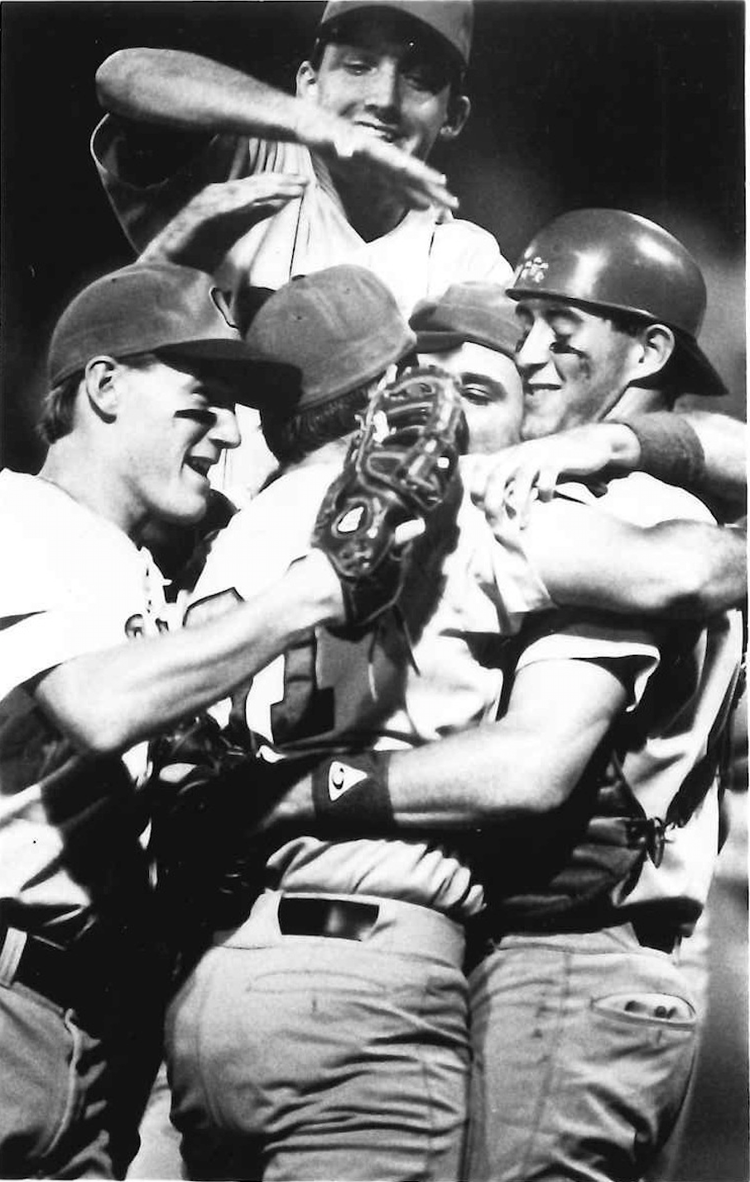 First impressions
As the 1990 season was close to getting underway, my eye was initially drawn to the starting rotation. Dave Fleming, a lefty with nasty stuff, was clearly on major league radars. Much of that year's media focus was sure to be on his individual prospects. Equally intriguing to me was Rebhan, a right-handed senior.
The year before wasn't anything too special, except for a no-hitter against Western Carolina on Feb. 25, as Rebhan finished with an ERA in the mid-fours and a few too many wild pitches. But I knew he had solid tools, and he demonstrated a certain maturity in his approach to the game.
And though I couldn't quite pin it down, I think Rebhan realized the same thing. I could feel that he was assuming a weighty ownership of things, a role that was uniquely his as a senior who hadn't fully reached his potential. 
"He would just keep going and going until somebody said 'Hey, Rebhs, that's enough, you're good," 1990 senior teammate Brian Jester said. "You just threw him out there and you never worried about anything. You never worried about him. He was just the epitome of a college pitcher."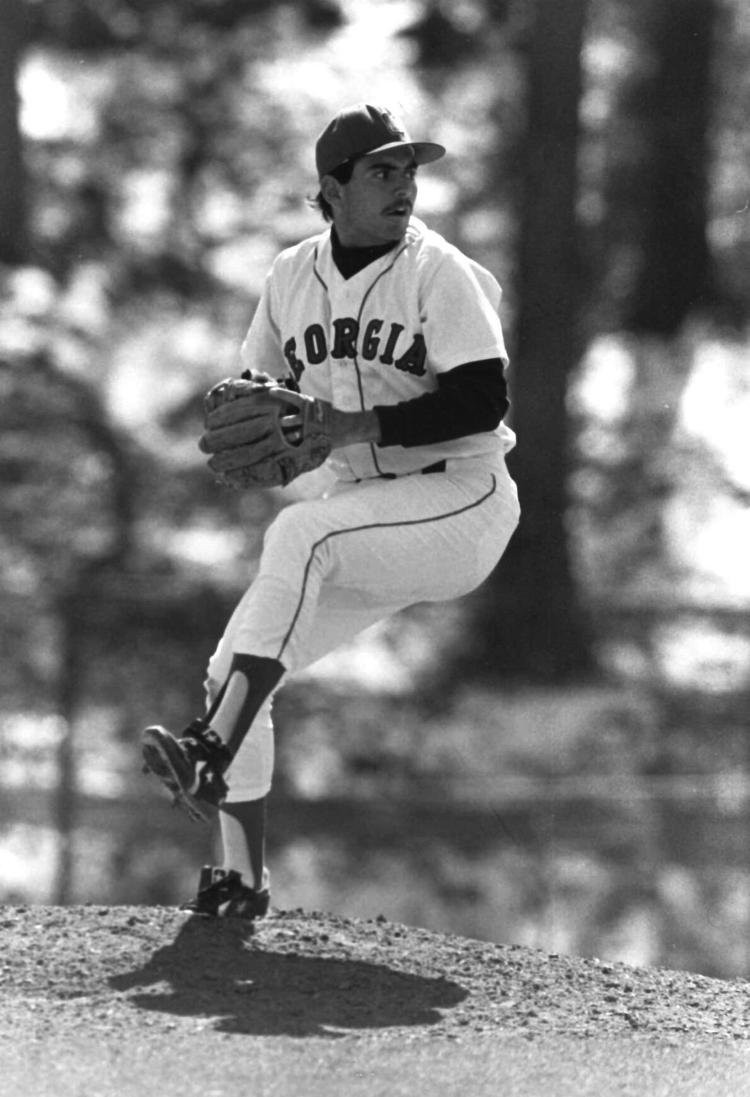 The season gets rolling
Almost immediately, the team proved that it was at least second-tier elite. After an initial span, Georgia was 25-5 headed into extended conference play. Fleming was doing his thing, seemingly able to will strikeouts, while Rebhan was more in the mold of effective pitchers who induced outs.
"You hear the expression 'He could really pitch.' Well, [Rebhan] could really pitch," 1990 head coach Steve Webber said. "He was a fastball-slider pitcher [who would] locate his fastball, throw the slider for strikes and throw it out outside of the circle when he had to."
However, at that point, observers like me were all thinking the same thing. Have the Bulldogs really played any elite teams? They're scoring a boatload of runs, but can their pitching come through in a big setting if things get tighter?
Trouble
By the end of the regular season, the 1990 Diamond Dogs were 43-12 heading into their final series at LSU, looking dominant. But then the Baton Rouge sweep happened. And the failed SEC tournament followed.
The Tigers shut down Georgia's bats, and Fleming and Rebhan weren't enough to salvage anything. A team which averaged more than eight runs per game all season had only produced a touch more than three in five straight losses against the same competition waiting in the postseason.
It led me to openly wonder once again: could they compete on the big stage?
Looking back, I quoted Rebhan a few times during that skid. Though many in Athens were sounding the alarm, I recall a sense of calm in his reactions.
"I'm going into the rest of this season with the same attitude I've had," Rebhan said in mid-May 1990. "We're doing the best we can out there and I'm doing my best to keep this team in games."
He wasn't the only leader on the team, but in my view, the Bulldogs don't make it through that rough patch without his emotional presence.
"He was an incredible pitcher, but he was just an incredible human being," 1990 teammate J.P. Stewart said. "Just a competitor and great guy, kind of old school. He epitomizes everything you want in a student athlete."
After that, the pitching showed up when it mattered most.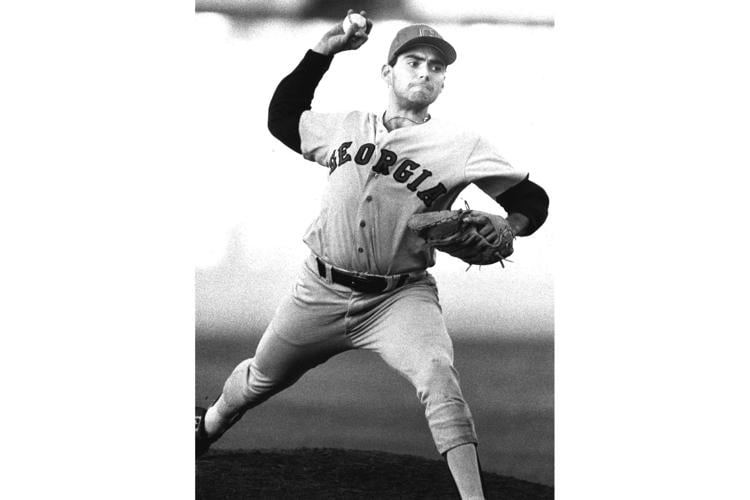 The rest is history
What happened from there has been extensively covered, so I'll just briefly say that the team went on an incredible run, culminating with Georgia's first and only College World Series title. 
In that CWS, Rebhan beat future MLB Hall of Famer Mike Mussina twice, and he was named the Most Outstanding Player.
"I know [Rebhan's] arm shouldn't have been able to do what he did," 1990 freshman left fielder Ray Suplee said. "I know he was sore, and it was almost like 'Hey, this is all I've got left. But I'm going to give you everything I have as long as I can.' He was magic in Omaha."
Leadership, teamwork, friendship. That was 1990 Georgia baseball. That was Mike Rebhan.