NEW ORLEANS — The GymDogs' consistency on bars fluctuated with each week this season. It's the only event where Georgia ranks outside of the top 10 nationally, standing at No. 16 in the country and No. 6 of eight SEC teams with a 49.185 National Qualifying Score.
Since Saturday's SEC championship event order places No. 3 seed Georgia on bars in the final rotation, the GymDogs need strong performances to close the conference competition on an upswing.
Practicing bars in the closing 20 minutes of Friday's SEC championship podium training, the GymDogs worked through challenges raised by a podium style meet, where all equipment is elevated about three feet off the ground to allow for better views from the stands.
For freshman Rachael Lukacs, the most significant change with an elevated apparatus is the bars' bounciness. Friday training offered a chance to swing with the altered resistance and consider the effects it has upon timing her skills.
"In order to get to the normal, we have to take our time and use the swing with us instead of going against it," Lukacs said. "You've got to be slower and go with it."
The coaching staff toyed with the bars' lineup order all season until discovering the most effective fit on Feb. 15 when Georgia scored a season-high 49.475 against Kentucky. But the lineup underwent a sudden change after sophomore Emily Schild suffered a season-ending injury just three weeks prior to postseason, placing Lukacs in Schild's spot.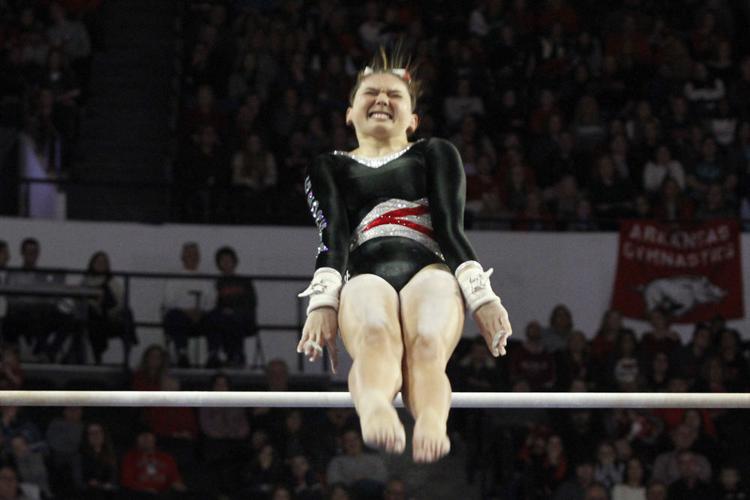 Saturday's SEC championship will be Lukacs' sixth appearance of the season on bars, where her past two performances have each totaled a career-high 9.825.
Friday served as an additional opportunity for Lukacs to gain comfort with her routine in a competitive environment, and head coach Courtney Kupets Carter noticed improvements to Lukacs' mentality on the event.
"[Lukacs] doesn't walk over with the stiffest walk, like a Frankenstein walk," Kupets Carter said. "She actually relaxes a little bit more, and she has that little bit of confidence."
The same six gymnasts that have competed since March 8, freshman Megan Roberts, Lukacs, senior Sydney Snead, freshman Alexa Al-Hameed, junior Rachel Dickson and sophomore Marissa Oakley, swung practice routines on Friday. Kupets Carter said the lineup still has the same chemistry it possessed prior to Schild's injury.
The GymDogs entered SEC championship practice with recent experience in podium style meets. Georgia is only two weeks removed from a podium meet at Elevate the Stage on March 8, where they took first place.
According to Kupets Carter, Friday's training session allowed the GymDogs to become familiar on the equipment and build poise before Saturday. Georgia practiced its events in the order it will take in SEC championship competition, joined on the floor by fellow night session teams No. 1 seed LSU, No. 2 seed Florida and No. 4 seed Kentucky.
"They all came around and did what they needed," Kupets Carter said. "That's what's so good about having that extra day just to practice and get used to it [and] not over-stress anything, just have a good practice."