The No. 8 Georgia gymnastics team punched its ticket to the 2019 NCAA Women's Gymnastics Championship after recording a season-high 198.050 at the Athens Regional Final Saturday night in Stegeman Coliseum. Georgia came in second at the regional behind No. 1 Oklahoma's 198.475.
"Apparently we had a higher peak than I expected," head coach Courtney Kupets Carter said. "They've been climbing a taller mountain than I've been projecting for them ... I think I was maybe on the mountain next to it, but I'm totally fine with the mountain we're on today."
Sophomore Marissa Oakley's perfect 10 on bars anchored the GymDogs' evening of season highs. The Georgia crowd erupted Saturday night after three of four judges posted the perfect mark, equating to Oakley's career best.
"I was kind of speechless," Oakley said. "I didn't really know what to do. I knew it was a good routine, but actually seeing that come up is pretty cool."
The GymDogs opened the night on floor in front of an electric home crowd. Energy from the stands transferred to the floor as every GymDog either matched or improved her score from yesterday's regional, performing crisp routines to a 49.55 team total.
Junior Sabrina Vega led Georgia's floor rotation with her second 9.975 in a row. Like Friday afternoon, the junior earned another pair of 10s from two of the four judges. Freshman Rachael Lukacs recorded her career-high 9.925 on floor for the fourth time this season and second time in a row.
The GymDogs also counted a 9.9 on floor from junior Rachel Dickson, who improved a full tenth from Friday's effort. Senior Sydney Snead's final floor routine in Stegeman Coliseum went 9.875, while freshman Rachel Baumann matched Snead's score with a 9.875.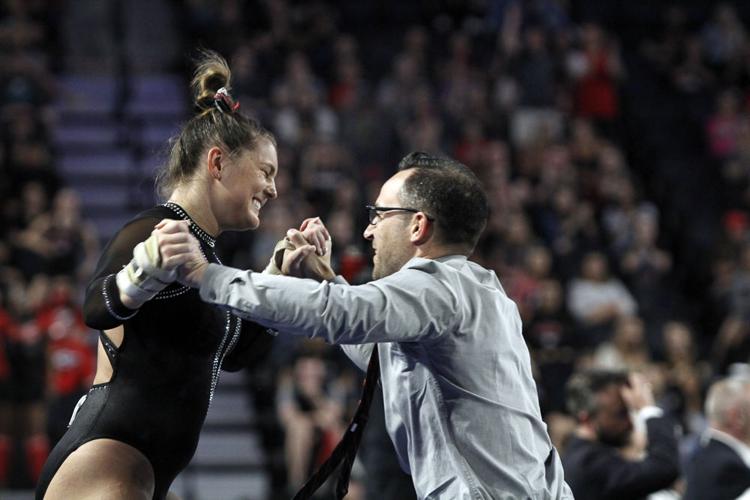 "It was just so many amazing moments," Kupets Carter said. "It's hard to describe which one is the best, but my favorite part was them coming out on floor, doing the rotation they did and it feeling like the end of a competition."
Georgia's vault lineup recorded a 49.375. The effort was led by Snead's second 9.95 in a row, extending her streak of 9.9s or better on vault to 16 attempts, including all 15 of this season's competitions. Lukacs counted a 9.9, her 10th vault score of 9.9 or higher this season. All five of Georgia's vault scores came in at 9.825 or higher.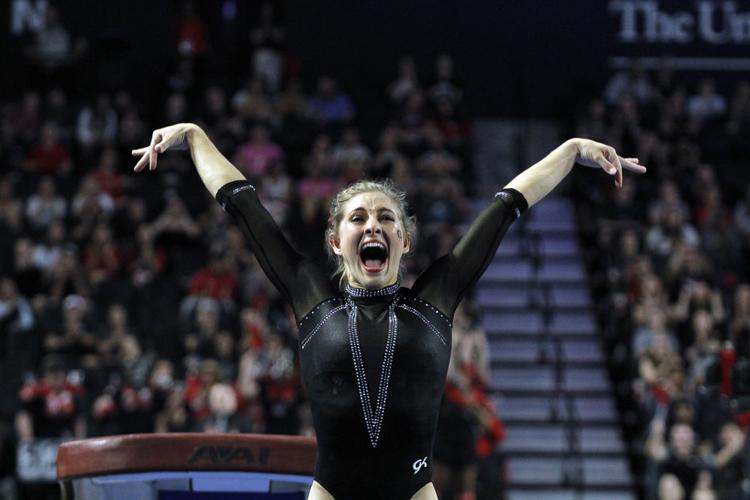 Georgia's vault score caused it to be passed by No. 16 California at the midpoint, placing pressure on Georgia's bars and beam squads that have struggled to establish consistency throughout the season.
Georgia delivered on bars, where Oakley's perfect 10 capped off a 49.575 season-high team total. Three GymDogs, Snead, Dickson and freshman bars specialist Alexa Al-Hameed, all contributed 9.9s, placing Georgia back in a second-place spot behind No. 1 Oklahoma heading to the final rotation.
Georgia wrapped the night up on beam and improved yesterday's 49.225 total to a season-high 49.55 on the event. Vega, Dickson and Baumann went 9.95 on beam, while Dickson and Baumann earned their career highs. Oakley contributed a 9.9, while Snead's final performance in Stegeman Coliseum came in at 9.8.
"They're great under pressure," Kupets Carter said. "They trust in themselves, and that's been a big thing over the weekend, just having the confidence in themselves... Sometimes we focus on the team so much that they forget that they are so unique and powerful as just an individual. When they do that, that is what creates the great team we have."
Oklahoma advanced with Georgia from the Athens Regional to the 2019 NCAA Women's Gymnastics Championship in Fort Worth, Texas, April 19 and 20.