The Georgia gymnastics team was in third place heading into its third rotation of the final meet of the NCAA Athens Regional Saturday night. As the GymDogs prepared for bars, they needed to overcome California and place at least second in the meet to advance to the NCAA championship meet.
Freshman Megan Roberts was first in the rotation and tied her career-high score of 9.875. She was followed by freshman Rachael Lukacs who also earned a career-high 9.850. The freshman pair was followed by Sydney Snead, Alexa Al-Hameed and Rachel Dickson who earned three straight 9.9s.
Marissa Oakley competed in the anchor position on bars Saturday night, and her team was counting on her for a clean, high-scoring routine.
"She's really the bar queen," Lukacs said. "Every handstand's BAM."
Oakley isn't one to focus on scores during a competition, and she wasn't thinking about the score she'd received as she mounted the uneven bars with a between bars jump to high bar.
She stuck her dismount, a full twisting double tuck, and knew that this bars routine was one of the best she had ever done.
"I didn't land and think about [the score] right away, but I knew it was a good routine," Oakley said.
The home crowd erupted in Stegeman Coliseum, and chants of "10, 10, 10" made their way through the fans. The judges finished counting and made eye contact across the floor before they rose in unison displaying their scores.
Oakley had done it.
She earned a perfect 10.
"I don't even think I said anything," head coach Courtney Kupets Carter said. "I think we all just were screaming, but it was absolutely beautiful."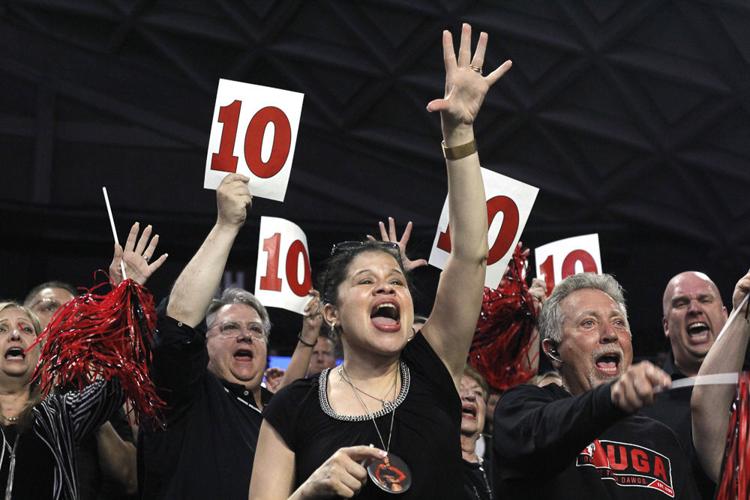 Oakley said she felt very in control throughout her entire bars routine and that she felt that "every single one" of her handstands was strong.
A perfect bars score has not been seen by the GymDogs in 10 years. The last gymnast to earn a 10 on bars was Kupets Carter in 2009 during her time as a GymDog.
"Finally. We don't need my name on it anymore," Kupets Carter joked. "It won't take, what, 10 years to do that again. I definitely guarantee that."
Kupets Carter called Oakley's perfect score "a 10 for our team," and it proved to be just that as it propelled the GymDogs through their final rotation on the balance beam. Junior Rachel Dickson and freshman Rachel Baumann each secured career highs on beam, each earning a 9.95.
The GymDogs surpassed California, earning a season-high score of 198.05 as well as second place in the NCAA Athens Regional and a spot in the NCAA championship meet.
"We're peaking at the right time," Kupets Carter said.