Following the 2018 National Signing Day, head coach Kirby Smart was pleased with the players he signed. Many were multi-sport athletes and state championship winners.
A year later, Georgia has similar athletes with similar profiles. However, there's one player from Thomaston who not only plays two sports, but excels at both.
Meet Travon Walker, a five-star defensive tackle who committed to Georgia on July 24, 2018, and signed with the Bulldogs on Dec. 19. A senior at Upson-Lee High School, 6-foot-5 Walker is the No. 3 defensive tackle in the country according to the 247Sports Composite.
"He brought a lot of excitement to the program, especially in the last couple of years," Upson-Lee head football coach Justin Elder said. "Being an All-American, you don't get those everyday."
Walker stays busy in the winter too, playing basketball for one of the state's top programs and AAAA state champions in both 2017 and 2018. Not to mention, a program that held a 75-game winning streak up until Dec. 22, 2018.
Walker isn't just another player on the basketball team, though. He roams the paint as one of the best big men on the team. According to MaxPreps, Walker is currently averaging 15.6 points, 11.9 rebounds and 2.1 blocks per game for the Knights, a team with a record of 23-1 as of Feb. 6.
---
"He brought a lot of excitement to the program."
-- Justin Elder, Upson-Lee head football coach
---
Upson-Lee head boys basketball coach Darrell Lockhart, who's coached the Knights since 2005, said he's never had a player like Walker with great talent in both basketball and football.
"I don't know, it just comes natural to him," Lockhart said. "The way he excels at both is that competitive edge, yet humble, so it's a combination of things."
Lockhart remembers when Walker first came to practice as a freshman. Normally, players are put on either the freshman or junior varsity team, but Walker was placed on varsity, at first glance, because of his size.
Then, Lockhart saw he could play. He wasn't overbearing with his size. He understood basketball. He matched up with the top talent in the state and held his own. From that point on, Lockhart knew he had something special.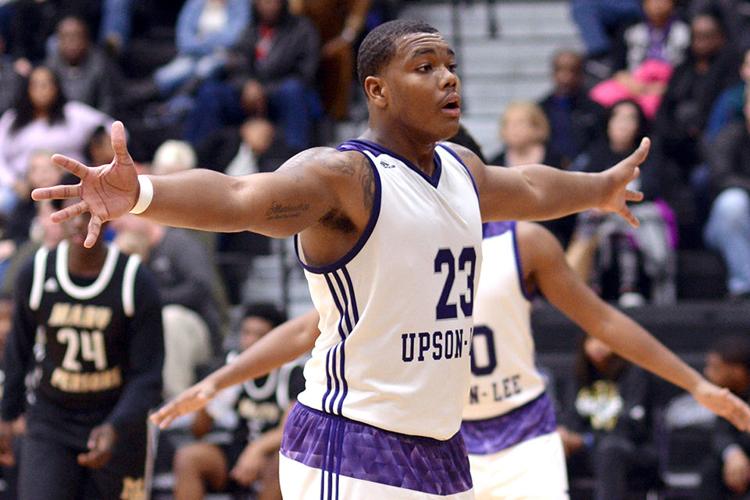 Walker became Upson-Lee's rim protector with his ability to block and alter shots. He became the presence in the paint the Knights needed to take the next step in basketball prominence.
Most of all, Lockhart said Walker doesn't demand the ball and is often looking to help others out on the court. He plays unselfishly, Lockhart said, and his willingness to win is what sets him apart.  
"He's special, he really is," Lockhart said. "I've always wanted a big guy that can do the things he does … without him, we wouldn't be where we are."
As good as he is for Upson-Lee on the hardwood, he wasn't recruited to Georgia to play basketball. Walker is one of the top talents in the country at defensive tackle, something Upson-Lee has never had.
Much like Lockhart, Elder saw his potential as early as middle school. As an eighth grader, Elder recalls Walker standing at 6-foot and 210 pounds with the ability to run fast.
"You knew then, you knew you had something special coming," Elder said.
As Walker made his way to high school, he decided to place him on the freshman team, a policy he follows to ensure the class bonds and works together.
---
"I've always wanted a big guy that can do the things he does."
-- Darrell Lockhart, Upson-Lee head boys basketball coach 
---
He didn't stay there long though. As soon as the freshman season was over, Walker was placed on the varsity and received snaps on Friday nights.
His rise in the recruiting ranks brought excitement at Upson-Lee, but Elder indicated Walker did a great job of not letting it be a distraction. Even though top college coaches among the likes of Smart, Clemson's Dabo Swinney and Michigan's Jim Harbaugh made their way to campus, it was business as usual.
But not for those that work around him.
Austin Franklin is the sports editor of the Upson Beacon, a local newspaper that covers athletics at Upson-Lee. He's worked there for the past two years and has been able to see Walker's rise, both as a basketball and football player.
This past football season, Upson-Lee went 7-4 and lost in the first round of the playoffs. Franklin noticed with Walker's ability, he often played at the linebacker position. What sticks out most, however, is his length and size.
"He's quick for his size so he's able to cover a lot of ground," Franklin said. "[With playing linebacker], he was able to get out in space more than he has in the past so that will be good for him."
Elder said during football season, he weighed about 275-280 pounds, but is down to around 260 pounds during basketball season.
Elder thinks Walker's athletic ability opens a myriad of options for Smart and Georgia when Walker eventually arrives in Athens this summer. In his eyes, they can use him at a variety of positions, whether it be tight end, offensive line, or his preferred position, defensive line, Walker has the ability to be interchangeable.
On whether or not Georgia basketball head coach Tom Crean could use Walker on the hardwood, Lockhart said that becomes a bit more complicated.
"He could help the University of Georgia out, there's no doubt in my mind," Lockhart said. "I don't know if there's enough hours in the day for him to do all that."