The second home game of the season for the Georgia Ice Dawgs hockey team proved to be quite a tense one, as the team defeated Southeastern Conference rival Florida 6-5 in overtime on Friday night. Aaron Phillips delivered the winning goal with 3:08 remaining in the extra time.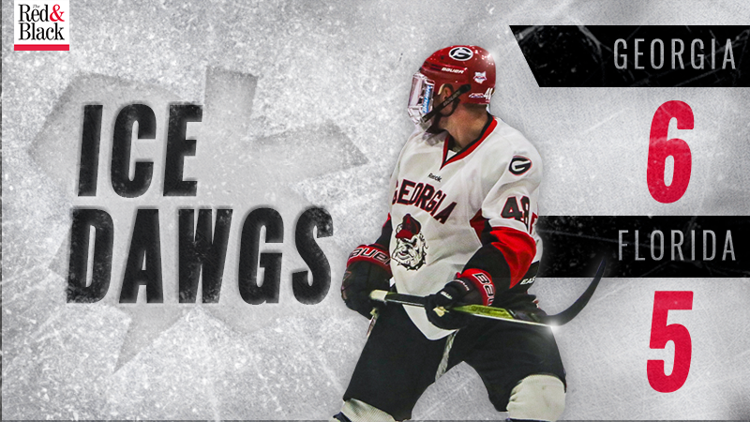 At the start of the game, the defending SEC champion Florida went with a primarily defensive game plan, limiting either sides chances of scoring.
As the first period was winding down, the Ice Dawgs scored the first goal of the game thanks to Eric Phillips towards the end of the period.
But the Gators wasted no time to start off the second period, scoring a goal in the very first minute. This then set up a goal by Florida's Brendan Nicholson only thirty seconds after the previous one.
Then, before Georgia had time to recover, it was hit with a penalty for too many players on the court, resulting in Gators third goal of the night, which came from Daniel Clifford.
As the second period progressed, however, the Ice Dawgs kept fighting for more points, starting with Zack Flasch scoring with 3:52 left. This goal soon set up another goal shortly after by Stephen Bray with 1:47 left.
Throughout much of the second period, Georgia found it tough to contain Daniel Clifford, who scored yet another goal with 1:38 left before the start of the final period of regulation.
At the start of the third period, the Ice Dawgs were down by a goal and they knew they needed to stay calm to if they wanted to win the game.
"Even though we were down, we knew that as long as we played how we usually played, we knew we were gonna come on top," David Spielberger said. "Our coach talked to us and told us what we did wrong...we came out and played as a team, but we never lost confidence."
By staying calm, the Ice Dawgs were able to turn the tide of the game, thanks to Caleb Santa Maria scoring back to back goals, one at 19:01 and 15:50 left in the third. Georgia was then leading 5-4 lead over the Gators.
"My main attention was to get that shot to Stephen Grahm and hope to get that breakaway... came back around and I was looking for the open man...I had a good shot from the point and their it is[the goal]." Caleb Santa Maria said. "I was exstatic...its a great day when you get the game winner."
But, thanks to a goal by Bryan Miller with 9:18 left in the third period, the Gators tied it up 5-5 and soon the game went into overtime.
With still knotted up at 5-5 deep into the overtime period, Aaron Phillips was finally able to score for the Bulldogs with 3:08 left, propelling Georgia to a win over its divisional rival.