The Georgia hockey team defeated the University of Tennessee 10-1 on Friday to push its overall record to 8-1-1.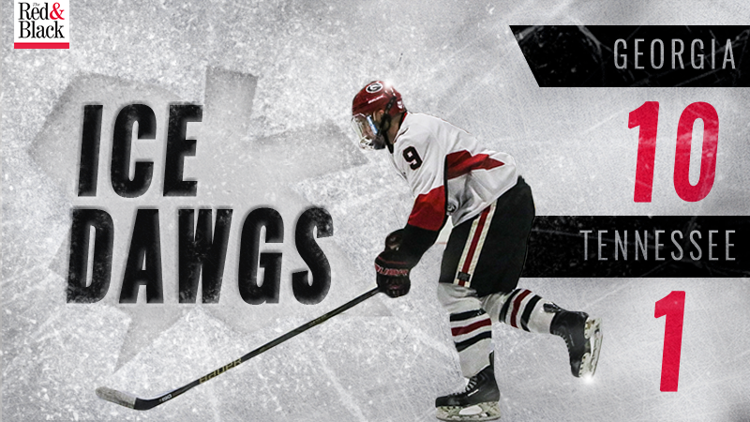 The sight of red and black against orange and white combined with the sounds of crashing pads and cheers from the Bulldogs brought back a positive déjà vu for the Georgia faithful, with one twist- this time, it was on the ice.
The home crowd tipped their caps to their team on a night of two hat tricks by the Bulldogs. Senior forwards Zach Flasch and Alex Carey led the offensive effort for Georgia with three goals apiece in the team's 24th consecutive home victory.
"It's probably been 50 games since my last hat trick and this one," said Carey. "I've had about 20 two-goal games in those, and it's just never popped, and then, finally, today, it finally went in. Just watching it go in was a huge weight off my shoulders."
The Ice Dawgs struck quickly in the first period. The 6-foot-4 freshman Kyle Harris invaded the Tennessee defending zone within two minutes to score first for Georgia.
A defensive battle ensued until Carey scored the first of his three goals at the 14:15 mark and again with 3:12 to go in the first period.
With just over two minutes to go the Ice Vols' Dane Despins shortened the margin with a goal by the Big Orange. It would be the only Tennessee goal.
The Ice Dawgs made themselves at home in the Tennessee defensive zone in the second period. With two goals from senior forward Zach Flasch and contributions from junior forward Carter Penzien and Dylan Ferguson, Georgia took the ice in the third period with a 7-1 lead.
Just over eight minutes into the third period, Carey scored his third goal of the game. A shot by junior forward Christopher Santa Maria found the back of the net before Flasch's final goal that made the final score 10-1.
The Ice Dawgs face Kennesaw State on Saturday, Nov. 11 at 7:30 in Akins Arena at the Classic Center. KSU defeated Georgia 9-3 on Sep. 30, the Ice Dawgs' only loss of the season, although they might not say they are exactly looking forward to avenging the loss.
"I wouldn't say excited is the right word," said Carey. "Focused, prepared. They've got a really good team. We know that they're going to be bringing it."