When senior Ali Tritschler recalls her favorite memory since first competing on Georgia equestrian, everything goes back to her love for the team. Not only has she had 65 other riders to grow through this process with, but she has also made a more personal team of her own. One that she has been the closest to in more ways than one. 
Four seniors take on the challenge of being a part of the equestrian team and also the obstacles of life together as roommates. For Kate Kramer, Maddie Fiorante, Julia Spreng and Tritschler, that feeling of unity from a team was only just a knock away. 
Because each is from four different corners of the country, the distance makes leaving each other even more difficult. Despite the Bulldogs' success, each senior marveled at the opportunities outside of athletics that Athens has to offer. All of them, with the intent of bettering their careers, found themselves in the midst of an inseparable bond that goes beyond a couple of hours on the playing field.  
Being on a team took some getting used to as each started off as individual riders. Riding for Georgia was their first time riding in a competitive environment.  
Tritschler grew up in Southport, Connecticut, and rode for Flats and Fences. Though she has always loved riding horses, that was not something Tritschler intended on pursuing in college. Instead, a recruitment opportunity opened and led Tritschler to rethink her college plans. Teammate Maddy Darst and former Bulldog Meg O'mara helped seal the deal for Tritschler's decision to join the Bulldogs. 
"I wanted to be happy at a school without all the coaches and athletics," Tritschler said. "Looking at Athens and what my major school had to offer just solidified my decision."
Approximately 2,665 miles away from Athens, Fiorante began her equestrian journey in Tigard, Oregon, focusing on Horsemanship. Just like Tritschler, Fiorante wanted to attend a school that would align with her passion for the field of public relations. It wasn't Georgia's history with equestrian, but rather the Grady College of Journalism and Mass Communication that placed Georgia at the top of her list. 
"The stars aligned. It happened to be the furthest away, but it was the best fit athletically and for school," Fiorante said. "I was obsessed with Grady and knew I would want to be a part of it." 
Just below Fiorante in Menlo Park, California, Kramer grew up riding horses for Fences with her family. It was the University of Georgia School of Law that altered her decision. Lastly, back over to the east coast in Port Orange, Florida, Spreng got her start in equestrian by competing in Reigning.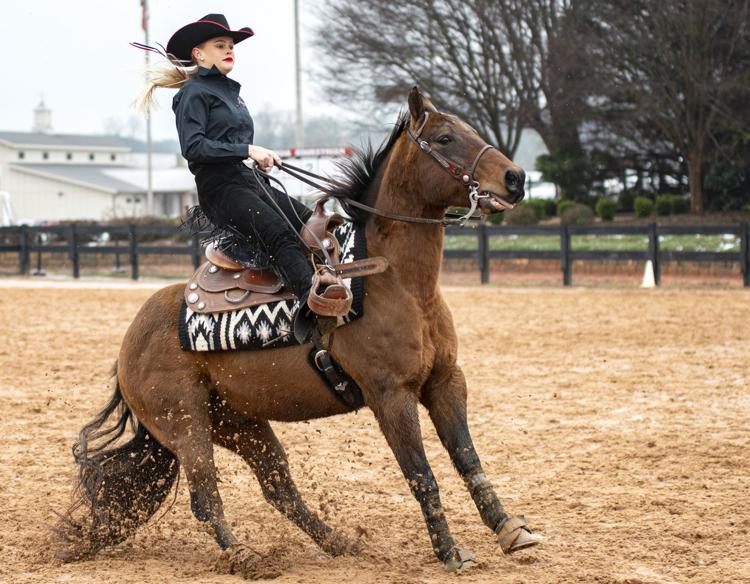 Kramer and Spreng instantly sparked a connection from the moment they met and became roommates in their freshman year. The duo had each other as roommates until their junior year when they added Fiorante and Tritschler. Now a group of four, they've since made their own support system they have depended on while juggling school, life and athletics. 
"They're the kinds of friends I can talk to about things that have nothing to do with the team but also understand all the pressure that comes with being on the team," Fiorante said. "When I am extremely tired and being bratty, they understand it because they're going through a lot of the same stuff." 
What can often be a monotonous schedule of practices and meets has become a tradition for these four. In a couple of months, they will be off chasing their careers and will miss the routine. Most importantly, they will simply miss being together. That is why they are not taking these last couple of meets for granted. 
"I live with my best friends on the team and not living together is going to be really weird," Kramer said. "You go into the workforce and you have your team, but it's not a passionate thing like it is here. That's what I'm going to miss the most." 
No matter where they end up, they will always trace their memories to their time competing at the UGA Equestrian Complex. As they transition into the workforce, one thing remains certain: They have a support system that will never leave them, only this time they are just a call away. 
"That's what makes it so special. You share each other's perspectives from different parts of the country," Spreng said. "We don't just ride horses here, we make life-long friends and skills that you can bring with you past college."