FAYETTEVILLE, Ark. — Head coach Kirby Smart didn't spend as much time as he usually does watching the defense in Georgia's season-opening 37-10 victory over Arkansas. He had plenty of issues to work out on the other side of the ball, from a quarterback conundrum to offensive line troubles.
It's a good thing he didn't have to worry about them too much. The Bulldogs' 2020 defense came out looking as good as it did back in 2019, when it finished the season ranked No. 1 in the nation.
"[The defense] got put in a lot of tough situations," Smart said in a virtual postgame press conference. "Thank goodness we have a lot of experience on that side of the ball."
Georgia came down with three interceptions against Arkansas — more than it did against any one opponent in 2019 — playing a key role in the Bulldogs' second-half comeback and win over the Razorbacks.
With Georgia making a comeback after going into halftime down 7-5, junior cornerback Eric Stokes returned his first career interception for a touchdown to extend Georgia's comeback to 27-10 in the third quarter.
Senior safety Richard LeCounte, meanwhile, intercepted Arkansas passers twice — first picking off quarterback Feleipe Franks in the first quarter to the Arkansas 15-yard line in the first quarter, then intercepting Arkansas wide receiver Treylon Burks at the Georgia 19-yard line late in the third quarter.
The Bulldogs were up 27-10 when LeCounte caught his second interception, but Arkansas was starting to drive again. Franks had just completed a 27-yard pass to Burks, and the Razorbacks were at the 50-yard line when LeCounte came down with the ball.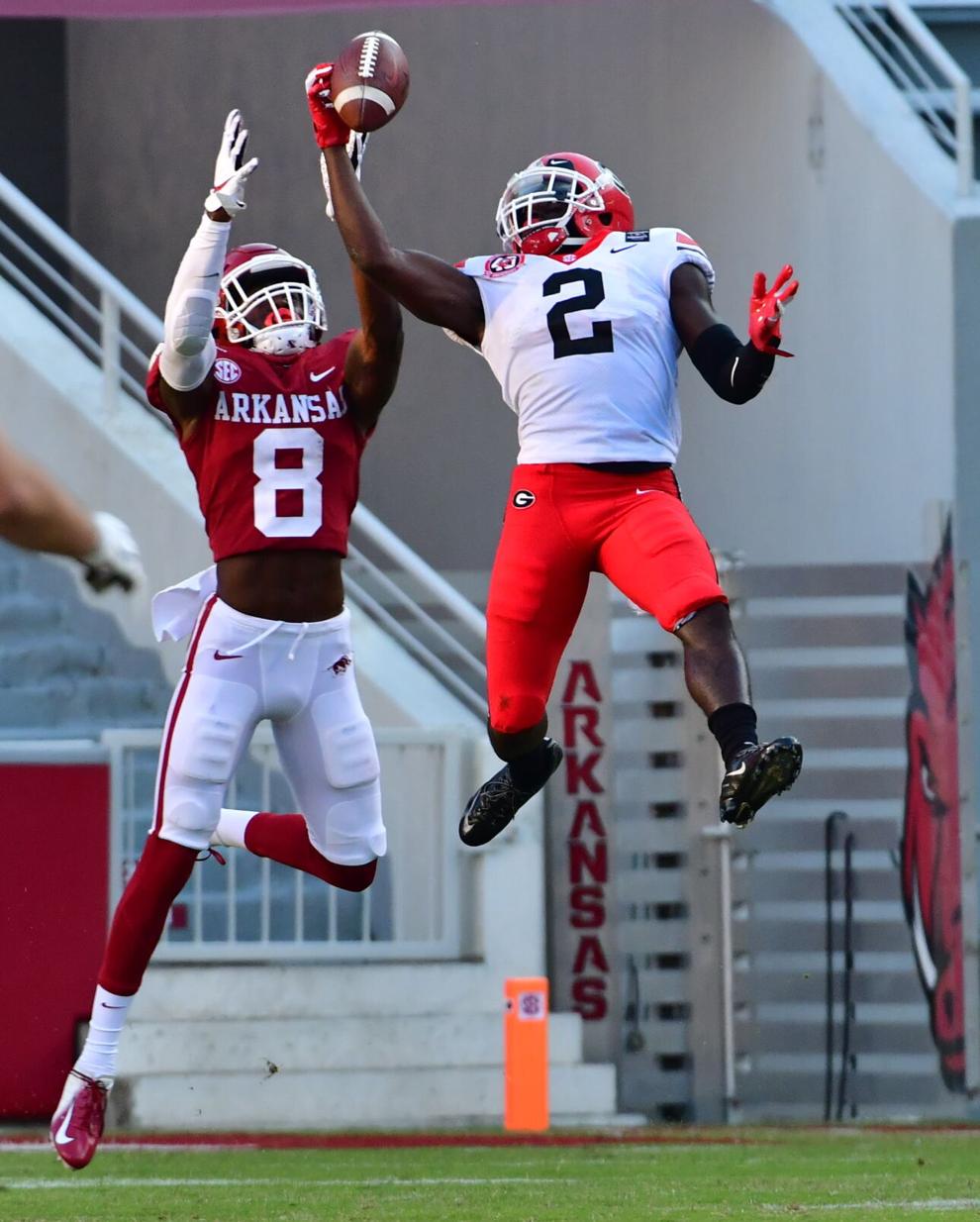 Georgia's offense was able to turn LeCounte's interception into another touchdown and extended its lead to 34-10.
LeCounte gave all the credit for his interceptions to Georgia's defensive linemen and linebackers, who rushed to Arkansas passers and caused the Razorback offense to make mistakes.
"Being able to make the quarterback react faster, and making him make throws that put the ball in the air … As a safety, as a defensive back, you've got to be able to go take them," LeCounte said in a virtual postgame press conference.
Smart said he doesn't know what would've happened had LeCounte not come up with that last interception, but he's most thankful that Georgia's defense never became frustrated with the offense that didn't consistently produce points until the second half.
"Best thing they did is they never pointed any fingers, never blamed anybody, just kept working," Smart said.
LeCounte said that even though No. 4 Georgia went into halftime down by two points against an Arkansas team that hasn't earned an SEC win since 2017, the Bulldogs never believed they were going to lose.
While his second interception in the third quarter, which crushed Arkansas' last chance at a comeback, could be deemed a turning point of the game, LeCounte said Georgia's attitude at halftime would be more fitting.
"I think the turning point was, mentally, we were able to keep our head on, come out in the second half with a new mindset, [like the score was] 0-0, and play the ball that we know [how] to play at Georgia," LeCounte said.