In the late 1950s, 5-year-old Clarence Pope would sit on a large rock in his backyard during Georgia football games. He lived five blocks east of Sanford Stadium, close enough to hear the announcers describe the game and the crowd erupt every so often.
Pope held a small football while imagining what might be happening on the field. When the stadium noise seeped into the valley where Pope sat listening, he pretended to be the one making the play. He'd throw his football, catch it and run. 
"That's me," Pope said. "They're cheering for me."
Richard Appleby and Horace King lived nearby on the other side of Athens, still able to feel the pulse of Georgia football. One hundred miles west in Rome, a young Chuck Kinnebrew watched Southeastern Conference football with his dad, and a fifth similar-aged boy, Larry West, grew up in Albany.  
All five eventually became Bulldogs, and in doing so, they carved out a piece of Georgia history that provided a foothold for those who followed. Every African American who has played at Georgia since 1971 has had something these five didn't — the ability to match those Sanford cheers with someone who looks like them.
"I never thought of [playing at Georgia] because everything was black and white," Appleby said. 
But everything starts somewhere.
Finding a way in
Early in his childhood, Pope played pickup games in the neighborhood but nothing more organized than that until eighth grade. Kinnebrew participated in intramural-like games between West Rome, where he lived, and South Rome. A principal of a nearby junior high school organized the games, and the kids wore mismatched uniforms using unneeded equipment from local high schools.
As for Appleby, who didn't join the school team as a tight end until 11th grade, he said he "became a legend" on Chase St. in Athens.
Appleby, Pope and King, the three Athens natives, found their way into Sanford Stadium by purchasing a tray of sodas for a couple dollars and then selling them. Once King had sold enough to pay for what the tray cost him, he would find a spot near the band to watch the game. He remembers the matchup against Houston in 1968, when Houston's team had integrated and Georgia's hadn't.
"The game ended up being a tie, but all the blacks in the neighborhood wanted Houston to win the game, not University of Georgia," King said. 
By the time King was inching toward high school graduation, more high schools, colleges and sports teams had become integrated. Georgia was next in line. 
"The good news was there were integrated high schools," former head coach Vince Dooley said. "That helped so much because it was a natural flow. It was going to happen, and it was happening."
Being the first in the now long list of Georgia players who are African American wasn't a driving factor in Pope's decision. He didn't feel a sense of importance in what he was doing by playing at Georgia, at least not to the extent that he does now. 
Every new signing class and team of Bulldogs who stand along the sideline is now a diverse group.
"It was big for me to not take it for granted," said DJ Shockley, who was a Georgia quarterback from 2001 to 2005. "Being so many years removed from when they paved the way, I wanted to make sure I paid homage to all the hard work they put in, especially to open up the door so a lot of guys like myself could come in and not have to worry about some of the stuff they went through."
Kinnebrew's father, Robert, could see that significance when his son opted to become a Bulldog. 
When Kinnebrew was 6, his older sister, Vicki, received a tape recorder for Christmas. Later that night, Kinnebrew and his father started to play around with it. His father pretended to be a reporter and interviewed his son. Kinnebrew answered as best he could. 
Kinnebrew remembers the topic of one of the questions: "You're the first African American to ever play for Georgia. What is that like?"
Over a decade later, when the defensive lineman was deciding which school he would attend, his dad found the tape. It was hardly audible, but that fictional interview had been preserved. 
"That's you," Kinnebrew remembers his dad saying as the tape was replayed.
"I felt like I feel right now," he said, tearing up, as he thought back to hearing the tape. "It was pretty emotional."
The next day, Kinnebrew decided to play for Georgia.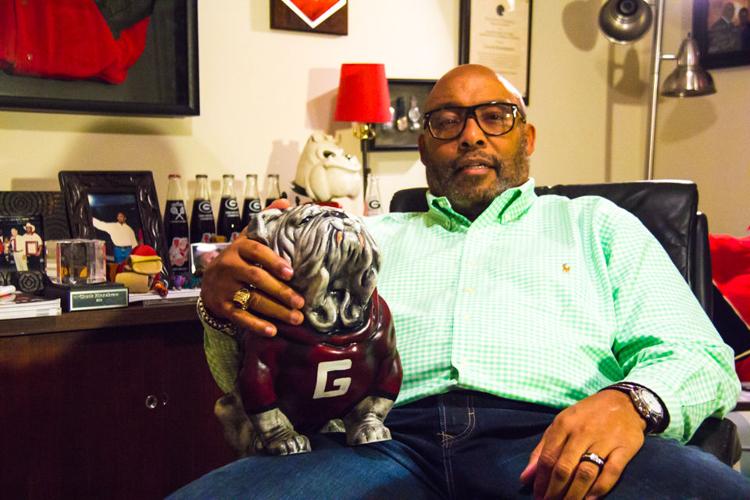 The initial cost
Being the first wasn't unfamiliar to Kinnebrew. In seventh grade, he began going to an integrated school and was one of only five African Americans there. It wasn't mandatory, but his dad knew it would give him a better education and prepare him for "living and working in a predominantly white world," Kinnebrew said.
As a seventh and eighth grader, Kinnebrew played on the freshman team since he was too big to play with his similar-aged peers. He remembers being picked on, both because he was younger and because he was the only African American on the team. In the classroom he was singled out as he was the only African American in the enriched program, which consisted of the students with the highest academic potential.
"During history classes, they would show films of Africa, you'd hear, 'N-----, n-----, n-----,' and stuff like that," Kinnebrew said. "That was very hurtful. But I knew eventually we would get through and past all of that."
Integration in Athens came later. Burney-Harris High School and Athens High School consolidated to become Clarke Central prior to King, Appleby and Pope's senior year.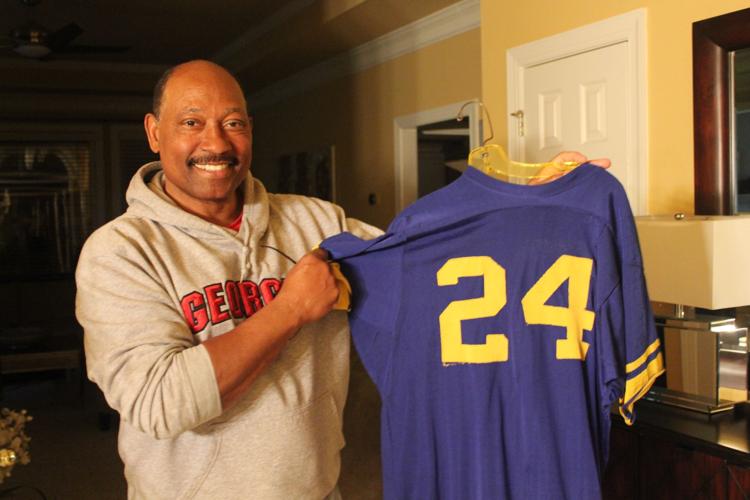 On the high school field, Appleby said the African-American players felt their new head coach, Weyman Sellers, who has since died, displayed racist attitudes. Their experiences at Clarke Central led to some hesitation to attend Georgia and be part of its first integrated team. Dooley remembers King feeling unsure.
"[Dooley's] words to me one time was he wouldn't treat me any different than he would treat his own kid," King said. "How could I go wrong with that?" 
It was a learning process for the coaches too, Dooley said. They had never coached African-American players. But Pope said there was never a trace of racism coming from the coaching staff at Georgia like it did in high school.
However, there were still racist incidents within the team, such as name calling, accusations of stealing or pranks that seemed to go too far. Pope's first memory of being part of the Georgia team is one that fits that mold. 
"Sometimes I don't like to say this, but it's real," Pope said as he began the story. 
The freshmen were instructed to line up in front of the old McWhorter Hall. They stood on the sidewalk, while a few upperclassmen were positioned on an elevated tier of the staired entrance. One, who was wearing a hooded sheet, sat on a chair in the middle, Pope said. Beside him stood two others with shotguns, bandoliers and a Confederate battle flag.
Pope can recall this event vividly. Kinnebrew and Appleby also remember. They think all the freshmen were in attendance but aren't entirely sure. Perhaps King was not there, but if he was in the line of players standing in front of McWhorter Hall, he has forgotten. ("Look, Horace was there for football," Kinnebrew said when told King did not remember this day.)
The players did not know if this hazing-like incident had occurred in years prior, but it didn't happen again the next season. 
"I sensed it just being a spoof," Pope said. "But it was a spoof against me — that's the way I looked at it — because of the change."
Wearing the regalia that resembled that of the Ku Klux Klan, the upperclassmen asked the freshmen to bow. None of the African American players complied. 
Them, not us
Not long ago, the 1971 Georgia team had its 40th reunion in Athens. Since the five African Americans were on the freshman team at the time, they were not part of the Georgia varsity roster.
When Dooley walked into the reunion, he was struck by the lack of African American players in the room. There were none. Then he realized why. That was the last team that wasn't integrated.
The integration of Georgia football was poised to happen slightly earlier, though. James Hurley, an African American student, walked onto the team during spring practice of 1970. Before the fall season rolled around, however, Hurley had signed with Vanderbilt. Another athlete from Huntsville, Alabama, was recruited by Georgia in 1970 and seemed set to sign, but he flipped to Minnesota. 
When the five athletes earned scholarships to play at Georgia, their accomplishment began a series of firsts for the program. In 1971, which was 10 years after the integration of the university, they became the first African Americans to join the team. Four years later, King became the first African American from Georgia drafted to play in the NFL, and he had a nine-year professional career as a running back with the Detroit Lions. The next year, Appleby was drafted by the Tampa Bay Buccaneers, where he spent a year before his three years in the Canadian league.
In 1972, King became the first African American to score a touchdown for Georgia's varsity team. 
Jared Klein, who is a professor of linguistics, classics, and Germanic and Slavic languages at Georgia, had recently begun teaching at Georgia. He grew up in Cleveland and then went to Yale in New Haven, Connecticut. He had never been south of the nation's capital and had long been around integrated teams.
Klein wasn't at the game, but he remembers reading about it in the newspaper.
"For somebody coming from up north, the fact that a black player had scored a touchdown would be about as much news as my having gone to the grocery store earlier in the day," Klein said. "I realized that it was probably quite important. That's why it's in my mind to this day."
King still has a copy of a newspaper from that game, but not for the same reason. For him, that game became a personal turning point due to a postgame interview. 
"My words to the reporter were, 'Not such a big deal. I was just helping them win,'" King said. 
When he read that the next day, the weight of his words hit him. It wasn't about us. His touchdown was for them. He did not feel like part of the team yet. King said that was because his experiences from Clarke Central still lingered inside him. But reading those words and realizing he felt that way was all it took for that feeling to change.
"That was the richness of it," King said. "From that day forward, I found a home."
Laying the groundwork 
Since many players had family members in the crowd at games, afterwards they would go out to eat with their relatives. However, Pope was raised by his grandparents, and his family was never able to get tickets for the game.
Following games, Pope instead went to the dorm and played pool. Kinnebrew, his roommate, soon realized that Pope was alone. By a few weekends into the season, Kinnebrew's family invited Pope to come with them, and Pope still remembers how genuine it felt. That was a surprising part about college for Pope. He didn't realize a bond with his teammates could extend into their families.
"It was a brotherhood," said Pope, a linebacker. 
Pope roomed with Kinnebrew, and King with West, who was a defensive back and was unable to be reached for this story. Appleby called himself the "odd man out," since he lived with a white player, Steve Taylor, his freshman year. Still, they were all part of the same suite and shared a bathroom. Dooley said the five African Americans were kept together to make sure they felt comfortable. 
The friendship between the five players was built upon respect and mutual accountability, epitomized by what they called "rat court." Rat court was held whenever one of the five players did something wrong, whether that was disrespecting a woman or not cleaning borrowed hair clippers after using them.
The meetings were held late at night, usually in Kinnebrew and Pope's room. The one who had done something wrong sat in the middle of the bed and the others gathered around him, Kinnebrew said. Then, they discussed why the action was not up to the standard they had set.
"Rat court kept us straight internally," Kinnebrew said. "Our view was we all needed to be role models because we were under the microscope."
They knew they were the first, and with that came responsibility.
Of the five players, Kinnebrew, West and King earned degrees. That's what Kinnebrew is most proud of — his graduation ring. His dad wanted him to have it, and he's worn it every day since.
Sometimes people think it's a championship ring, but this group of athletes never won a conference or national title. Although in a way, they laid the groundwork for the later Georgia athletes who did.
"Our teams were average, which I regret, but it is what it is," Kinnebrew said. "We set the stage. Had we gotten in trouble, hadn't been good citizens, I think it would have made it more difficult for them to go out and recruit athletes."
King once heard about "planting some shade trees you will never sit under." And maybe that's what his career at Georgia did — for the Herschel Walkers, the Champ Baileys, the DJ Shockleys, the Nick Chubbs and all the others who have played since. The seed was planted simply by being part of the team. 
Pope's first game inside Sanford Stadium on the varsity team was against Pittsburgh, and he jokes he's most famous for missing a tackle on Tony Dorsett, who eventually won a Heisman Trophy and a Super Bowl.
During games, Pope never thought about the crowd, apart from the moment he first stepped onto the field before the game began. That's when he was able to appreciate the environment that surrounded him. 
The crowd's roar, certainly, could still be heard at his childhood home to the east. But now, he no longer had to pretend. The cheers were for him.