Allison Schmitt had enough.
Schmitt, who was struggling with depression at the time, left practice early one day. Out of nearly 50 swimmers in the pool, head coach Jack Bauerle was able to pick up on one swimmer's absence instantly.
"He meets me out in my car in the parking deck and just sits there and talks to me for the next 15 minutes," Schmitt said. "He listened to me. I think that's what a lot of girls need. He probably got a lot more tears out of me than he thought he would but he took it like a champ."
Helping out swimmers like the multiple-time gold medalist Schmitt is what Bauerle was hired to do. But his ability to read swimmers' emotions is what defines the sometimes tough and rugged Glenside, Pennsylvania, native.
Bauerle's swimming dynasty began when Liz Murphy put her hand to a piece of paper.
In 1979, the former Georgia assistant athletic director wrote a simple, handwritten letter to Vince Dooley.
Murphy gave Dooley, the athletic director as well as head football coach at the time, a suggestion for a possible hire for the women's swim team. She recommended Bauerle, a former school record holder and team captain who "might just work out OK."
Bauerle went on to become the mastermind behind one of the most decorated swim programs in NCAA history. The Bulldogs are looking to add to Bauerle's resume when NCAA championships start on Wednesday.
Seven national titles. 12 SEC championships. 37 years as a women's head coach. A collegiate swimming record 100 consecutive victories at home.
And throw in another 15 top-10 finish as the men's head coach in 33 years. Not to mention five straight appearances coaching internationally at the Olympics.
The wins and accolades didn't always pile up so easily for Bauerle. Rome wasn't built in a day and neither was Bauerle's Athens. He had to start somewhere.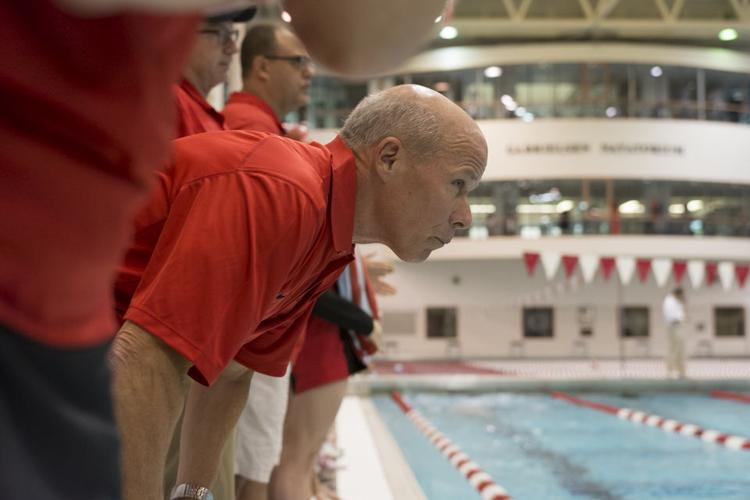 Evolving as a coach
When Bauerle arrived at Georgia in 1970, it was not exactly to the blare of trumpets to signal a coronation of a new king.
The Pennsylvania swimmer had to make a name for himself. He did just that when he set the school records in freestyle and butterfly events. He did so with an unrivaled passion.
"He was probably the most competitive person I had ever met in my life," teammate Jessie Armistead said. "When it came time to step up on that starting block, it was show time. He would do whatever it took to win. He was an incredible athlete."
Those qualities of focus and dedication carried over once he started his coaching career.
Bauerle's no nonsense and tough-love approach to coaching made an impression on some of the first swimmers he coached.
"It was Nick Saban-like but it's almost Saban is Bauerle-like," said Craig Jacobi, who was the men's team captain in 1986.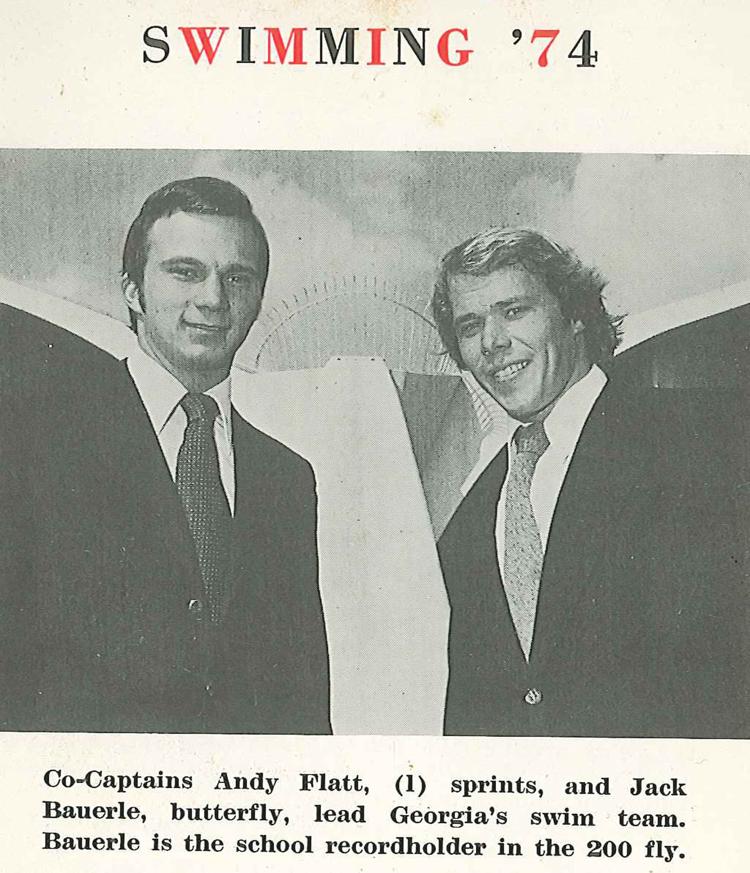 Taking after his mentor Richard "Dick" Shoulberg, Bauerle stressed swimming for distance. And he stressed it hard.
Swimmers were required to go to 10 out of 11 workouts every week with one morning off. The distances piled up. Whether it was swimming 5,000 yards for time or getting in 12,000 yards in a day, Bauerle wanted to get the most out of his swimmers. No matter if they were distance swimmers or not.
As time passed, Bauerle's approach to training evolved.
"I think to the credit of Jack and his staff, they continued changing," said Matt Booth, a team captain in 1996. "He said they've come so far in terms of how they train. Now it's a much more specific approach. It's like going in with a sniper as opposed to going in with just a flamethrower."
While the amount of time and number of practices has not changed significantly in Bauerle's time coaching, the quality of training has improved dramatically. Now instead of weightlifting with the football coaches, swimmers have workouts that are defined for their sport.
Getting the chance to progress over time helped Bauerle develop a softer side to combat his competitive spirit. Having both have given him the opportunity to motivate swimmers in a variety of different ways, which many cite as a reason to why he has become such a good coach, according to Missy Michaels, (formerly Missy Faucette).
"Jack sort of encompasses all of that," Michaels said. "Tough when he needs to be, soft when he needs to be. That's why he knows how to be successful. He really just knows how to motivate people."
More than a coach
Two men coaching a women's program did not begin as a walk in the park for Bauerle and senior associate head coach Harvey Humphries, who is in his 36th season.
"Neither one of us was married and neither one of us had a sister and we're coaching girls," Humphries said. "We had no clue. We wondered why they cried every day."
But the two men were able to find their way with the help of various female coaches, such as Carol Capitani and Stefanie Williams. Bauerle is able to take a more sensitive approach on the pool deck as well.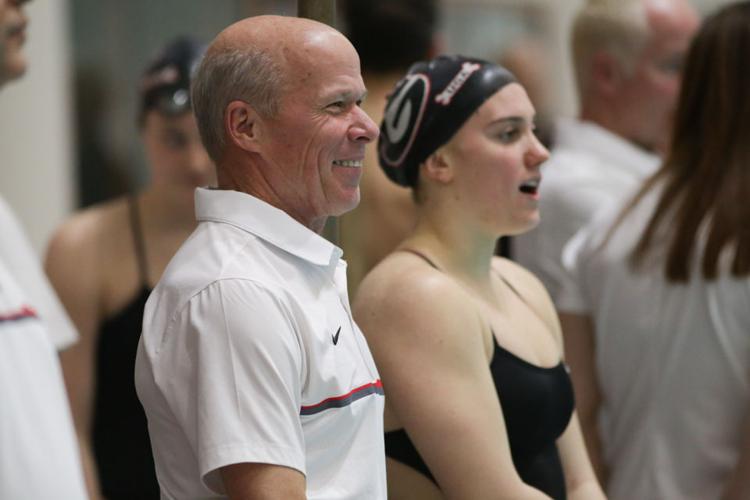 In 1993, in a close meet between Georgia and Florida at Stegeman pool, Bauerle had a chance to beat the Gators for the first time in school history.
In the 200 freestyle relay, he had freshman Kelly Johnson, (formerly Kelly Frazer), anchor. With all eyes on the freshman, Johnson missed her flip turn and Georgia wound up losing the meet by a few points.
Bauerle could have chewed out the freshman and spit her back out. He could have screamed in frustration after years of losing to the Gators, but instead he took the high road.
Johnson went on to be a captain of a team and an All-American.
"I credited a lot of that to him because he could have totally demoralized me after that meet and I never felt that at all," Johnson said. "Now as a parent I appreciate it even more how he handled that situation because you see coaches do that all the time."
Building a dynasty
A lot has gone into Georgia's success that is not directly related to Bauerle. Humphries and Williams, along with diving coach Dan Laak and associate head coaches Jerry Champer and Brian Smith, form one of the most consistent coaching staffs in college swimming.
The pool at the Gabrielsen Natatorium was built in 1995. And it was long overdue. The pool at Stegeman Hall was built in 1943 and by the time the 90s rolled around, it had seen better days.
In fact, Bauerle and Humphries would try to keep recruits away from the Stegeman Hall pool since it was an older complex.
"It was just old and the locker rooms were old and musty," said Mark Nedza, who began swimming in 1978. "We shared the steam room and the shower with everybody. We worked out in the weight room. It had been built in the 40s with old rusty barbells."
When the Bulldogs transitioned over to the Gabrielsen Natatorium, the team took off.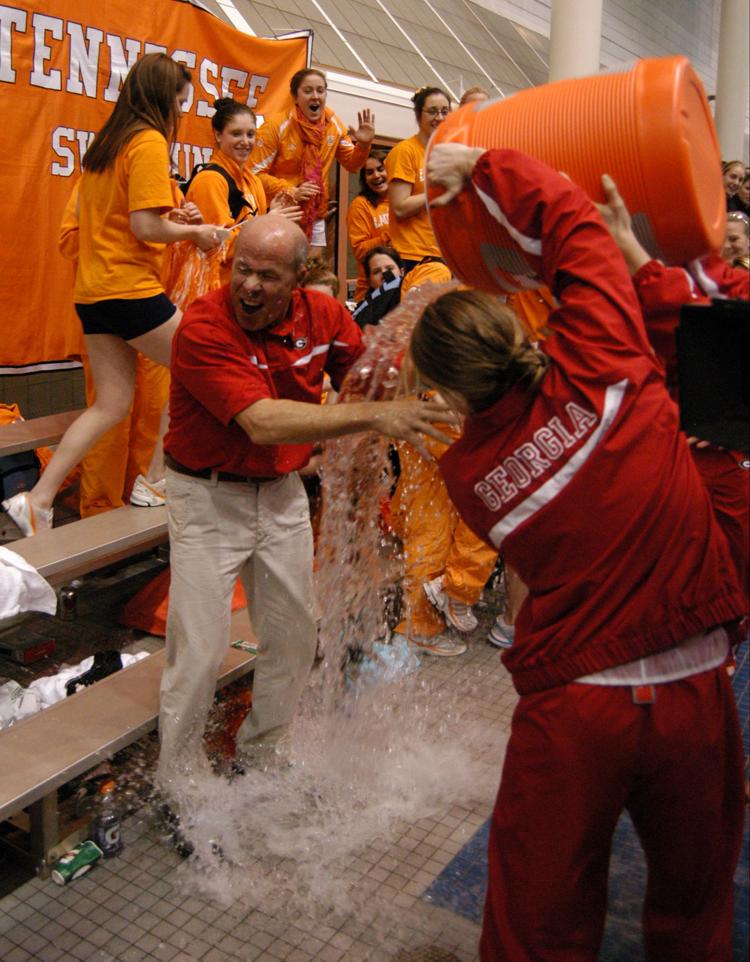 The women's team has ended the season every year since the inaugural 1995-1996 season at Gabrielsen Natatorium in the top 10, and the Bulldogs have won all seven of their national titles since moving into the Gabrielsen Natatorium. The men's team had 14 top-10 finishes in that 21-year period, too.
"I know Jack always credits the new pool at the Ramsey center to helping him get better athletes," said Sheila Taormina, who was Georgia swimming's first Olympic medalist. "I was on the committee on campus that was trying to sign people to get petitions to get the Ramsey center built. It was exciting when it did come back because we needed a new pool."
Not only did Bauerle build a powerhouse in the new pool, he built one outside of it as well. Through the years after practice, the head coach has left his swimmers with one phrase that he still uses today: "Go get some A's."
Georgia swimmers have done that and more over the years. Thirty-six swimmers have earned post graduate scholarships. This past December, senior Chantal Van Landeghem was named the Dean William Tate Scholar. Van Landeghem was the first Georgia student athlete to accomplish this feat.
In the fall of 2016, the Georgia men had the highest GPA among male varsity sports with a 3.25. The women's team was seventh amongst female sports teams, but had a 3.22 GPA.
"Swimming isn't one of those sports where there's some level of career path and to make money in swimming after college," said Nicole Tackett, (formerly Nicole Schrader), who swam from 1997-2001. "I think the focus on the academics and the thing that Jack always says getting out of the pool every single day was go get some A's. He prioritized that every day in our life."
A shining personality
Bauerle isn't all swimming all the time. He is an avid professional sports fan, particularly teams from Philadelphia.
In the late 1970s when the Georgia swim team was finished with NCAAs championships in Cleveland, Ohio, they were waiting on a plane to go back to Georgia.
While at the airport, the Cleveland Cavaliers were unloading and Bauerle went up to talk with them. Rick Brackett, a swimmer at the time, said Bauerle knew every player on the roster.
"He followed them to the baggage claim," Brackett said. "And by God he almost missed the plane. He was the last one on, when he came down to aisle everyone was clapping finally. He's just a perpetual fan of sports."
Bauerle also surfs, snow skis and plays tennis. A lot of tennis.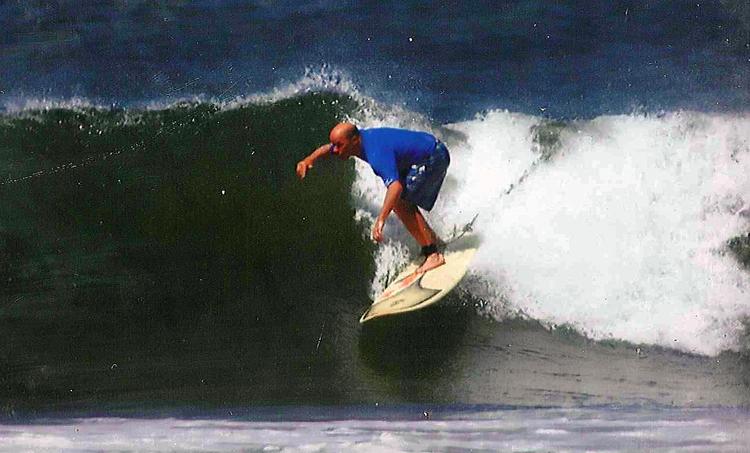 In 1983, Bauerle and three others played 125 hours of tennis at Jennings Mill Country Club in Bogart. Their efforts raised $50,000 for the American Cancer Society. Bauerle also became so close with legendary tennis coach Dan Magill that he named one of his sons, Magill, after the coach.
Over time, Bauerle has achieved celebrity-like status in Athens and the swimming world.
Bob Bowman, the U.S. Olympic coach this past summer, was on first hand to witness that when he went to dinner at 5 & 10.
"I've been to dinner in Athens with Jack a couple times and he never got to eat because he was saying hello to everybody in the restaurant while we had dinner," Bowman said.
The fog settles
During the winter of 1980, the Georgia swim team took a trip to Stuart, Florida, near Port St. Lucie to train outdoors.
On December 9, 1980, the day after John Lennon was shot, the Bulldogs dragged themselves into a morning practice lamenting the loss of the musician. The pool was covered in fog, to the point where you could not see the water from the pool deck, Brackett said.
What followed in practice was a particularly brutal few hours.
"By the end of the practice the fog had lifted," Brackett said. "Jack's there and he just smiling with his arms crossed. And he says, 'Nice swim, let's go to the beach.'"
Instead of going back for the second practice of the day, the Bulldogs went to the beach and body surfed all day.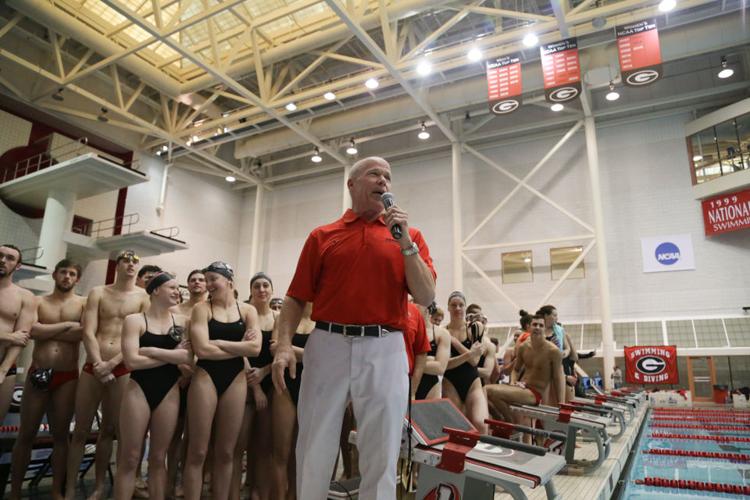 Even in his early years of coaching, Bauerle picked his spots like any wise coach.
When the fog lifts in Indianapolis, later this week, there's no telling whether or not Georgia will take home another national championship.
But one thing will remain constant for the Bulldogs. Bauerle will be there. He'll be jumping up and down, looking at his stop watch, putting his hands on his knees and rooting his athletes on as they swim the length of the pool.
"Georgia has given me an opportunity and the platform to realize all the dreams I could have had," Bauerle said. "I owe Georgia everything."
No matter how many titles Bauerle adds next to his name, being able to influence the countless amount of athletes who have walked through the pool deck is what his swimmers will remember him for, not the SEC or NCAA championships.
Caroline Horne, (formerly Caroline Woodcock), a swimmer in the early 1990s, has become so close to Bauerle that it extends to beyond the world of swimming. Horne is not a special case. She is one of many athletes who have kept a relationship with Bauerle years after swimming for the head coach.
"The crazy thing is when I was pregnant, Jack and Harvey, other than my parents, were the first people I think I told that I was pregnant," Horne said. "That's how big [of a] part of your life they are."
Now, Horne's son, Josh, is a freshman swimmer at Georgia swimming under the same man who coached his mother. While Bauerle has coached long enough to see a former swimmer's child swim in his pool, his tenure won't last forever. He said he understands that and that at 65 years old, he'll know when its time to stop coaching. But he isn't done yet.