Lawrence Cager scanned a table where hats from four college programs — Alabama, Georgia, Miami and Virginia Tech — sat in front of him during the 2015 U.S. Army All-American Bowl. 
Cager wanted to pick up the Georgia cap, but Jayson Stanley, one of his closest friends, had told Cager he was taking the last spot on the Bulldogs' 2015 wide receiver roster. There wouldn't be space for Cager in Athens.
"I was just like 'Dang,'" Cager said. 
Cager had built relationships with the Alabama coaching staff, often spending time in the office of then-defensive coordinator Kirby Smart. But he made the final decision to join then-offensive coordinator James Coley at Miami. 
After four years with the Hurricanes, Cager announced he would transfer from Miami on Dec. 31, 2018. He soon received a FaceTime call from Smart, Georgia's present-day head coach, and Coley, the Bulldogs' offensive coordinator, with the opportunity he'd always wished for — to play at Georgia. 
"It's a once in a lifetime opportunity [to have] both [Smart and Coley] coaching at the same time," Cager said.
Cager has made an impact at his dream school in his final season of college eligibility. He leads the Bulldogs' receiving corps with 26 receptions, 377 receiving yards and four touchdowns after returning from shoulder and rib injuries that kept him sidelined for half of the meeting with South Carolina and all of the Kentucky game. 
His breakout performance came against Florida on Nov. 2, where he came down with seven catches for 132 yards and a career-long 52-yard touchdown reception.
"Having a good season here at the school I wanted to come to from the jump, it's incredible," Cager said. 
Choosing football
The plan at Calvert Hall College High School in Towson, Maryland, was for Cager to play soccer and football in the fall, basketball in the winter and baseball in the spring, Cager's high school football coach Donald Davis said. 
Cager's football career didn't even begin until high school, and the 6-foot-5 multi-sport athlete started off as a kicker and punter before transitioning to wide receiver. 
"Part of what sets him apart as a football player is he's got tremendous size, but he can play like a smaller man," Davis said.
Davis said Cager made football his primary focus by the time he was a junior in high school. Cager said it was mainly a matter of how many scholarship offers he had to play college football, which grew to over 45. 
"I had so many offers, it was like, this is inevitable," Cager said.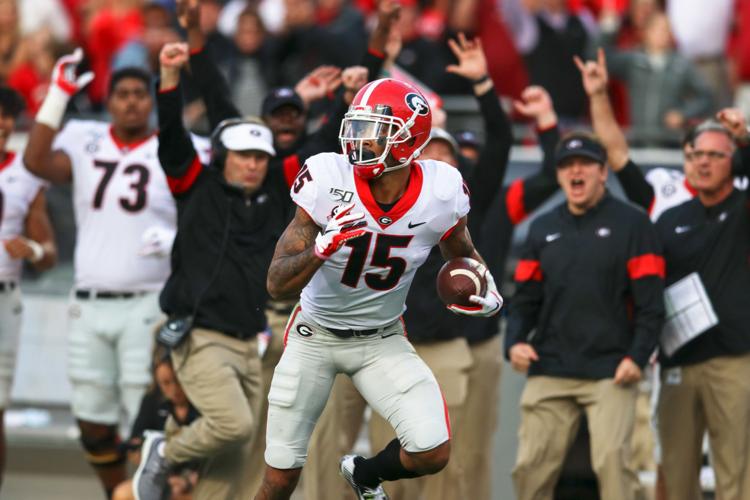 Cager disliked turning down his first sport — baseball. His older sister Chezia Cager said he'd played since age 2, when their father, Lawrence Cager Jr., coached him in the inner-city toddler league. At Calvert Hall, Cager was a center fielder. 
Cager also claimed high school titles in track and field, a sport he said he competed in "for fun." He won the indoor and outdoor high jump titles in the Maryland Interscholastic Athletic Association track meet, clearing 6-feet-9 inches. 
"That's the crazy part," Cager said. "I really didn't mean to [win titles] at all."
But high school football allowed Cager to flourish. He caught 50 passes and scored seven touchdowns in his senior season, attended The Opening football showcase for elite high school players and scored a 54-yard touchdown during the 2015 U.S. Army All-American Bowl.
"It helped me, in all, playing multiple sports [because] you get to see how teams are formed and how to interact with different teammates," Cager said. "I think that's molded me into the guy I've become today." 
Home base in west Baltimore
Cager's roots in west Baltimore are deep. He called it a "tough area," and Chezia Cager said their parents kept them involved in community activities, mentorships and public service. 
"It's a variety of demographics and people," Chezia Cager said. "It's not as big of a melting pot as New York City, but he's had a lot of experiences growing up." 
During his time at Calvert Hall, Cager spent Saturday mornings with Tom Dean, president and CEO of the Baltimore Youth Alliance, an academic and professional development organization for African-American students in the Baltimore area. Cager started the program in eighth grade, studying for the SAT and gaining professional skills. 
Since graduating from Miami with a degree in Business Management and starting a Sports Management Masters at Georgia, Cager has become an example for Dean's current students back in Baltimore.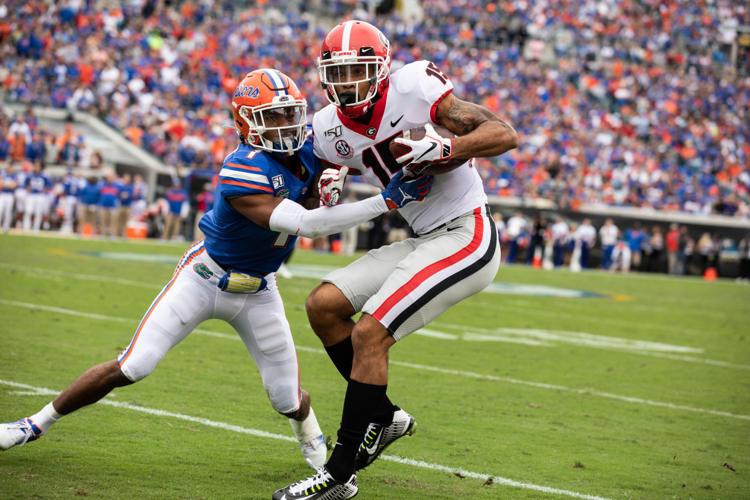 When Cager was announced as one of three team captains for the South Carolina game on Oct. 12, Dean showed his students — many of whom have aspirations to go into professional sports — how academics and sports align. 
"I just thought that was one hell of a success story," Dean said. 
Davis said that despite moving south, Cager hasn't lost touch with his friends from Baltimore. He trained at his former high school while in between Miami and Athens over the summer, attended a Calvert Hall football game on Georgia's first open date and still checks in with Davis once or twice a week. 
"He's the same kid in Georgia that he was growing up in west Baltimore, which is great [and] what I love to see," Davis said. "The essence of who he is hasn't changed." 
From Coral Gables to Athens 
Cager spent four years at Miami but missed his sophomore season due to an ACL injury suffered before the start of training camp in 2016. Chezia Cager said her brother got through his injury thanks to the Miami rehabilitation team and his own willpower. 
"If you're playing a sport, you have to love it," Chezia Cager said. "You have to want to be ready and put in that extra time off the field to get to a place where you should be. He made that choice that he wanted to be at a certain place, God willing, and he did the work." 
Cager caught 45 passes for 681 yards and 10 touchdowns in three seasons with the Hurricanes before finding his way to Georgia as a graduate transfer. 
He says reaching the NFL is an "obvious" dream — and has been since he was young — but for now, he's focused on helping Georgia through the rest of its November gauntlet, and hopefully, to the postseason.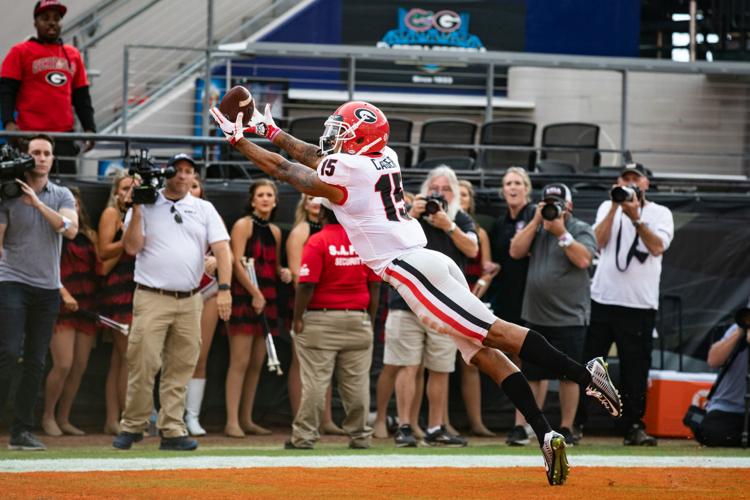 "Ultimately, team goals are first," Cager said. "You can only go as far as the team. As the team goes, I go, we go." 
A little less than five years after his first college commitment, Cager is now in Athens with the opportunity to lead the team he's always wanted to join for coaches he's most comfortable with. 
"This is obviously the best decision I could ever make in my life," Cager said. "Two coaches that I trust with my life and [to] play for them for my last year, I couldn't ask for it better. And this team is probably one of the best teams I've ever been around. I love them."