Following a Feb. 18-22 SEC Championships performance that saw six Bulldogs take home individual titles, Georgia swimming and diving was firing on all cylinders. 
"I think we're a much better team than we were in August, and I think we're a much better team than we were even in December," swimming and diving head coach Jack Bauerle said on Feb. 29. "That's all you can ask for in a team. They're getting better all the time."
Less than two weeks after Bauerle's optimistic statements, his teams were derailed entirely. It wasn't so much an engine failure as a road closure. 
Like all NCAA winter and spring championships, concerns about COVID-19 shuttered the 2020 NCAA Swimming and Diving Championships scheduled for March 25-28.
However, the teams' 2020 performances in the SECs and Zone B Diving Championships offered an insight into how the Georgia squads fared over the last two seasons.
Here's how they stacked up to last year:
SEC Championships
In 2019, both the men's and women's teams placed fifth at the SECs, leaving with one and two individual titles respectively. In 2020, the men finished third and the women, fourth. 
This year, four Georgia women boasted five individual victories, tying the most for any SEC team.
Sophomore Dakota Luther improved her speed in the 200-yard butterfly to earn an A-cut time of 1:52.47 and the 2020 victory. Her time was the second-fastest in school history and the fastest in the NCAA for the 2019-2020 season. 
In the 200 freestyle, senior Veronica Burchill earned first place with an A-cut time during the 2020 SECs. She did not participate in the event in 2019.
Junior Courtney Harnish won the women's 500 freestyle during both seasons, with an A-cut time of 4:35.52 in 2019 and a .88 second slower B-cut time in 2020.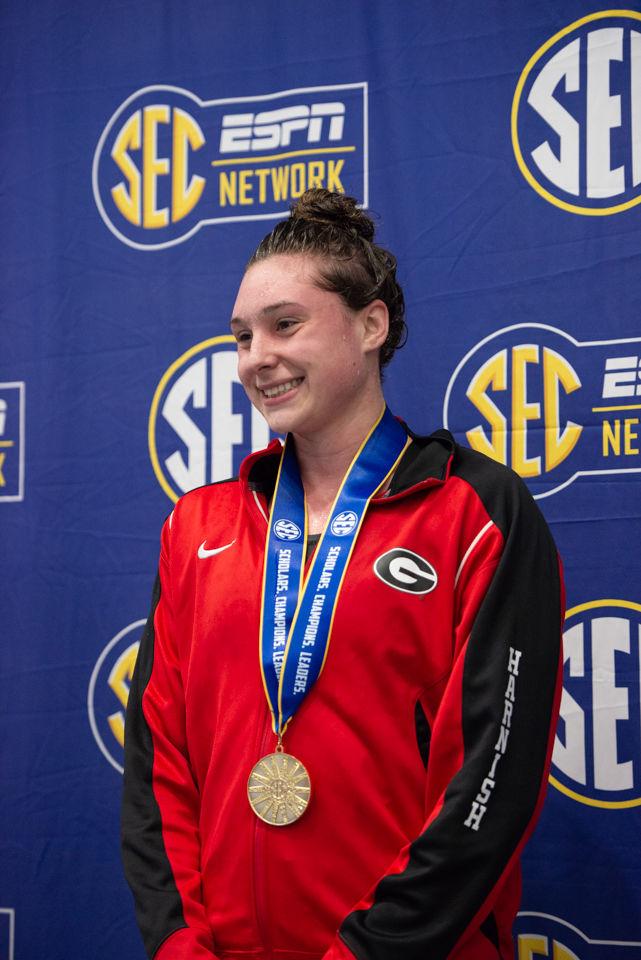 Her 86 individual points were second only to star freshman Zoie Hartman, who posted two first-place A-cut swims in the 100 and 200 breaststroke. She single-handedly contributed 92 of the Georgia women's total of 986.
Hartman's consistently impressive performances in 2020 kept the title of SEC Freshman Swimmer of the Year in Athens for a second season. Last year's honor went to former Bulldog Olivia Carter.
The single Georgia men's individual winner was junior Camden Murphy, who defended his 2019 first place finish in the 200 butterfly despite swimming .31 seconds slower in 2020.
Freshmen excelled on the men's team as well in the 2020 conference finale. Ian Grum and Harry Homans contributed 125 points to the team's 953.5, 49 more than the number added by all four Georgia freshmen men in 2019. 
"The most difficult thing for us [this season] was we were locked and loaded for NCAAs," Bauerle said on April 23. "We probably had a shot this summer to put five or six [swimmers] on the Olympic team. And when I say shot, I mean a great shot."
Diving Zones
The zone diving meets offer college divers their only opportunity to qualify for the NCAA championships. 
In 2019, Georgia entered four qualified divers in the Zone B Championships compared to seven in 2020.
From March 9-11, three Bulldogs made it to the finals for their respective zone events, and only one left with a qualifying time.
Seniors Freida Lim and McKensi Austin competed in both the 2019 and 2020 Zone B meets, but missed their shot at competing in the 2020 NCAAs by placing 14th and 17th respectively in the platform dive. Austin also competed in the 1-meter and 3-meter events, but was unable to reach the final.
Lim's 2020 score decreased by more than 50 points between the 2019 and 2020 Zone B meets, while Austin improved from a 413.30 mark in 2019 to 452.20 in 2020.
On the men's side, juniors Josh Getty and Zach Allen made their second and third appearances in diving zones respectively. 
Getty failed to make the finals in either the 1-meter or 3-meter events, but Allen managed to place third in the 1-meter final, enough to earn him a spot in the NCAAs. 
Although Allen was the lone Bulldog to qualify for the national championships, the NCAAs were canceled on March 12, a day after Zone B competition ended.
William Newlin contributed to this article.