Even twenty years later, Georgia head swimming coach Jack Bauerle breaks out in a proud smile upon hearing the words, "1999 NCAA championship". As the women's first national title in swimming and diving history at Georgia, that year's championship win ushered in a long and victorious legacy for the Lady Bulldogs.
Just four years prior to the epic triumph inside Gabrielsen Natatorium, the team's home pool and original Student Physical Activities Center, later to be renamed Ramsey Student Center, opened its doors for the first time in 1995. In 1996, the swimming and diving facility was dedicated to former coach B.W. Gabrielsen who led the Georgia team from 1948 to 1966.
With stands large enough to fit over 2,000 people, Gabrielsen Natatorium wasn't yet ready for the excitement it would bring to those who would fill its bleachers in the years to come.
Boasting its three pools, nine diving springboards and platforms and windows that allow Ramsey attendees to watch the activities in the pools below, the young natatorium was chosen to host the 1999 NCAA Women's Swimming and Diving Championships. In a three-day meet, colleges and universities from all over the country came together to showcase their best female swimmers and divers in hopes of claiming the national title.
One such swimmer was Georgia associate head coach Stefanie Williams Moreno, then standout freshman Stefanie Williams twenty years ago.
"[1999] was our first time we ever hosted NCAAs, it was super exciting and fun to have the hometown crowd," Williams Moreno said. "As a freshman, you've been to other big meets before but never like on the collegiate setting."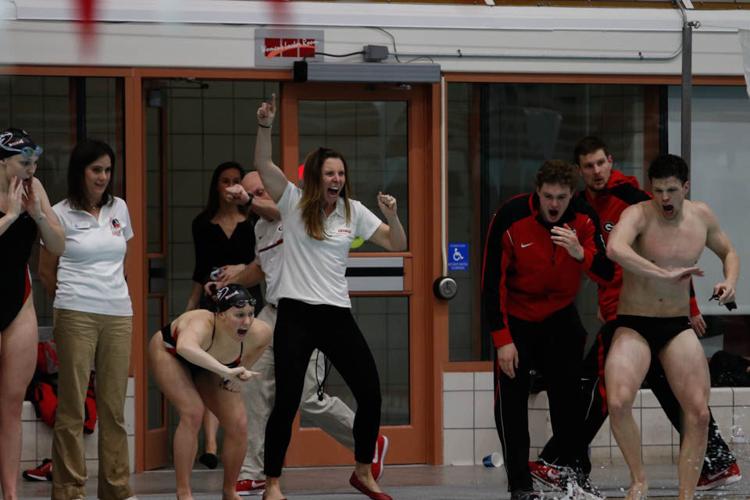 Williams Moreno qualified for and raced in three freestyle events and four relays in her first collegiate national championship meet, making her what Bauerle called the team's "missing link for making [the championship win] work".
"Whatever she would do individually, she would do better when you put her on a relay, which is when you know you have a team kid," Bauerle said. "[That's] why she's a great coach."
Bauerle and Williams Moreno get a faraway look in their eyes when they talk about that spring day twenty years ago. There is a moment of reminiscence, a smile, and a pause as they try to put into words what the victory felt like in the moment and the days after.
"I had no idea how happy people could be," Bauerle said. "Athletes. My team. They were happy for months and I remember thinking to myself even a week or two after, that you didn't care what the weather was, that music sounded better, everything was better."
The women's first national title win marks the midway point in Bauerle's leadership of the Lady Bulldogs. Inducted as head coach in 1979, he celebrated his 40th year as Georgia's head coach this February.
But the details of that victorious day are still fresh in his mind as he looks around Gabrielsen Natatorium.
"The other thing that sticks out is my mom sitting with Coach [Vince] Dooley, Coach [Dan] Magill and Dick Schoulberg, who was my mentor as a coach for a long time ... I looked up and saw them sitting in one spot and thought 'This might be one of the best nights of my life'," he said pointing to a spot in the stands. "I came back to the pool [after the meet] and I sort of just walked around ... I just reveled in the fact that we won our first championship because I probably had the best feel for how far we had come."
Since claiming their first national title, the Lady Bulldogs have won the championship six more times, the most recent being in 2016.
Williams Moreno has seen how the sport has developed at Georgia from her time as a student-athlete to associate head coach. The qualifying times get shorter, the mental and physical care of the athletes' changes and the expectations continue to rise. But in all of her experience as a Bulldog, one thing remains constant: dedication to the process.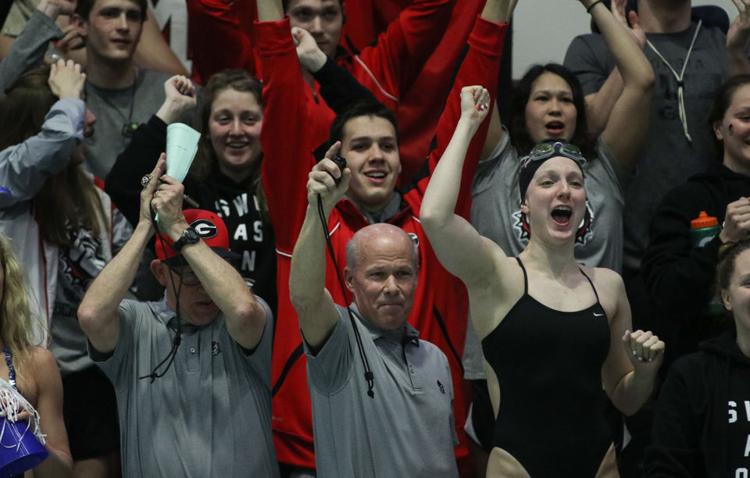 "That's one thing we've been known for here, hard work and determination and gut and grit and fight," she said. "[We've] always had people that doubted our abilities or didn't believe that we could achieve seven national championships or however many SEC titles ... but we just kept our focus on what we wanted to accomplish as a team and as individuals, and the results just showed for themselves."
That determination and grit have shown through the performances of Georgia's female swimmers and divers in the road to the NCAA championships this year. Fifteen Lady Bulldogs, including three relay alternates and two divers, will represent Georgia on the national stage in Austin, Texas, March 20-23.
Far from home and facing an entirely different competition than twenty years ago, the Lady Bulldogs, Williams Moreno and Bauerle hope to bring a win back to Georgia and claim their eighth national title.
"It's something pretty special," Bauerle said. "I know it sounds like hyperbole but to do something that brings glory to your alma mater is a heck of a feeling."