The University of Georgia Athletic Association's revenue has increased 68% in the past five fiscal years. Expenses shot up 55% in the same time period. UGAAA has seen more growth in revenue and expenses between 2014 and 2019 than all but two public SEC schools, Texas A&M and Mississippi State. Vanderbilt, a private university, doesn't have publicly available data.
Georgia's financial growth enabled it to upgrade football facilities and spend more money on recruiting football players from across the nation. The football team's success in turn helps support 17 other Georgia teams, as men's basketball is the only other team to turn a profit from as far back as the 2016 fiscal year.
The rise in revenue and expenses coincided with two events. One was the creation of the Magill Society by UGAAA in September 2015 to help boost contributions. Each member of the Magill Society, a group of about 1,200 donors, must pay a minimum donation of $25,000, which is often paid over the course of five years.
Subsequently, head football coach Kirby Smart was hired in December 2015, which was a move that helped Georgia football enter a period of sustained success.
"There's no question that the success Kirby has had as our head football coach has added to all of the [financial] success we've enjoyed," athletic director Greg McGarity said in a telephone interview with The Red & Black.
In the 2019 fiscal year, Georgia ranked second out of the public SEC schools with over $174 million in revenue, a little over $52 million of which was from contributions. This is according to each of the public SEC school's NCAA membership financial reports. Eight of these were obtained by The Red & Black through open records requests; the rest were found online.
Falling behind
UGAAA was at a standstill in the 2014 fiscal year. Football ticket prices hadn't changed in five years, and contributions were consistently hovering around $30 million per year. Georgia ranked seventh out of the 13 public SEC programs in revenue.
On the football field, Georgia hadn't won an SEC championship since 2005. Since former head coach Mark Richt started in 2001, the Bulldogs averaged less than 10 wins a season and made the top five of the final Associated Press poll three times in 13 seasons.
Their facilities were also behind the times. Georgia was the last SEC school without an indoor football practice facility longer than 50 yards.
UGAAA declined to spend exorbitant amounts of money on new facilities without added revenue, McGarity said. It didn't want long-term debt to rise.
"You would have to provide a way to pay for [new facilities]," McGarity said. "The only way you'd be able to pay for that would be to increase costs and donations that would revolve around football."
Without a full-length indoor facility, the entire football team couldn't practice indoors at the same time. Former defensive lineman Josh Dawson said the Bulldogs traveled over 40 miles to Flowery Branch a few times a year to take advantage of the Atlanta Falcons' indoor facility when he played at Georgia from 2012-2015.
"We wished that we had an indoor facility. … Our schedules were pretty jam-packed already just being a student-athlete," Dawson said. "Trying to find another hour of travel time was always hard."
The locker rooms at Sanford Stadium were also dated. Offensive lineman Andrew Thomas told The Red & Black in 2018 that players would have to take a bus to Butts-Mehre Heritage Hall to take a shower.
Georgia football players dressed in conditions worse than some high school locker rooms, Magill Society member and longtime season ticket holder Carl Parks said.
"That stuff matters when you bring kids here who are looking at where they're going to play football," Parks said. "If you go to LSU or Alabama or Clemson or somewhere like that, it would almost be embarrassing what the facilities were here."
A whole new world
Today's Georgia football players live in luxury compared to their predecessors. Gone are the days of taking a bus to Butts-Mehre for a shower.
McGarity said the Magill Society played a pivotal role in funding new facility projects. Since its establishment, the Magill Society has raised over $141 million, McGarity said.
"If our programs are going to be successful, it takes a lot more than buying tickets," Parks said.
Since 2015, Georgia has spent about $93 million on an indoor practice facility and a renovated west end zone in Sanford Stadium. Georgia is projected to spend about $80 million on a football center at Butts-Mehre.
Additionally, Georgia spent about $5 million on recruiting for all sports in the 2019 fiscal year. About $3.7 million of the money was spent on football alone. Both figures are the highest of the public SEC schools.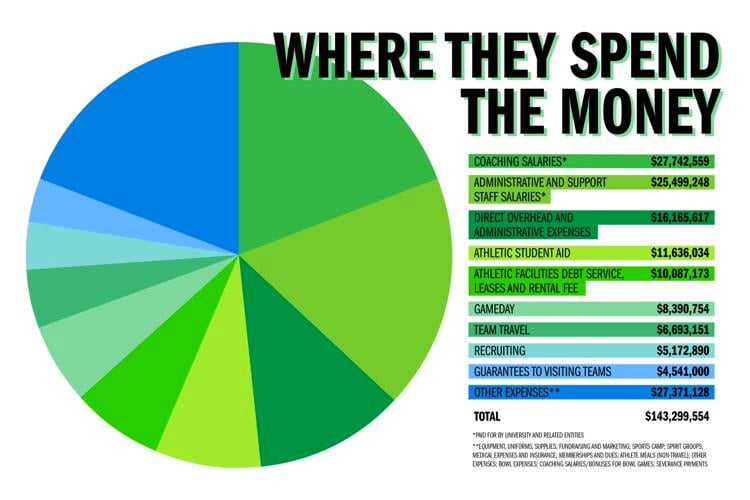 According to USA Today, Georgia spent just over $715,000 on football recruiting in 2014 — about a fifth of what it spends now.
"I don't question what Kirby has in mind," said Michael Brochstein, a season ticket holder since 1980. "He's certainly been able to get the athletic department to spend money in ways that have had a concrete result in terms of building up the program to the level it's at now."
The increase in recruitment spending corresponds with an uptick in the number of out-of-state recruits in Smart's program, with 68% of the signees in the 2020 recruiting class originating from outside of Georgia.
In the past four recruiting cycles, Georgia's recruiting class hasn't ranked below No. 3 in the nation, according to the 247Sports Composite.
Success in recruiting has generally translated to success on the field. The Bulldogs have won the SEC East three years in a row and reached the 2018 College Football Playoff National Championship.
"The more successful you are in football, quite frankly, the bigger the donations start getting because people are having to donate to get better season tickets and to move into better seats," Forbes sports business writer Kristi Dosh said.
Nevertheless, Georgia can't solely rely on the donations and profit reported in the NCAA financial report. UGAAA already spent the $30.7 million it made in 2019, McGarity said. Most of the profit was used on athletic facilities, but not everything is invested back into Georgia sports.
UGAAA transferred $5 million to the university in 2019, which, according to a Red & Black article from 2016, is $1 million more than it transferred to the university five years ago. This money in part endows 41 professorships.
Looking forward, UGAAA will eat up even more of its revenue in the 2020 fiscal year by spending big on new football assistant coaches. Offensive coordinator Todd Monken will make $1.1 million annually. Special teams coordinator Scott Cochran will make $550,000 per year which is $225,000 more than what last season's special teams coordinator Scott Fountain made.