A few minutes before the Georgia swimming and diving team started afternoon practice in early November, the lifeguard stands in Gabrielsen Natatorium remained unfilled.
Neither the 50-meter pool (then the double 25-meter, as it was bisected by a moveable bulkhead) nor the diving well were surveilled and, although NCAA Swimming and Diving Rules Book has no mention of lifeguarding protocols, according to the University of Georgia Department of Recreational Sports policy, "A lifeguard must be properly positioned in the stand before swimmers or divers can enter the water."
Herein lies the partnership between the Georgia swimming and diving team and the Department of Recreational Sports lifeguards. Without the lifeguards, the team couldn't train. Without the team, the lifeguards wouldn't be able to observe quality swimmers and the inner workings of an NCAA program.
It's a give and take with which head coach Jack Bauerle is deeply familiar. 
"Since we started, [having lifeguards on duty] was the rule," Bauerle said. "I always say I hope we recruit better than that — if they're worried about our kids making it across the pool."
In his 40 seasons as coach and four as a swimmer for Georgia, he's witnessed nearly a dozen generations of lifeguards keep an eye on his teammates and pupils.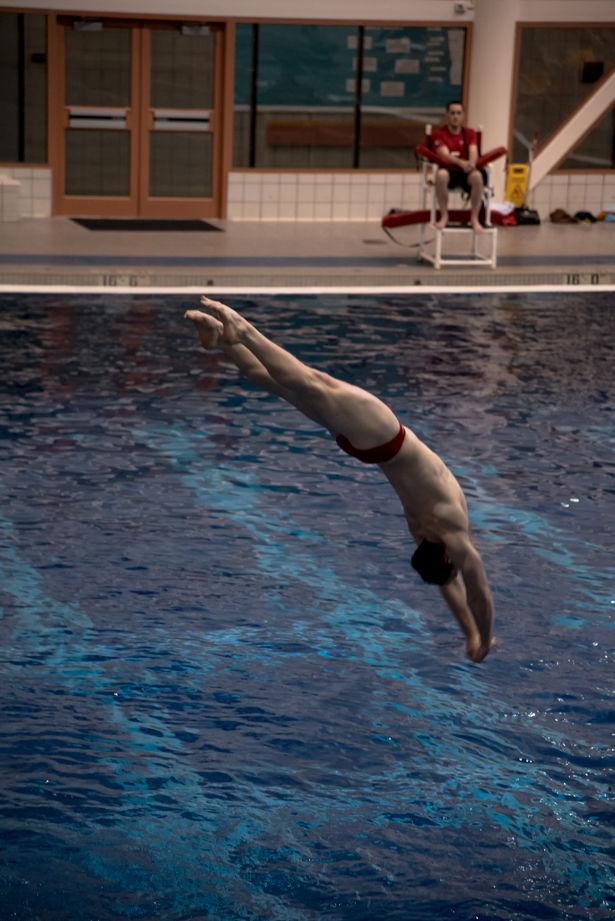 Each day the lifeguards open the natatorium at 5 a.m., a half-hour before morning practice starts, and help the team maneuver lanes during and after its 90 minutes in the pool. They do the same for afternoon sessions.
"We have a great working relationship with them," Bauerle said. "They're really helpful to us, and we try to help them."
Bauerle enjoys getting to know some of the staff, offering them a fable from his four decades of experience every now and then.
"They probably think I'm older than dirt," he said. "But nonetheless, they're a lot of fun."
Walker Higgins, one of the team's seniors and a one-time neighborhood lifeguard himself, noted the irony of the lifeguards' role supervising the team. Despite the rec sports department's training regimen, Higgins is confident that a teammate would be the most likely first responder if a Georgia swimmer were to become incapacitated in the water.
"We are a pretty well-oiled machine when it comes to getting in, training and getting out," Higgins said. "Having a problem with drowning or choking on water doesn't really pop up on our radar."
Higgins has never seen a teammate require in-pool assistance from one of the lifeguard staff, but he's at ease knowing they can help with an injury, like if someone is concussed or bleeding in the pool.
The rec sports department requires that lifeguards receive American Red Cross certifications that affirm their ability to both perform CPR and "provide basic care for injuries and sudden illness until advanced medical personnel arrive," according to the department's website.
The department mandates that 75 to 100 lifeguards, instructors and aquatic managers be retained on staff and regularly updated on protocol, some of which pertains to general Emergency Action Procedures (EAP), listed online. These include managing biohazards, handling medical emergencies and filing incident reports.
"It's good to have, because things happen," Bauerle said. "We've had concussions, we've had a broken nose [and] we've had cuts."
In addition to guarding the swimming and diving team, the recreational pool also requires supervision during practice time. The natatorium remains open to the public despite the team's presence in the 50-meter pool area, a policy that Baurle said he fought to uphold "to make sure it was always accessible," said the coach.
So, the lifeguards remain vigilant, both over the Bulldogs and the public at large. But don't fear. According to Stan Jackson, Director of Student Affairs Communications and Marketing Initiatives, "All lifeguards are expected to uphold high standards of professionalism and customer service in keeping with departmental standards whenever interacting with any patrons."
At the November practice, the 50-meter guardian sat atop her perch, eyes surveying the Bulldogs, rescue tube in hand. She didn't have to assist any Georgia swimmers that Wednesday, but she could enjoy the sight of the team preparing for this weekend's multi-team Tennessee Invitational meet.
"At least it's a little bit more interesting than watching some of my friends go up and down the pool," Bauerle said.
---
Student Affairs Communications did not allow any lifeguards to be interviewed for this story.