As usual on Monday nights in Athens, the student section of Sanford Stadium lay empty. Yet the lights were on, and players donning red and black mesh jerseys warmed up on the gridiron. As a microphone-wielding announcer welcomed attendees to Dooley Field, not a single scholarship athlete stood Between the Hedges.
Dec. 2 marked the seventh annual intramural flag football championship, an event born from a partnership between the Recreational Sports Department and the UGA Athletic Association, according to the announcer.
About 30 to 40 fans dotted section 132 behind the away team's sideline rather than the usual 90,000 screaming Georgia faithful.
This game, the first of four slated for the evening, featured Mean Machine and U'd Think We Use Stickum, two teams that had emerged with the best records from the men's division of intramural football competitors. 
The parents of one Mean Machine player had driven from Lawrenceville, Georgia, up to Athens to watch their son Jason Adick play.
"[Jason's] been pretty excited," said his mom Elizabeth Adick. "Plus, he's playing with all his buddies, so that makes it fun too." 
There was a noticeable imbalance in crowd support between the two teams. About 20 students loudly voiced their support for the U'd Think We Use Stickum squad. Their voices easily reached from the first few rows of seats to their friends on the field. 
Cheers and jeers such as "Do it to 'em, Moose," or "11 wears dirty socks" (referring to the quarterback for Mean Machine) or "Two's a bum," were cut short early on when quarterback Nick Fee had his flag pulled in the end zone, yielding two points for Mean Machine.
Trailing 17-0 after halftime, U'd Think We Use Stickum lost some supporters from its cheer section. Those heading to the exit carried with them the taunt of being fair weather fans, according to the remaining stalwarts.
Come the fourth quarter, the red and black blood coursing through section 132 revealed itself as attendees raised four fingers as 'Krypton Fanfare,' the Redcoat Band's famous endgame hymn, rang out through Sanford.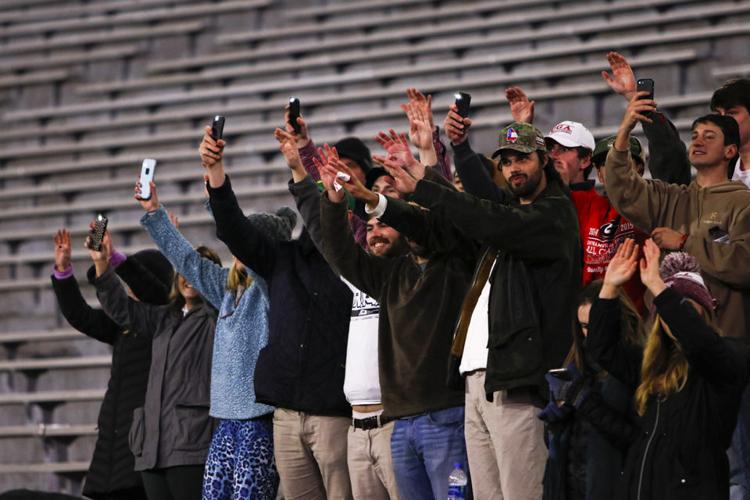 Although U'd Think We Use Stickum notched a second touchdown with 16 ticks left on the scoreboard, it wasn't enough. The team fell 31-12 as game two's contenders warmed up on the sidelines.
"The group of guys we got, the teamwork that goes into all of this, the comradery – it's great," said Brendan Koener, a member of the victorious Mean Machine. "The cold didn't affect us at all."
The temperature had dipped to 37 degrees by the time the second matchup of the night began between two undefeated coed teams, the Spice Ganadores and the LandSharks.
Gloria Enya, a senior spectator supporting her roommate, LandShark Melissa Michael, was excited to experience a different atmosphere inside Sanford.
"I hope to learn about flag football. I hope to see teamwork and just have fun," Enya said.
The fresh crowd was roused by music coming from a speaker carried into the stands by Chris Anani, a fifth-grade teacher at J.J. Harris Elementary Charter School and older brother of Matthew Anani, the quarterback for the Spice Ganadores.
Dancing along with the Georgia students that gathered in the first rows were four of the Chris Anani's pupils, including 10-year-old Ian McCrobie (soon to be 11 years old, he was sure to add).
"It's cool," said McCrobie of being so close to where the Bulldogs compete. "It's cold, though." 
In between bites of complimentary popcorn, which two of his friends had retrieved and returned with a bag in each hand, McCrobie helped lead the Anani fan section. He gladly joined in when his teacher began an "MVP, MVP" chant aimed at his brother's performance.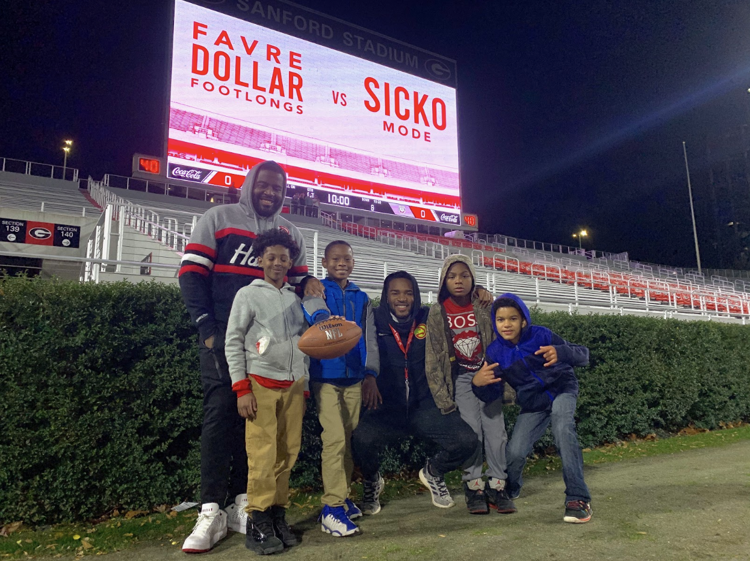 The Spice Ganadores ran a dynamic offense centered around pitch plays, with receivers tossing the ball back to teammates to avoid flag pullers. Despite a couple interceptions, the team began to pull away with an 18-0 lead at halftime.
Although the LandShark supporters kept up their morale by forming fin-like poses in response to calls by team members, their team fell short 33-15.
"I got to [play] last year when we lost, so to be able to win this year was pretty cool," said Matthew Anani. 
He said the secret to his multiple championship berths was "having athletic friends, knowing what you're doing and having fun doing it."