The usual herd of 60,000 sweaty Atlantans didn't take to the streets to run the annual Peachtree Road Race this Fourth of July. 
COVID-19 forced organizers to postpone the summer staple event in March, but for a select few, it's not Independence Day without legging the 6.2 early-morning miles from Buckhead to Piedmont Park in downtown Atlanta. The race was still on. 
"I think people just didn't want to break tradition," 29-year-old financial planner and 2020 road runner Chris Pena said. "It's part of their Fourth, running the race, going to the pool [and] watching fireworks."
Pena, a Georgia State graduate, had run the Peachtree four times before. On Saturday morning, he met several friends from the Big Peach Running Company to hit the asphalt. With a buffer between them, they tooled along Atlanta sidewalks following the usual race route.
"The best part was probably being able to do it with my friends," Pena said. "But I missed the crowds."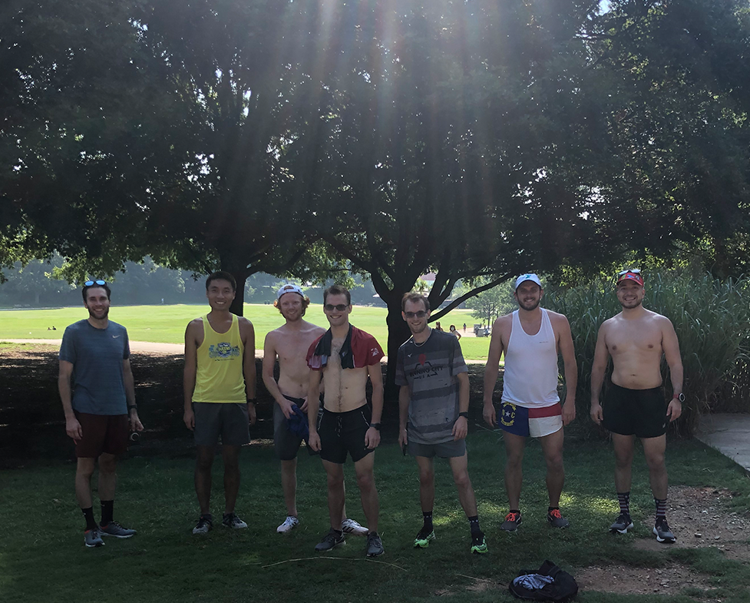 Usually, miles of spectators in chairs or on apartment balconies blast music, spray water, offer beer or otherwise cheer on the runners as they pass. 
The meager 2020 showing of Road Race die-hards precluded the typical spectacle, but Pena said a few passersby honked appreciative car horns and passed out water during his run.
Local race legend Shawn Matthews and his younger brother Kevin hit the road on Saturday as well. For more than a decade, Matthews and a group of friends have dressed up in over-the-top Americana, such as the Statue of Liberty or the Declaration of Independence, and performed a "well-hydrated" run, with a couple beer stops along the way. 
"Typically, we stay up all night making costumes," the 33-year-old Shawn Matthews said. "Which is a terrible, terrible thing because by the time you get out there the next morning, the last thing you want to do is just run."
What began as an attempt to "ham it up" quickly became a Peachtree tradition, Matthews said. The outfitted crowd favorites would go on to join forces with "Speedo boy," later "Speedo man," to steal the show.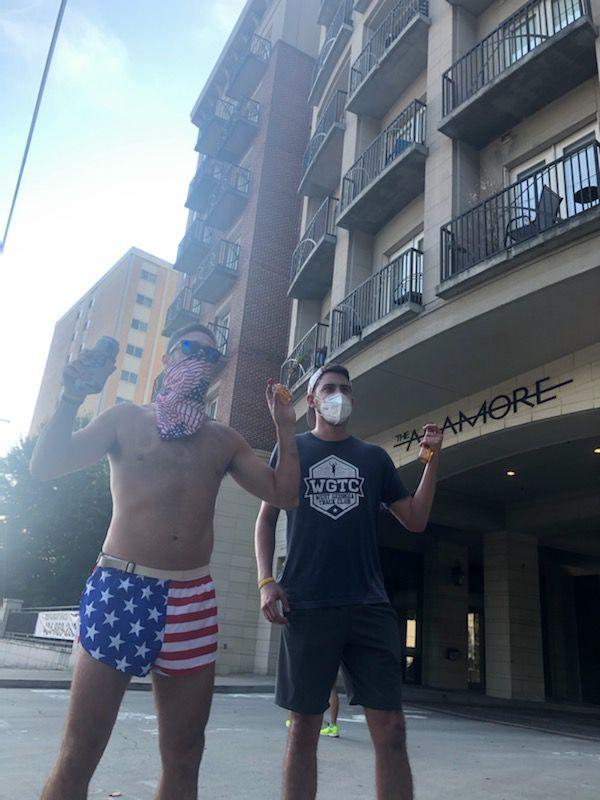 The Matthews were unadorned this go around, and "Speedo man" donned stars and stripes shorts rather than his usual skimpy get-up. But Matthews, who drove up from Florida for the holiday weekend, said the beer was still flowing as they tried to stay true to the race and run on Atlanta roads for a majority of the mileage. 
Matthews said his three and a half hour finish was one of his fastest, as he and his partners had fewer opportunities to pass out beer and mingle with the largely absent crowd. Yet even with a small, socially distanced crowd checking out the start line at 7:30 am, and only a few hundred fellow pilgrims joining in on the festivities, he could tell it was race day.
"It's nice to see that other people are as fanatical about it and obsessed with it," Matthews said. "It's that feeling, the Peachtree feeling. I remember waking up and I could smell it, and then I walked outside and I could feel it. And then my brother texted me 'Oh, it smells like the Peacthree today.'"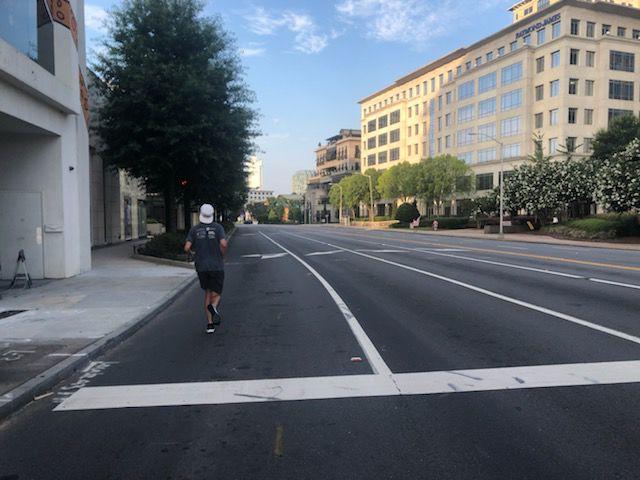 Margaret "Doc Hop" Hopper, a Buckhead dentist, ran her 33rd Peachtree on Saturday. From the moment she learned of the cancellation, Doc Hop planned to come out for a makeshift race. 
And while she couldn't participate in raising the massive American flag normally draped beside the race's start line — a duty she'd enjoyed for the last several years — Hopper developed a new ritual.
She and her 86-year-old friend James Bonner, who'd joined her in walking, stopped for selfies at each flag the duo passed on Peachtree Road.
With her Fitbit, customized [A]'merica 2020 T-shirt and mask at the ready, she and Bonner walked the usual 10 kilometer distance from Lenox Mall to the park, but stopped shy of Piedmont to stay distant from others.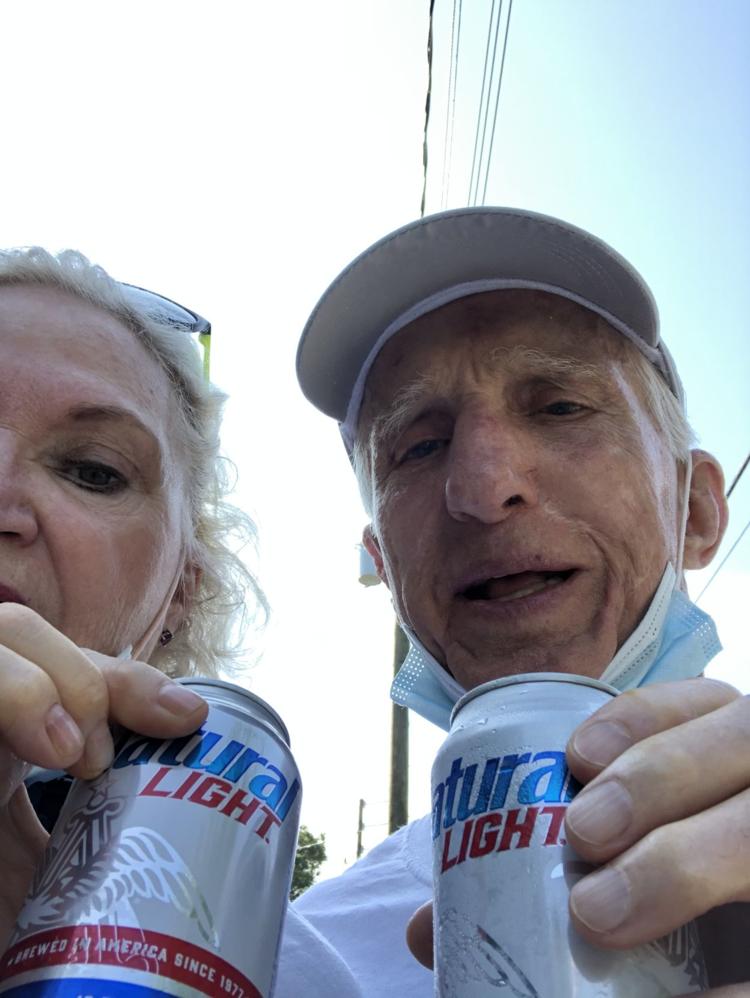 They ran into Matthews and company, who gladly passed over a couple beers.
"[Matthews] said 'I want to be like you when I grow up,'" Hopper said. "I said, 'Well I'm a dentist, so work hard. It was a funny group of guys drinking beer [while] running."
All of the participants felt their outings were a nice touch of semi-normalcy amid a turbulent spring and summer. Matthews said he'll likely go out again on Thanksgiving Day, the official race's rescheduled date, although there's something about the summer tradition that a November race can't quite replicate.
"It was the Fourth of July, and I got to do what I wanted to do," Hopper said. "And that was walk the length and halfway back of the Peachtree Road Race."